China Puts Entire City of 13 Million Under Lockdown Amid COVID Surge
Health officials in northwestern China have ordered 13 million residents into another full lockdown amid a surge in the Delta variant of COVID.
A notice by the Xi'an city government said the stay-at-home order would come into effect at midnight local time on Thursday. The mandatory quarantine period is indefinite, with an end date to be announced at a later time, according to the statement.
Xi'an reported 52 of Shaanxi province's 57 symptomatic cases. The growing outbreak accounted for the majority of the 77 coronavirus cases reported across the country on December 21, China's National Health Commission (NHC) said in a report on Wednesday. An additional 19 asymptomatic cases were reported across China on Tuesday, but they have been classed separately since the beginning of the pandemic.
Shaanxi's seven-day average has more than doubled over the past week, with 149 residents having been infected as part of the Delta cluster first discovered on December 9. Some 143 of the 149 cases were in province capital Xi'an, the NHC said.
All non-essential businesses including public transport will be suspended in Xi'an. The city's 13 million residents will be compelled to remain at home, and each household will be permitted to send one person out for essential shopping every two days, said the government announcement.
According to local media reports, some 3,574 schools will pause in-person classes and switch to online learning. Those wishing to leave Xi'an must provide health authorities with a negative polymerase chain reaction test valid from the last 48 hours. They will also foot the bill for any additional administrative fees involved in the process.
The lockdown, which is expected to affect around 90 residential neighborhoods, is being accompanied by a citywide nucleic acid test drive. As of Wednesday afternoon, health workers had tested more than 10 million Xi'an residents—twice.
Xi'an was last put under full lockdown in February 2020 amid the first wave of COVID.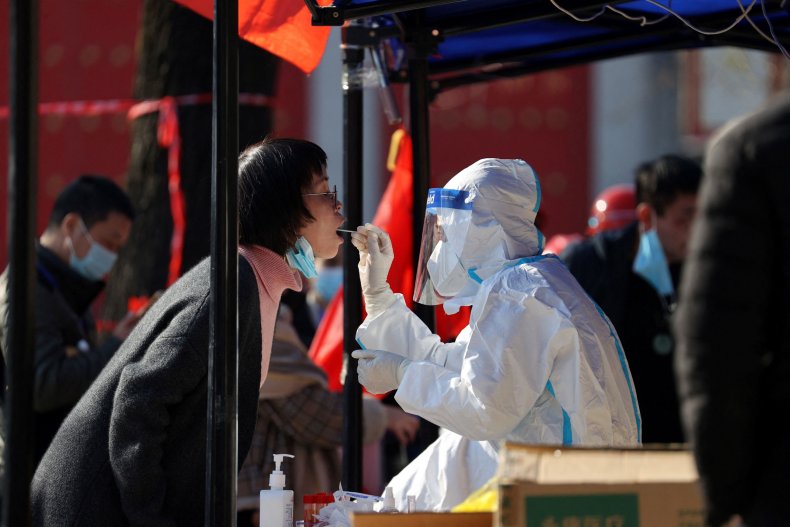 China, where the first coronavirus outbreak was first detected two years ago, is aiming for a strict zero-COVID policy that it plans to maintain through the New Year, the Lunar New Year and the upcoming Winter Olympics, which open in Beijing on February 4.
On Wednesday, more than 200,000 people in the city of Dongxing, in China's southern Guangxi region, were ordered into lockdown after one local resident tested positive, according to state broadcaster CCTV. Non-essential activities will resume after every resident has been swabbed and their results return negative.
As of December 21, China had reported 100,544 symptomatic coronavirus cases and 4,636 related deaths. The NHC said the country had administered 2.6 billion doses of vaccines, fully vaccinating around 85 percent of China's 1.4 billion population.
While the Omicron variant first discovered in South Africa is already the dominant strain in the United States, that is not yet the case in China, where two provinces and one port city have detected the mutant so far. Senior health officials have warned the country must remain vigilant.