China's Race for a Coronavirus Vaccine Could Produce an Unsafe Solution, Former Ambassador Warns
The race is on for a coronavirus vaccine as nations grapple with the pandemic, which has forced large-scale lockdowns across Europe and in parts of the U.S.
Former U.S. Ambassador to China Max Baucus told Newsweek that the political significance of a potential vaccine might lead the Chinese government to cut corners in the hunt for one.
"The big danger here is that China will move too quickly to develop a vaccine and it'll be unsafe," he said, noting this would be less likely in the U.S. where bodies like the Food and Drug Administration oversee generally tighter regulations. Racing to the vaccine is "a double-edged sword," Baucus added.
More than 247,000 people have now been affected, according to Johns Hopkins University. There have been more than 10,000 deaths while more than 86,000 people have so far recovered.
Experts have warned that a vaccine will likely not be ready for more than twelve months, though President Donald Trump has repeatedly speculated — without evidence — that one could be ready sooner.
While scientists work toward a vaccine, Trump has engaged in a war of words with China, each accusing the other of mismanaging the crisis.
Trump has been criticized for consistently referring to the disease as the "Chinese Virus," raising concerns that his rhetoric could encourage discrimination against Chinese and Asian people. Both the Centers for Disease Control and Prevention and the World Health Organization have warned of such dangers.
And in China, Foreign Ministry spokesman Zhao Lijian drew American ire after suggesting that the U.S. military was to blame for the outbreak in Wuhan. The U.S. summoned the Chinese ambassador in Washington to explain the remarks.
Other American adversaries like Russia and Iran have also been promulgating disinformation and conspiracy theories regarding the COVID-19 outbreak.
The Chinese government was criticized for its slow response to the pandemic, which first emerged in December. Whistle blowers were silenced and medical personnel given inadequate support, while some — including Secretary of State Mike Pompeo — suggested Beijing was not being fully transparent over the scale and severity of the problem.
Later, the government introduced tough restrictive measures to help fight the virus' spread and new cases are now declining — though experts have warned of a possible second wave when restrictions are relaxed. There have now been more coronavirus infections and deaths outside of China than inside, as shown in the below Statista infographic.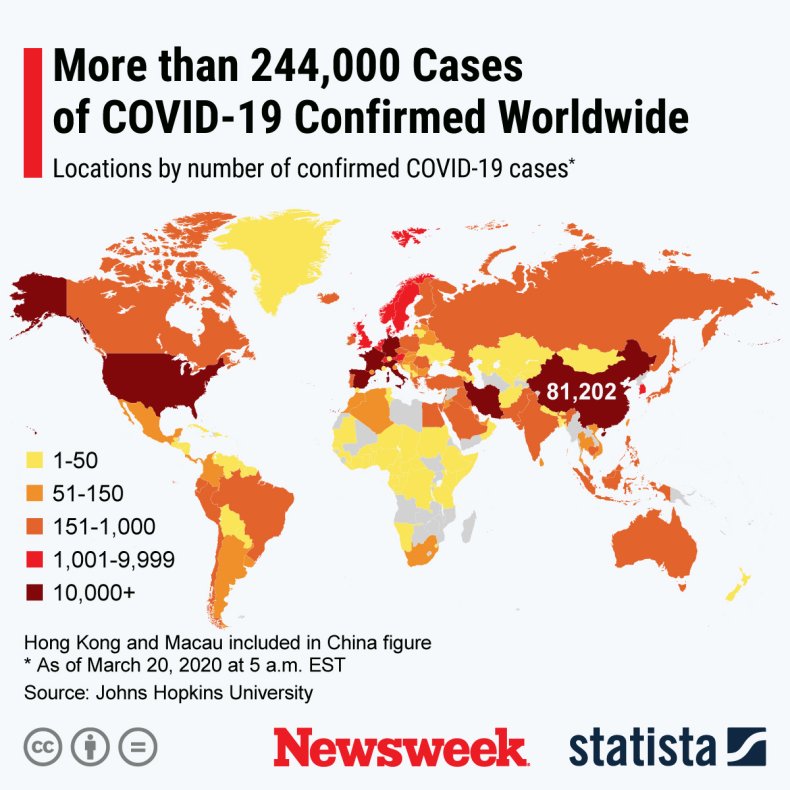 Chinese scientists — like their international counterparts — are now working to develop a vaccine for COVID-19. If China wins the vaccine race, it will be a significant "feather in their cap," Baucus said. "China wants to show to the world that its system is superior," he explained. "They're very proud that they are conquering it now."
Roderic Wye of the Chatham House think tank told Newsweek it would be "lovely" for China if its scientists were the first to develop a vaccine. The implication would be "not just that the Chinese system is amazingly effective, but also that the Western systems are amazingly ineffective."
It is "a matter of national pride" for American and Chinese leaders to deal with COVID-19 effectively, Wye suggested. "This race for a vaccine is not simply a disinterested race for a vaccine, there does tend to be a whole load of political overtones attached to it."
Baucus — who also served as a senator from Montana for nearly 36 years — said it was "tragic" that the U.S. and China are squabbling at a time of global crisis, and suggested the spat makes both sides look "petty."
Both Washington and Beijing have missed an opportunity to cooperate and mitigate the COVID-19 spread, he said.
Baucus was serving as ambassador during the 2014 Ebola outbreak, and recalled how the Americans and Chinese worked together to slow the spread in West Africa. "There's a precedent here for our countries to work together," he said.
The Trump administration is also failing to take on a global leadership role, Baucus said. "Other countries in the world are looking for U.S. leadership. Frankly, it's been sliding the last several years."
Some of that is down to Trump's own brand of politics, Baucus explained. "President Trump is America first," he said, nothing that the president's "selfish" instinct is "not to be generous, his inclination is not to share, his inclination is not to cooperate with other countries."
Wye noted that "propaganda" on both sides "seems to be saying one system is better than the other." He argued that Beijing and Washington should be focused on developing an effective vaccine for all, "and that seems to me to be better done in a cooperative rather than antagonistic way."
World Health Organization advice for avoiding spread of coronavirus disease (COVID-19)
Hygiene advice
Clean hands frequently with soap and water, or alcohol-based hand rub.
Wash hands after coughing or sneezing; when caring for the sick; before, during and after food preparation; before eating; after using the toilet; when hands are visibly dirty; and after handling animals or waste.
Maintain at least 1 meter (3 feet) distance from anyone who is coughing or sneezing.
Avoid touching your hands, nose and mouth. Do not spit in public.
Cover your mouth and nose with a tissue or bent elbow when coughing or sneezing. Discard the tissue immediately and clean your hands.
Medical advice
If you feel unwell (fever, cough, difficulty breathing) seek medical care early and call local health authorities in advance.
Stay up to date on COVID-19 developments issued by health authorities and follow their guidance.
Mask usage
Healthy individuals only need to wear a mask if taking care of a sick person.
Wear a mask if you are coughing or sneezing.
Masks are effective when used in combination with frequent hand cleaning.
Do not touch the mask while wearing it. Clean hands if you touch the mask.
Learn how to properly put on, remove and dispose of masks. Clean hands after disposing of mask.
Do not reuse single-use masks.