Officials from China and Russia, the top two strategic competitors of the U.S., have said they seek clear-headed policies and stable relations from the winner of Tuesday's presidential election.
But neither declared a preference for President Donald Trump or his opponent, former Vice President Joe Biden.
COVID-19 marked the beginning of a tumultuous year, and U.S. foreign policy was not spared the resulting chaos. Perhaps no other country had its relations with the U.S. shaken as much as did China. Amid disagreements over the spread and handling of the pandemic and an intractable trade war, the Trump administration applied resolute pressure on the People's Republic, calling on the international community as a whole to rethink its relationship with Beijing.
His Democratic rival would reject the current unilateral approach, according to two of Biden's advisers, Jeffrey Prescott and Brian McKeon.
They told Reuters on Thursday that the Democratic contender would consult with allies before making any major decisions, including whether or not to roll out tariffs against China, the world's second-largest economy behind the U.S. in terms of GDP, and the first in terms of purchasing power parity (PPP).
Asked Friday about Biden's strategy in Beijing, Chinese Foreign Ministry spokesperson Wang Wenbin first remarked that "the U.S. presidential election is the country's internal affair." He then elaborated on what China expected from the U.S. moving forward, regardless of who won the vote.
"As to China-U.S. relations, China's policy on the United States remains highly stable and consistent," Wang told reporters. "We are committed to developing a China-U.S. relationship featuring non-conflict, non-confrontation, mutual respect and win-win cooperation."
He said China was committed to defending its own interests, while striving to rejuvenate ailing ties between Washington and Beijing, singing the familiar refrain of "sovereignty."
"In the meantime, we firmly uphold our own sovereignty, security and development interests," Wang said. "We hope the United States can view China and its relations with China in an objective and rational manner, and work with China to bring the bilateral relationship back to the right track of coordination, cooperation and stability."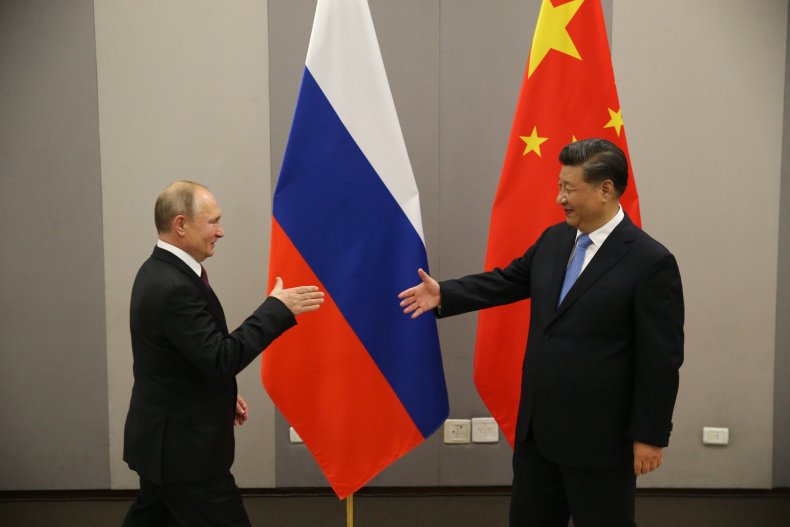 Moscow sang a similar tune. While Trump initially embraced the idea of a better relationship with Russia after winning in 2016—an election in which Democrats argue he sought the Kremlin's help—ties here too have frayed amid disagreements over arms control and geopolitical disputes, among other issues.
Russian Foreign Ministry spokesperson Maria Zakharova told a weekly briefing Thursday that she regretted the "anti-Russia hysteria that has engulfed America," warning that "its scope is growing as the presidential elections draw nearer."
Noting Moscow had "no unrealistic expectations" of Washington as the two clash over sanctions, Russia and Germany's Nord Stream 2 pipeline and non-proliferation agreements like the Intermediate-range Nuclear Forces Treaty and the New Strategic Arms Reduction Treaty (New START), she did offer a glimmer of hope that rapprochement was possible.
"We hope that common sense will gradually prevail after the election," Zakharova said, "and that Washington will eventually become aware that the policy of promoting anti-Russia myths is only fueling political heat and the atmosphere of mistrust in the U.S. society itself, rather than doing harm to us."
She urged Washington to embrace a multilateral approach on world issues and invest in bilateral ties with Moscow. Despite the damage done, she said Russia was willing to work with the winner, no matter which one of the two ended up in the White House.
"I would like to reiterate that we are ready for dialogue and joint work with whoever wins the presidential race, regardless of his party affiliation," Zakharova said. "If the situation takes a positive turn, I believe that we will have an opportunity to do something practical already in the near future, to make headway in the search for mutually acceptable solutions to the current problems on both the bilateral and international agenda."
That same day, Russian President Vladimir Putin also expressed his opinion on the matter. Despite expressing reservations that weighing in would allow certain countries to "take every possible opportunity to prove what they believe is Russia's interference in the election process in the United States," he shared his thoughts during a talk at a VTB Capital Investment Forum titled "Russia Calling!"
Putin estimated that Biden's approach, more akin to European-style social democracy, could be costly should he implement overhauls in sectors such as healthcare and education.
In contrast, he identified some positives in Trump's approach, including bringing industry home from Asia, though here too the Russian leader recognized certain challenges in doing so.
Putin said the Kremlin was "analyzing the situation very calmly, in a routine way." Like Zakharova, he assured his audience that Russia took a non-partisan approach.
"We will accept any decision of the American people and will work with any administration," he said. "I hope that balanced decisions will be made in the future. Whatever they decide, we are fine with it."
However, if that winner is Biden, the former vice president's public statements indicate an aggressive approach toward Moscow. Biden has pledged to extend New START, which limits and provides mutual inspection measures for the U.S. and Russian nuclear arsenals, something Putin wants, but he's also recently called Russia "the biggest threat to America right now in terms of breaking up our security and our alliances."
Top Trump administration officials such as Secretary of State Mike Pompeo, Defense Secretary Mark Esper, national security adviser Robert O'Brien and Navy Secretary Kenneth Braithwaite have bestowed that title upon China.
As they have faced common challenges from Washington in recent years, Beijing and Moscow have grown closer than ever, with officials from both sides going as far last week as to not rule out a formal military alliance.
Tensions between the U.S.-led NATO military alliance members and Russia have plagued ties in Europe between Moscow and the West, which has supported uprisings in the likes of Ukraine and Belarus. In the Asia-Pacific region, the U.S. has countered China by sending military assistance to self-ruling Taiwan, conducting "freedom of navigation" operations in the disputed South China Sea and pressing fellow Quadrilateral Security Dialogue members Australia, India and Japan to work together against Beijing.
On both fronts, China and Russia have expressed concern about the potential deployment of U.S. mid-range missiles once banned by the INF, which the Trump administration left last year.
Ultimately, both Putin and President Xi Jinping of China have strived for a more multipolar world with a stronger economic, political and military balance of power in the East.
Neither Trump's unilateral "America First" position nor Biden's ideas of global "American Leadership" are easily congruent with the Moscow-Beijing consensus, but either candidate faces a vastly different international landscape when coming to office in 2021.