China 'Ready to Play a Constructive Role' in Resolving Israeli-Palestinian Conflict
Beijing is seeking to play a "constructive role" in mediating the latest round of the Israeli-Palestinian conflict as the violence threatens to escalate to levels not seen since 2014.
Hamas, which rules Gaza, reported that 43 Palestinians were killed, including 13 children, after Israel's airstrikes this week. Hundreds of people were wounded, it added. The Israel Defense Forces said some 1,500 missiles had been fired from Gaza, resulting in five deaths.
On Monday, before the sides began trading rocket fire, China had raised concerns about the "escalating tension." Hua Chunying, a spokesperson for Beijing's foreign ministry, called for "calm and restraint."
Her comments came after Israeli forces raided Al-Aqsa Mosque in Jerusalem over the weekend, injuring more than 300 people as they ended a weeks-long stand-off with rubber bullets and tear gas.
"We hope that relevant parties of the international community will work for an early resumption of peace talks between Israel and Palestine according to relevant U.N. resolutions and on the basis of the two-state solution," Hua said.
She added: "China is ready to play a constructive role in this."
Until now, Beijing has not sought to intervene publicly in the Middle East outside the context of its role in the United Nations, where it is a permanent member of the Security Council.
China is among the U.N. member states to have called for an urgent meeting to be held on Wednesday. The 15 council members also met on Monday, but the U.S. reportedly held up a proposed joint statement calling for an end to the violence.
U.N. Secretary-General António Guterres had on Tuesday demanded that the escalation between Israeli and Palestinian forces stop.
"Israeli security forces must exercise maximum restraint and calibrate their use of force," his statement read. "The indiscriminate launching of rockets and mortars towards Israeli population centres is unacceptable."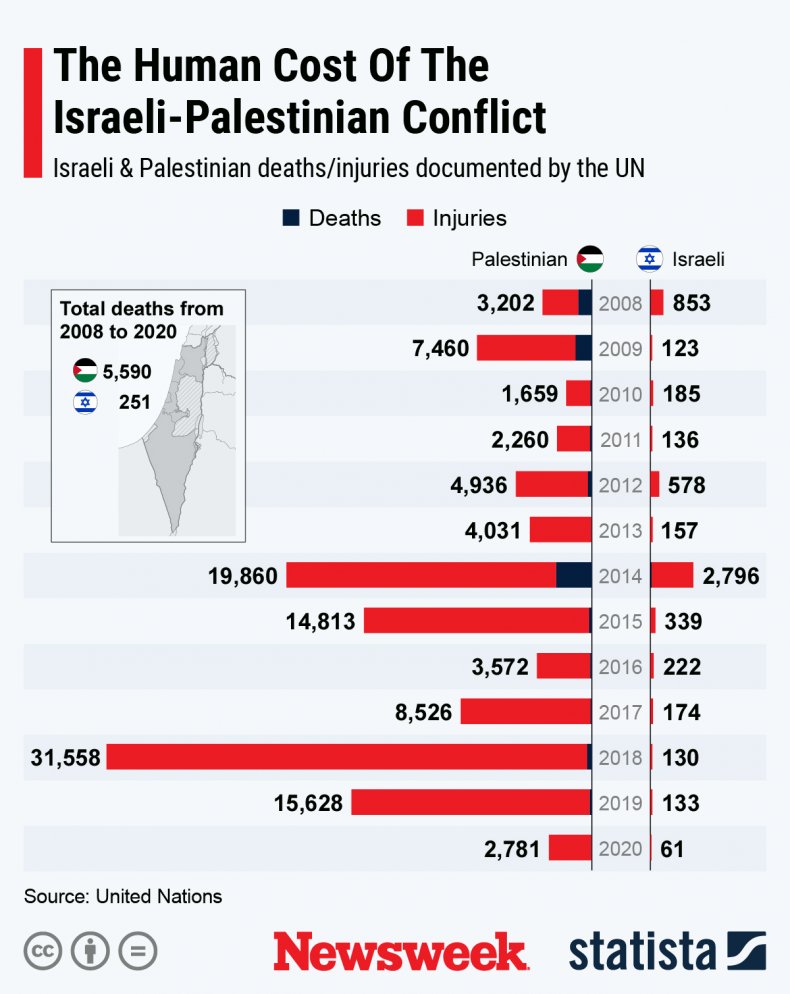 China has sought closer ties with countries in the Middle East as part of the Belt and Road initiative, President Xi Jinping's signature foreign policy.
During a six-country tour of the Middle East in March, Foreign Minister Wang Yi made a rare mention of his nation's potential role in solving the Israeli-Palestinian conflict.
"We will invite Palestinian and Israeli public figures to have talks in China," he said at the time.
Wang has not elaborated on these remarks, which came before the recent clashes over evictions of Palestinians in east Jerusalem.
Newsweek has contacted the Chinese embassy in Washington for comment.