China Ready for 'War' With India, Holds Live-Fire Drills Near Border
The ruling Communist Party of China has issued a stern warning to neighboring India, with which it is engaged in a bitter border dispute that has recently seen Chinese live-fire drills and media speculation of extensive Indian military casualties denied by both sides.
After accusing Indian troops of crossing over the disputed Sikkim border last month, Chinese Communist Party outlet Global Times published a commentary Tuesday urging restraint by both belligerents, but warning that China was prepared to engage India in a battle for the contested land. The piece chalked up the conflict to a greater competition for economic and political dominance between the two leading Asian powers and said that Beijing would amass troops and armaments at the border in anticipation for what could turn into an all-out war.
Related: U.S. military trains with Japan and India, while China courts Pakistan
"China doesn't recognize the land under the actual control of India is Indian territory. Bilateral border negotiations are still ongoing, but the atmosphere for negotiations has been poisoned by India," Global Times' op-ed read.
"China doesn't advocate and tries hard to avoid a military clash with India, but China doesn't fear going to war to safeguard sovereignty either, and will make itself ready for a long-term confrontation."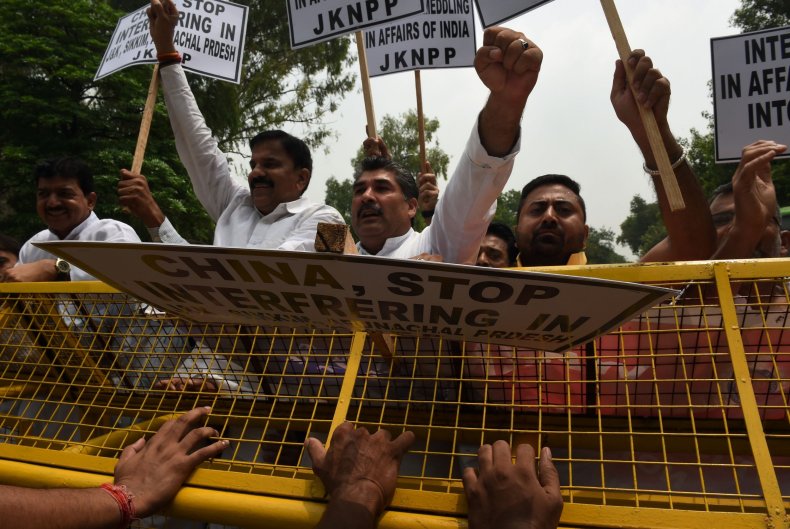 The recent Sino-India border strife has been called the most serious since a 1962 battle that saw about 2,000 killed, most of them Indian soldiers, and a minor expansion of China's borders. Over half a century later, tensions were stirred again June 16 when China accused Indian troops of crossing a mutually agreed boundary separating the far western Chinese region of Tibet and the far eastern Indian state of Sikkim, which China only recognized as belonging to India in 2003. New Delhi has accused Beijing of compromising the security of India and neighboring Bhutan by expanding Chinese infrastructure close to the border. Both sides have refused to stand down, and recent Chinese military moves have raised fears that the situation could soon escalate.
China's armed forces have held a series of drills in Tibet involving tank training, mortar fire and missiles being launched not far from where Indian troops have been stationed. After China's most recent maneuver Sunday, media outlets in China and Pakistan, another bitter rival of India, began proliferating reports that Chinese rockets had killed up to 158 Indian soldiers and wounded more. Sources in both Beijing and New Delhi swiftly attacked the reports, which still appeared on Pakistan's Dunya TV website as of Tuesday morning. Communist Party outlets People's Daily and Global Times called the accounts "groundless," and India's foreign ministry shared similar sentiments Tuesday.
"Such reports are utterly baseless, malicious and mischievous. No cognizance should be taken of them by responsible media," Ministry of Indian External Affairs Ministry spokesperson Gopal Baglay said, according to The Economic Times of India.
The Chinese Foreign Ministry has continued to criticize India's military advance, with spokesperson Lu Kang claiming foreign diplomats in Beijing felt "shocked and confounded" by India's actions and had expressed their concern to the Chinese government. Lu urged New Delhi to "take prompt measures to withdraw its personnel who have illegally crossed the boundary back to India's side, so as to avoid further escalation of the situation."