China Redeploys Missile Launchers in Contested South China Sea Amid Rising Tensions With U.S.
Beijing has reportedly redeployed missile launchers on a disputed island in the South China Sea only one week after they seemingly removed them amid rising tensions with the U.S.
On June 3, satellite images taken by ImageSat International (ISI), an Israeli intelligence firm, found that China's surface-to-air missile systems on Woody Island—known in Beijing as Yongxing Island—had been removed or relocated. The photos taken of the scene showed bare sand where numerous large weapons used to sit.
However, on Monday, ISI revealed that the missiles had reappeared in "exactly" the same position as where they were prior to disappearing. "#ImageSat was the first to report (3rd June 2018) the [disappearance] of the SAM systems deployment from #Woody Island. Here's an updated #imagery #intelligence #report, which reveals for the first time their [reappearance] in the same disputed South #China Sea island," the analytics organization wrote on Twitter, alongside satellite images of the island.
The disappearance of the missiles earlier this month came after the U.S. flew two nuclear-capable B-52 bombers over the Spratly Islands amid rising tensions between Beijing and Washington, D.C. According to the South China Morning Post, the Pentagon also considered sending warships through the Taiwan Strait, a 110-mile-wide waterway separating the island of Taiwan from mainland China.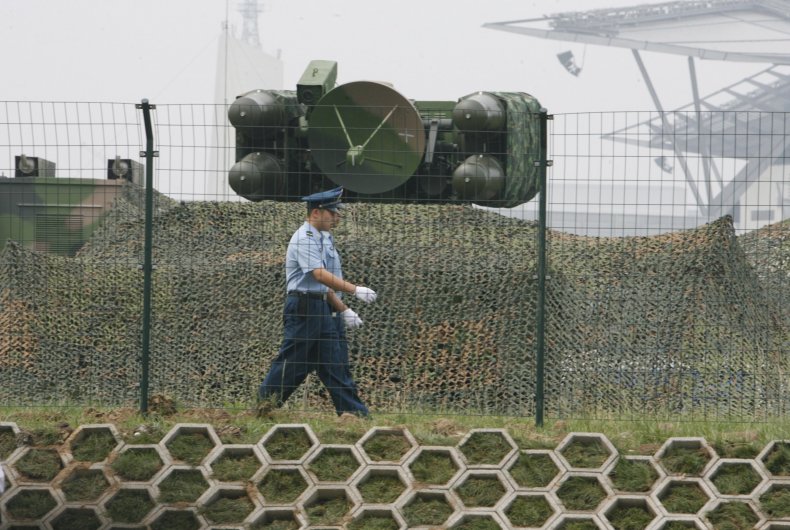 The new images showing the reappearance of the missile system further proves that the removal earlier this month was likely to have only been temporary. Chinese military experts said the removals were either a short-term solution to de-escalate tensions with the U.S. or simply for maintenance purposes.
Western experts were also skeptical that the launchers had been permanently dismantled and removed. Some advised that they were merely taken away for maintenance. "Due to the corrosive effects of salt and humidity in the islands, HQ-9 missile systems must be removed and sent back to the mainland for maintenance periodically," Timothy Heath, a senior defense analyst at RAND Corporation, said, reported CNN.
"On the other hand, it may be a regular practice," ISI said. "If so, within the next few days we may observe a redeployment in the same area."
Beijing has not directly responded to reports of the missiles being removed. However, on Wednesday, Chinese Foreign Ministry spokeswoman Hua Chunying accused the U.S. of being responsible for the increased militarization in the South China Sea region. "Isn't it militarization when you send attacking weapons like the B-52 bombers to the South China Sea?... If someone frequently flexes his muscles or snoops around near your house, shouldn't you raise your alertness and improve your defense capabilities?" she said.