China Refuses To Call Russia's War on Ukraine an 'Invasion'
China rejected descriptions of Russia's ongoing military offensive in Ukraine as an "invasion" on Thursday while being pressed on its refusal to openly condemn Moscow's actions.
At 6 a.m. Moscow time on February 24, Russian President Vladimir Putin announced a "special military operation" to "demilitarize and de-Nazify" its Eastern European neighbor, in what appeared to be a prerecorded national address filmed three days earlier. Shortly after, Ukraine defense authorities reported intense missile strikes across the country, while Russian ground and air forces were seen crossing into Kyiv-controlled territory.
At a press conference in Beijing, China's Assistant Foreign Minister Hua Chunying took issue with what she called "typical Western framing" of the situation after a reporter had used the term "invasion." China would not "rush into a conclusion," she said.
Over the next hour, as she was repeatedly pushed on China's noncommittal position on the crisis, the official appeared to go as far as she could without openly jeopardizing Beijing's close relationship with Moscow.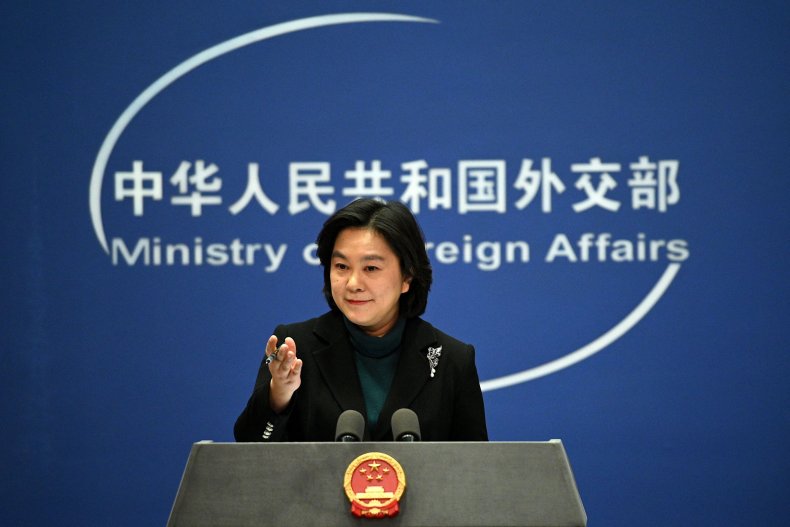 "China is closely monitoring the latest developments [in Ukraine] and calls on all parties to exercise restraint in order to prevent the situation from getting out of control," said Hua. She continued her country's years-long assessment of the crisis as "complex" and refused to be drawn into any criticism of Moscow. She cited a Russian Defense Ministry assurance that said Ukrainian urban areas would be spared from missile strikes by its forces.
"We hope all sides will not shut the door to peace and put all efforts into dialogue, consultation and negotiation," she said. It was a repeat of similar tame remarks by Chinese Ambassador Zhang Jun, who had attended a second emergency session of the United Nations Security Council in three days. "We believe that the door to a peaceful solution to the Ukraine issue is not fully shut, nor should it be shut," Zhang said in New York—just as Russian forces began barraging Ukrainian territory, and as residents fled Kyiv.
Ukraine's presidential office described the Russian offensive as "a full-blown nationwide attack" targeting military infrastructure, while its Interior Ministry has reported "hundreds of casualties" from missile strikes, although the precise number of deaths and injuries was unknown. Social media footage showed at least one heavily damaged civilian apartment block in Chuhuiv, south of Kharkiv in eastern Ukraine.
While refusing to join the West's rebuke of Putin, there were moments Hua appeared to reveal the slightest of frustrations about the escalating crisis. "That the situation has developed to this stage is not something we had hoped to see," she noted. "The sovereignty and territorial integrity of each country should be respected, and the principles of the UN Charter should be safeguarded," she said, only hinting at sympathy for Kyiv.
Hua said Chinese leaders hadn't attempted to contact their Ukrainian counterparts since Russia's latest military maneuvers. "I think everybody is very busy," she said.
Ultimately, however, the Chinese diplomat pivoted to show solidarity with Moscow, reminding those at the press briefing about Russia's opposition to NATO. "Each country's security concerns should be respected and considered," she said. Hua then went on to accuse the United States of "fanning the flames" of the crisis by exaggerating the threat of war and transferring weapons to Ukraine.
Asked whether Putin had revealed his plans to Chinese leader Xi Jinping when he visited Beijing for the opening of the Winter Olympics, Hua replied: "Russia is an independent and sovereign great power. It determines and conducts its own foreign policy and strategies based on its own strategic judgements and interests. It doesn't need to ask for China's permission before doing anything."
Much of Hua's frustrations appeared to be a result of the dozen or so times China was asked to take a principled stand on the crisis. She declined in each instance, saying Beijing was not "among the concerned parties." It appeared to reflect a lack of understanding—knowingly or unknowingly—about why the world's press looks to Beijing for its position as Europe enters what many believe could be its most devastating military conflict for seven decades.
Apart from being the second-largest economy in the world, China has ambitions to play a leading role in the UN-centered international system. It's also a permanent member of the UN Security Council, which will vote on Thursday for a resolution to condemn Moscow's moves. China is likely to abstain, while Russia will almost certainly choose to veto.
In the hours after Russian forces invaded Ukraine, the U.S., U.K. and European Union announced they were preparing a new round of harsher sanctions targeting Moscow and Russian financial institutions. Meanwhile, NATO members in the Baltics have called for the alliance to convene for consultations.