China Responds to ISIS Video, Declaring Uighurs Pose 'Most Prominent' Threat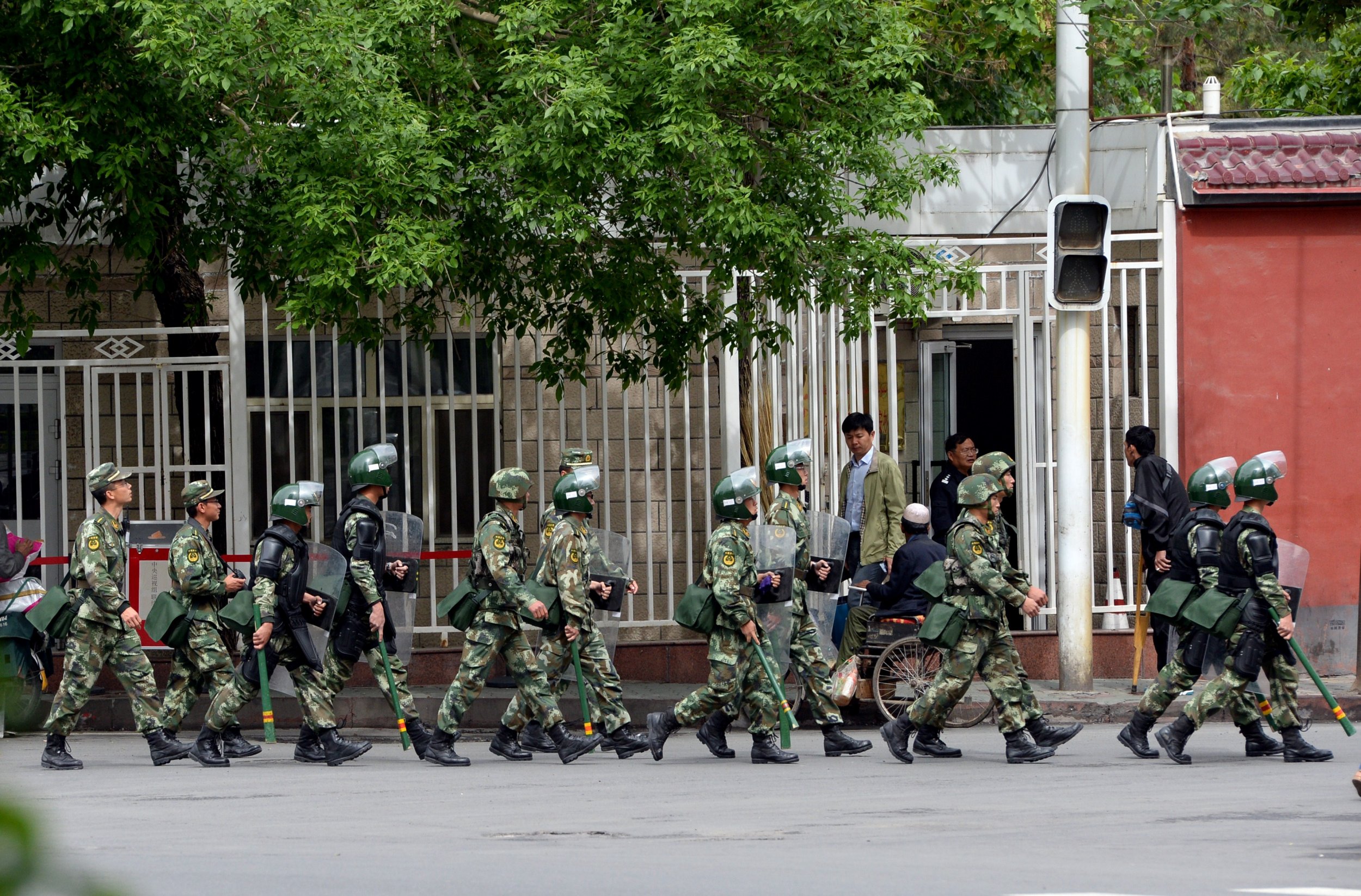 Chinese President Xi Jinping called for a "great wall of iron" in the western region of Xinjiang Friday, as Chinese officials offered their first response to a video released by the Islamic State militant group (ISIS) last week, in which fighters from the separatist Uighur minority vowed to return home and "shed blood."
Cheng Guoping, China's state commissioner for counterterrorism and security, Friday said Islamist separatists from the East Turkestan Independence Movement, or ETIM, posed the "most prominent" security challenge to the Chinese state's economy and stability.
"(ETIM) is the most prominent challenge to China's social stability, economic development and national security," China Daily newspaper quoted him as saying Friday.
Guoping expressed concern that Uighur militants who had joined ISIS may be finding safe haven in Afghanistan, which borders China's northwest, as the group continues to lose territory in Iraq and Syria, to an Iraqi military coalition and to Kurdish, Arab and Turkish forces respectively, all backed by the airpower of the U.S.-led coalition.
He said China should "closely check in on whether Afghanistan is becoming another paradise for extremist and terrorist groups. Such a major development may pose a serious challenge to the security of our northwestern border."
Many Uighurs refer to the restive western Chinese region of Xinjiang as East Turkestan, the name they seek for any future state.
Amid concerns about the threat from the Uighur minority, after ISIS's first direct threat against the Chinese mainland, Chinese President Xi Jinping attended a meeting of officials from Xinjiang Friday, Reuters reported.
Read more: ISIS fighters from China's Uighur minority vow to "shed blood" at home
The jihadist group released a 30-minute video that showed Uighur members of its ranks training in Iraq.
"In retaliation for the tears that flow from the eyes of the oppressed we will make your blood flow in rivers, by the will of God," an Uighur militant said in the video, as translated by U.S.-based jihadi monitoring group SITE Intelligence. Another fighter condemned the "evil Chinese Communist infidel lackeys." The video shows Uighur fighters praying and giving speeches.
Uighurs complain of Chinese persecution, restrictions on their religious freedom and discrimination in employment, education and housing. Such examples of perceived persecution include restrictions against long beards, Islamic headwear and fasting during the Islamic holy month of Ramadan.
ISIS had not previously threatened China but, in December 2015, the group claimed it executed 50-year-old Chinese national Fan Jinghui, a claim the Chinese Foreign Ministry later confirmed. The Washington D.C.-based think tank New America reported in July that at least 114 Uighurs are suspected of traveling to join ISIS in Iraq and Syria.