China Reveals Advanced Military Stealth Tests For First Time Ever, Joining U.S. and Russia
For the first time ever, China has openly discussed its testing of advanced stealth technology, potentially propelling the country's armed forces to a category shared by leading military powers, the U.S. and Russia.
Official Chinese Communist Party outlet The Global Times reported Tuesday that the Shenyang Aircraft Corporation successfully tested Radar Cross-Section (RCS) technology for use on Chinese aircraft, citing a report by the Ordnance Industry Science Technology magazine on social media website WeChat. The magazine reportedly said that the technology had been applied to China's fifth-generation J-20 fighter jet and could be applied to other aircraft.
"The J-20 is built by Chengdu Aircraft Industry Group, and Shenyang Aircraft Corporation is also conducting research and development of another China-made stealth fighter, the FC-31, so the technology is very basic and essential," Chinese military analyst Song Zhongping told The Global Times in response to the report.
"If the RCS test can be used maturely, that means the fourth-generation fighter jets including the J-11 and J-16 that form the main body of the Chinese air force and are produced by Shenyang Aircraft Corporation, can also improve their stealth capabilities," he added.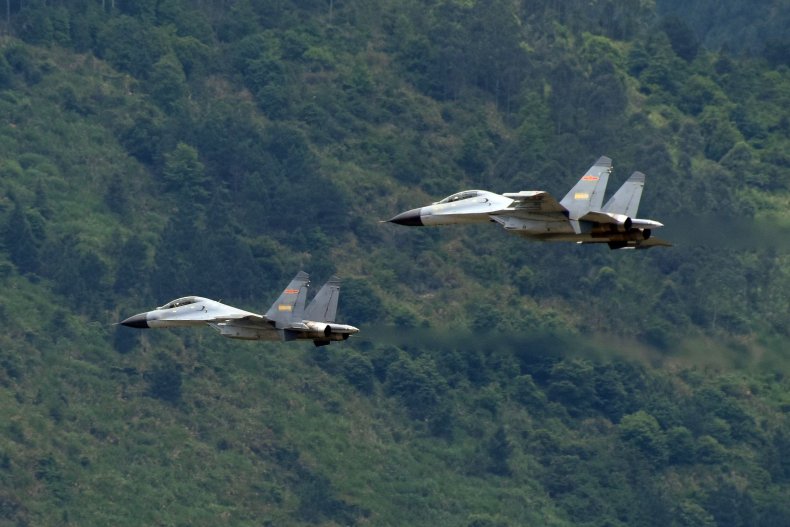 Since coming to power in 2013, Chinese President Xi Jinping has sought to improve his country's modern forces in the face of a growing U.S. military presence in the region. China already commands the world's largest standing army, but Xi wants to reform the armed forces, consolidating his command over them and investing heavily in new technologies.
Tuesday's Ordnance Industry Science Technology report noted that only the U.S., Russia and a number of European Union countries were currently capable of utilizing stealth technology as advanced as the kind China has reportedly begun pursuing.
Related: U.S. Is Asia's Strongest Power, but China Is Catching Up and Russia Is Helping
Last week, the Chinese military's burgeoning stealth prowess was mentioned in an article by the state-owned China Aerospace Science and Industry Corporation. The report highlighted third academy engineers responsible for developing and applying wave-absorbing stealth technology. The China Aerospace Science and Industry Corporation is the country's main missile supplier and such innovations could be used to make upcoming cruise and anti-ship missile designs more difficult to detect.
This month, Richard D. Fisher Jr., a senior fellow at the International Assessment and Strategy Center—a Virginia-based think tank supportive of China's rival government in Taiwan—​ testified in front of the House Permanent Select Committee on Intelligence on China's empowered posture in the contested waters of the South China Sea. He warned that "the U.S. and its Allies and friends must not continue to lose technological and military superiority to China."
"China's power projection trajectory over the next two decades to 2040 means that it will have increasingly powerful maritime, air, cyber, and space power projection capabilities, which will likely benefit from an aggressive Chinese effort to use ideological, political, financial, and debt trap appeals to gain PLA access to a global network of bases," Fisher said.
The U.S. has accused China of militarizing the South China Sea by building bases on contested islands. The U.S. maintained some 250 military bases in the region surrounding China, according to researcher Stuart Rollo, who cited 2014 U.S. Department of Defense statistics in a commentary published Monday by the Australian Broadcasting Corporation.