China Reveals What It Says to Be True Purpose of 'Overseas Police Stations'
A Chinese official has revealed to Newsweek what the People's Republic considers to be the true purpose of overseas sites such as the one at the center of high-profile arrests made in New York against two Chinese nationals accused of harassing dissidents on behalf of Beijing.
"Harry" Lu Jianwang and Chen Jinping were arrested by the FBI on Monday in connection with what the Department of Justice (DOJ) referred to as "opening and operating an illegal overseas police station" in the Chinatown section of Manhattan. The department alleged that the two men monitored and intimidated those critical of the Chinese government on behalf of an agent of the Chinese Ministry of Public Security, and destroyed evidence when confronted by the FBI.
That same day, the DOJ also unsealed criminal complaints charging 44 defendants "with various crimes related to efforts by the national police of the People's Republic of China (PRC)—the Ministry of Public Security (MPS)—to harass Chinese nationals residing in the New York metropolitan area and elsewhere in the United States."
But Liu Pengyu, spokesperson for the Chinese Embassy in Washington, D.C., asserted that such charges were not rooted in reality.
"About the 'overseas police stations,' we have made it clear many times that the allegation has no factual basis," Liu told Newsweek. "There are simply no so-called 'overseas police stations. China adheres to the principle of non-interference in other countries' internal affairs, strictly observes international laws and respects the judicial sovereignty of all countries. We hope relevant parties will not hype up or dramatize this."
Rather, he said that "the relevant sites are formed by overseas Chinese, drawing upon the resources of local communities and providing a place for overseas Chinese in need to access consultation and assistance."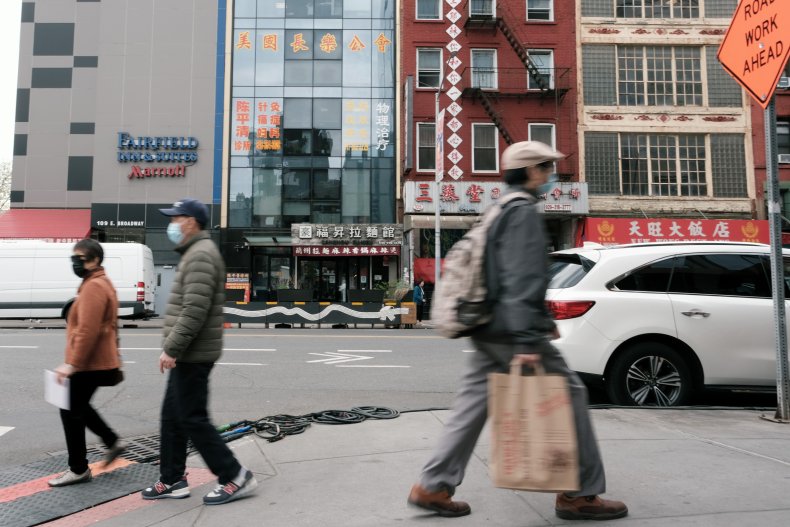 "The service personnel are warm-hearted local people serving as volunteers," Liu said. "There is no employment or affiliation with any Chinese government agency (including sub-national governments and public security agencies), nor are these sites authorized or delegated to provide the service."
"Providing online service is a common practice recognized and adopted by countries worldwide," he added. "During the COVID pandemic, overseas Chinese submitted online applications for purposes such as driver's license renewal to relevant public security agencies in China. These are essentially acts of online self-service. There is no breaching of laws or regulations, and no infringement of the judicial sovereignty of the host country."
The presence of such sites extends beyond the United States have been reported in official Chinese publications dating back years.
In December, Newsweek published an investigation into such sites operating within U.S. territory, as well as on more than 100 sites present in a total of over 50 countries, as included in a report released by the Spain-based NGO Safeguard Defenders. The reporting has prompted investigations from several of the countries listed, including Canada, Germany, Ireland, Japan, the Netherlands and South Korea.
A spokesperson for the Royal Canadian Mounted Police told Newsweek on Tuesday that the "RCMP is actively investigating reports nationally of criminal activity in relation to the so-called 'police' stations."
"The RCMP recognizes that Chinese Canadians are victims of the activity we are investigating," the spokesperson said. "There will be no tolerance for this or any other form of intimidation, harassment, or harmful targeting of diaspora communities or individuals in Canada."
Earlier that same day, a senior official of U.S. President Joe Biden's administration told Newsweek that "the U.S. Government has been clear that we will use all available tools to protect American citizens and other U.S. persons from transnational repression and other forms of foreign malign influence."
"We will not tolerate the PRC Government—or any foreign government—harassing or threatening U.S. persons," the official added.
Chinese officials, however, have consistently maintained that their government and its police force did not engage in such behavior—or any other violations of international law.
"China's police do not engage in 'transnational repression and coercion' against the so-called 'dissidents' and 'dissenters,'" Liu said. "The Chinese government strictly abides by international law, and fully respects the law enforcement sovereignty of other countries."
He argued that "China's public security agencies have made active efforts to sign bilateral law enforcement cooperation agreements with their foreign counterparts," but did so under lawful pretenses, including through participation in "multilateral law enforcement cooperation under the frameworks such as the UN, INTERPOL and Shanghai Cooperation Organization to combat all kinds of transnational criminal activities in accordance with law."
"We resolutely oppose 'long-arm jurisdiction,'" Liu said. "China's role and fruitful participation in international law enforcement cooperation are recognized across the world."
And it was precisely this practice that Liu said China opposed that Beijing was charging Washington with pursuing in light of the recent arrests.
"By initiating prosecution against Chinese citizens under the pretext of 'transnational repression", the U.S. side is exercising long-arm jurisdiction based on fabricated charges," Liu said. "This is sheer political manipulation, and the purpose is to smear China's image. The U.S. side has also been slandering the law-enforcement activities that China conducts under the international law and bilateral agreements."
"This will only embolden more Chinese criminals to seek political asylum in the U.S.," he added, "making the country a 'safe haven' for criminals and ultimately backfiring on the U.S. itself."
And, at a time of already strained relations between the U.S. and China, he predicted further deterioration as a result of the DOJ's actions.
"The U.S.' abuse of judicial and law enforcement means against the Chinese citizens is the real 'transnational repression,'" Liu said, "bringing further damage to the mutual trust between the two countries and bilateral cooperation in the relevant fields."
This is a developing news story. More information will be added as it becomes available.