China Revels in Simone Biles Loss as Country's Gymnasts Take Gold, Silver
China's largest social media website was overcome with a mixture of joy and relief on Tuesday as two Chinese teenagers bested a returning Simone Biles to clinch gold and silver in the balance beam final.
Impressive performances by Guan Chenchen and Tang Xijing, aged 16 and 18, propelled China's gold medal count to 32 and 68 medals overall, matching the United States. Biles, who had withdrawn from Team USA events last week, won bronze, tying the record for most decorated U.S. gymnast in Olympic history with seven medals.
Certain corners of microblogging website Weibo appeared to revel in Biles' loss, but the sentiment seemed to highlight her formidable reputation as she dominated the world of gymnastics over the years.
"Finally, this is the moment for Chinese gymnastics after living through Simone Biles for so long," one user wrote, expressing more hope in Guan and Tang as future gold medalists.
Remarking on Guan's gold medal, one newspaper in Shanghai likened the feat to giant-slaying, describing Biles as a "legend." China's state broadcaster CCTV congratulated the 24-year-old and called her a "superstar."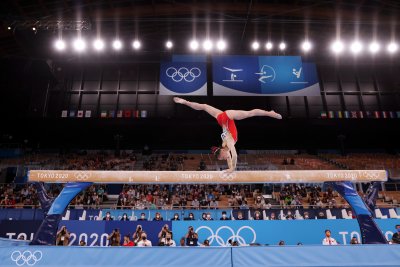 Netizens have noted that the balance beam is not Biles' strongest event—she also won bronze at the 2016 Summer Olympics in Rio de Janeiro—but the majority were simply overjoyed that their young athletes were able to overcome a giant of the game.
"Anyone who can beat Simone Biles is a god," a commenter added under a Weibo post about the result.
Biles and fellow teammate Sunisa Lee—who leaves Tokyo with one gold, one silver and one bronze—came in for special praise from Chinese social media users who noticed them cheering Team China's gymnasts and congratulating them on their wins.
Both Guan and Tang expressed some shock at the result; they are both aiming to appear at the Paris Games in 2024.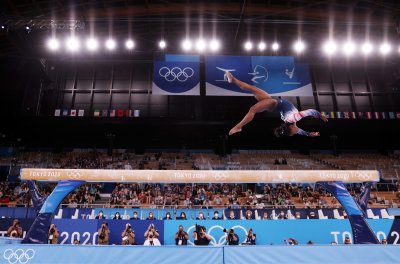 After the event, Biles told the BBC she was not expecting to win a medal on the balance beam. "I just wanted to go out and do it for me, and that's what I did."
"It definitely feels more special, this bronze, than the balance beam bronze at Rio. I will cherish it for a long time," she added.
Biles said it "sucked" to have to sit out on last week's Team USA events. At a post-event press conference, she remarked: "Just to have one more opportunity to compete at the Olympics meant the world to me."
She revealed she had daily medical evaluations and two sessions with a sports psychologist before her return for the balance mean. Mental health "should be talked about a lot more, especially with athletes," she said.
"At the end of the day, we're not just entertainment, we're humans and there are things going on behind the scenes that we're also trying to juggle with as well on top of sports," Biles added.