Secretary of State Antony Blinken and Defense Secretary Lloyd Austin riled China over the weekend with comments in support of Taiwan.
The Taiwan Affairs Office (TAO) in Beijing said in a statement on Monday that China would not allow "external interference," after Blinken said a hypothetical Chinese attack on the democratic island would be a "disastrous decision" and Austin said the U.S. was looking to "do more" to help Taipei.
Attending a virtual Reuters conference last Friday, Secretary Blinken repeated longstanding commitments to bolstering Taiwan's self-defense, saying four decades of American policy in the region had helped maintain stability across the Taiwan Strait and in the relationship between the United States and China.
In standout remarks singled out by China's official news service Xinhua, President Joe Biden's top diplomat described Taiwan as "a strong democracy, a strong economy, an innovative country that has a lot to contribute to the world."
His reference to Taiwan as a country was his third public departure from strict State Department guidelines this year. While Washington doesn't accept or recognize China's claim to the democratic island, it has no formal diplomatic ties with the Taiwanese government in Taipei.
Beijing considers the island one of its provinces, despite having never governed Taiwan since the founding of the People's Republic of China by the late Chinese Communist Party leader Mao Zedong in 1949. China views support for Taiwan's democratically elected government—and its insistence that Taiwan is already a functionally independent state—an endorsement of so-called "Taiwan independence."
Blinken said China has been trying to change the decades-long cross-strait dynamic, often described as the status quo, "by increasing the pressure on Taiwan, by engaging in provocative military maneuvers and actions, by trying to isolate Taiwan and deny its engagement with the rest of the world, with the international community."
He urged Chinese leaders to "think very carefully" before triggering a crisis that would have "terrible consequences for lots of people and one that's in no one's interest, starting with China."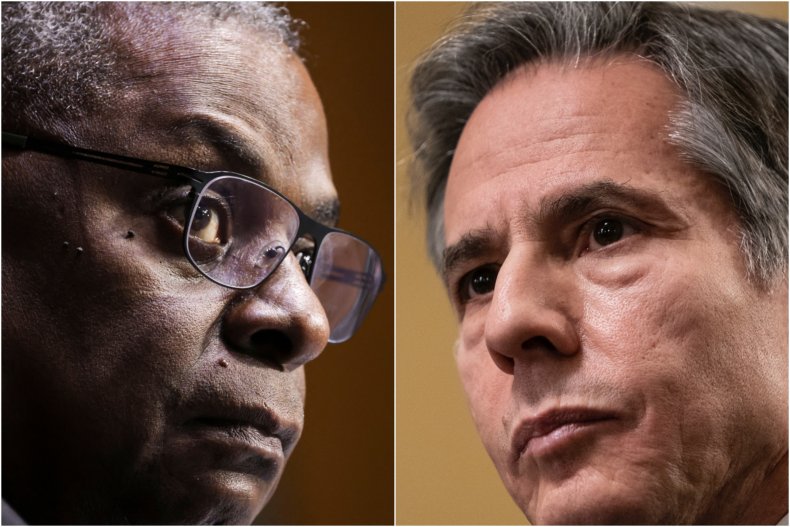 Secretary Austin's comments came at the annual Reagan National Defense Forum, where he told Fox News on Saturday that frequent Chinese air force missions around the island resembled "rehearsals" for future operations.
The American defense chief said the U.S. would help Taiwan "develop and maintain the capability to defend itself." Austin said the U.S. was "doing a lot" and would "look for ways to do more."
TAO spokesperson Ma Xiaoguang told China's official Xinhua news agency on Monday: "Recently, some people in the U.S. government have repeatedly made wrong remarks related to Taiwan. This exposes the U.S. government's stubborn adherence to the wrong position on Taiwan and its continuing plot to play the 'Taiwan card.'"
"Solving the Taiwan issue is entirely China's own business, and no external interference is allowed," said Ma, who warned it was "very dangerous to play with fire on issues related to Taiwan."
At a daily press briefing on the same day, Chinese Foreign Ministry spokesperson Zhao Lijian repeated Chinese leader Xi Jinping's statement to President Biden after their virtual summit in November.
"We will strive for the prospect of peaceful unification with utmost sincerity and efforts," he said. "That said, should 'Taiwan independence' splittist forces provoke us, force our hand or even cross the red line, we will be compelled to take resolute measures."
Taiwan has said it's making the necessary preparations and is determined to defend itself from a Chinese attempt to annex the island and subjugate its 23.5 million people. Taipei has claimed it's not seeking allied military assistance but welcomes political support for its stance.