The "double mutant" coronavirus strain that was found in India has now been detected in China, the country's chief epidemiologist has said in a major announcement ahead of this weekend's public holiday.
At a Chinese Center for Disease Control and Prevention press conference held in Beijing on Thursday, Wu Zunyou revealed the "Indian variant" had been found in "some Chinese cities," without elaborating. The news has sparked intense discussion online about stricter border controls amid the five-day Labor Day break beginning Saturday.
The country where COVID-19 was first reported some 16 months ago is preparing to step up public health measures in order to allay fears of a fresh outbreak caused by the "double mutant" strain B.1.617.
Citizens are rightly concerned about the variant, Wu said, noting: "The virus has been mutating since the start of the pandemic." It will not stop mutating until the pandemic is over, he added.
"Implementing containment measures is key to stopping the spread of mutant strains, and also to prevent the occurrence of new mutations," the senior health official said.
Wu's announcement generated a Weibo hashtag—"Indian virus variant detected in some Chinese cities"—that has been read over 80 million times at the time of writing.
China's National Health Commission said the country recorded an additional 20 confirmed coronavirus cases on Wednesday—all individuals who had returned from abroad. There were also 14 asymptomatic cases, which it counts separately.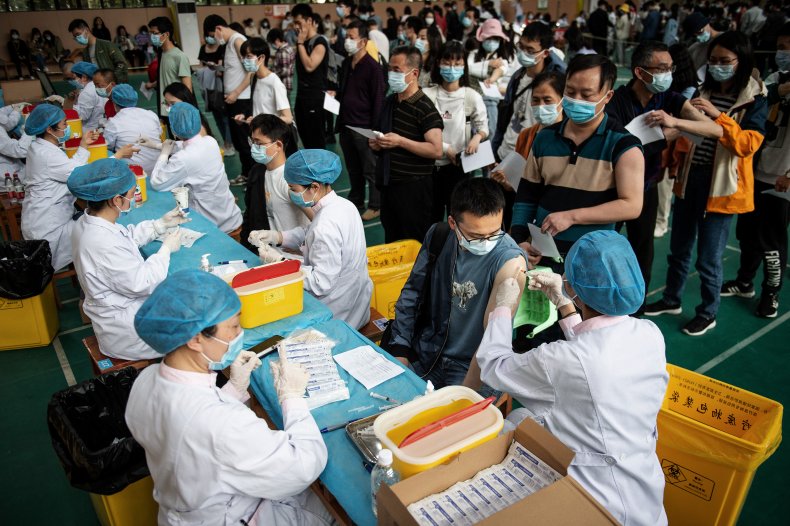 Among the new cases were 11 crew members on the Hong Kong-registered cargo ship Huayang Chaoyang, which returned from India with 20 onboard before docking in the port of Zhoushan in China's eastern Zhejiang province.
All 11, including one asymptomatic carrier, were quarantined by the local health commission, which said it had yet to find any local contacts. It was still unclear whether the 11 crew members were carrying the Indian strain or another variant of COVID-19.
China's Labor Day holidays starting May 1 are expected to see record passenger figures as most travel takes place within the country. Reports have estimated more than 200 million trips will be made in the next five days.
Weibo users, however, did not hide their concern about the Indian variant reaching China.
"Why are we still allowing flights from India?" one commenter asked.
"Enforce a strict quarantine of 30 days, please," a second wrote.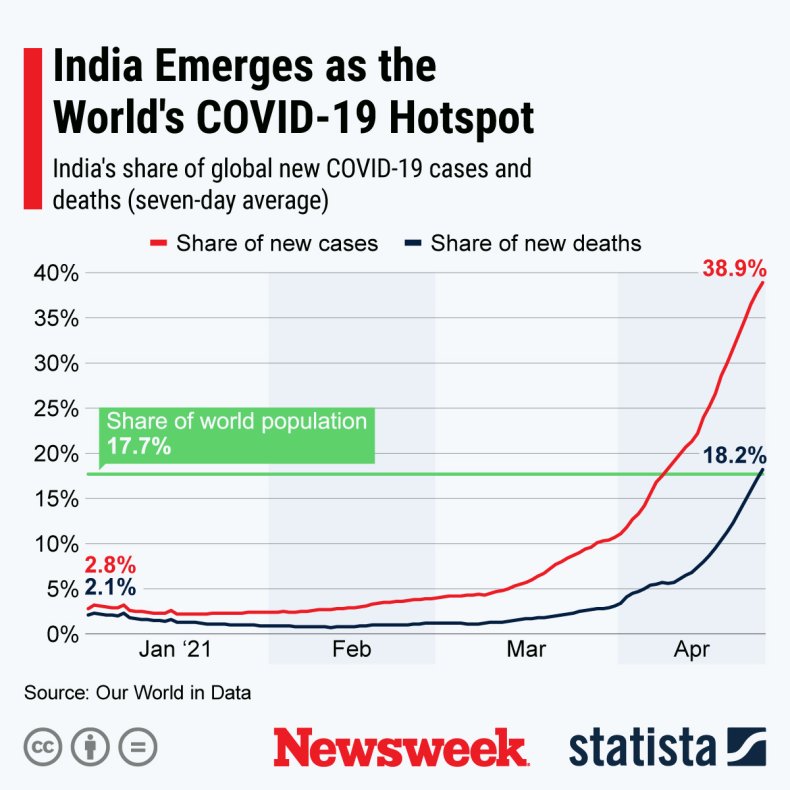 China has reported a total 90,642 coronavirus cases and 4,636 deaths since the start of the pandemic. India, by contrast, is experiencing the world's worst wave of infections, hitting a new record of over 379,000 cases on Wednesday alone.
The prevalence of B.1.617—first discovered last October—is apparently among the reasons why India's healthcare system is reporting bed and oxygen shortages and teeters on the brink of collapse.
Images showed makeshift cremations taking place in fields and parking lots as India reached the grim milestone of 200,000 deaths and 18.4 million confirmed cases this week.
Despite being the world's largest vaccine producer, India does not have enough jabs for itself—just 1.5 percent of its nearly 1.4 billion citizens have received both doses.
President Joe Biden on Tuesday said the United States intended to send vaccines and raw materials to India. Prime Minister Narendra Modi has acknowledged aid from Russia, while China, Singapore and the U.K. are among the countries offering support.