China, Russia Bring Iran, Pakistan Into Fold to Face Afghanistan Crisis Together
China and Russia are bringing Iran and Pakistan further into their fold in a bid to elevate a regionwide strategy toward confronting the still-simmering crisis in Afghanistan, where the Taliban is looking for international recognition for its rule.
Officials from China, Russia, Iran and Pakistan met Thursday for their first quadrilateral summit on the sidelines of the upcoming Shanghai Cooperation Organization heads of state summit to be held Friday in the Tajik capital of Dushanbe.
In his opening remarks, Russian Foreign Minister Sergey Lavrov said he believed that "the countries who are immediately neighboring Afghanistan" were "the countries who can make a difference in the region in helping the Afghan people to get out of the crisis created after the 20 years of the war launched by the United States and NATO."
"Acting in good faith," he added, "we can make a difference in creating necessary external conditions for the Afghans to get their destiny in their own hands, without any threats emanating from the Afghan territory in regards to terrorism, drug trafficking, and without any risks and challenges created from the territory of Afghanistan to its neighbors."
In a readout released following their discussions, the Russian Foreign Ministry said that "approaches were compared on issues of facilitating establishment of peace, stability and security in Afghanistan, while the necessity to establish national reconciliation in the country was stressed."
The Iranian Foreign Ministry also reported positive results.
"At the meeting, the top diplomats supported the formation of an inclusive government with the participation of all ethnic groups in Afghanistan," the Iranian side said in its own account of the four-way talks. "An Afghanistan free of terrorism, free of drugs and free of threats against its neighbors was another topic on the agenda."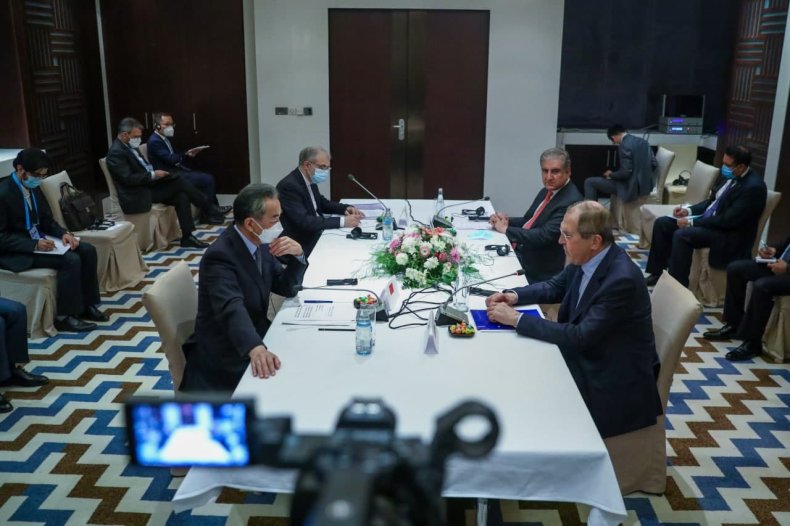 The meeting is the latest platform among involving regional countries to address the situation in Afghanistan, where the international country at large remains concerned about the Taliban's ability to stabilize the war-torn nation and curb the spread of militant groups known to operate there.
The security climate across Afghanistan and its periphery also dominated a meeting held Thursday by member states of the Collective Security Treaty Organization (CSTO), a post-Soviet, Russia-led alliance that also includes Armenia and Belarus as well as the Central Asian states of Kazakhstan, Kyrgyzstan and Tajikistan.
"The situation in the CSTO's zone of responsibility and on the external borders of its member states remains unstable and spells new and truly acute challenges and risks for the security of our countries," Russian President Vladimir Putin said.
Putin was slated to stage another appearance at Friday's Shanghai Cooperation Organization (SCO) leaders' summit also taking place in Dushanbe. Kazakhstan, Kyrgyzstan and Tajikistan also count themselves as members of the SCO, as do China, India, Pakistan and Uzbekistan.
Iran, like Afghanistan, Belarus and Mongolia, is an SCO observer state. But the Islamic Republic is expected to receive full membership as Iranian President Ebrahim Raisi traveled to Tajikistan to appear in person alongside Pakistani Foreign Minister Imran Khan and other leaders, while Putin, Chinese President Xi Jinping and Indian Prime Minister Narendra Modi were scheduled to speak virtually.
The SCO, established two decades ago just months before the U.S.-led intervention in Afghanistan, has traditionally been beset by internal divisions. Among the squabbles that emerged were tensions held by strategic partners China and Pakistan with India and political differences that long blocked Iran's entry.
While these differences continue to exist, the situation in Afghanistan has presented a path for Beijing, Moscow, Tehran and Islamabad to overcome their differences and coalesce. It was also an opportunity to present to the world an alternative order to that advertised by the United States.
The U.S. has accused both China and Russia of pursuing destabilizing moves across the globe, and has instituted tough sanctions against Iran over its nuclear program. Relations between the U.S. and Pakistan have also strained due to the former's warming relationship with India and the latter's long-cultivated ties to the Taliban.
The emerging dynamic reverses Cold War-era interactions that saw the U.S. and Pakistan on one side of the decades-long geopolitical dispute, and the Soviet Union and India on the other. India and Russia still maintain warm relations, but the SCO has sought to bring all regional parties together, leaving the U.S. on the sidelines.
Even as New Delhi steps up its focus on the strife in nearby Afghanistan, however, India remains locked in tensions with China, and has joined the U.S., Australia and Japan to form the Quadrilateral Security Dialogue, another emerging regional bloc.
For Iran and Pakistan, the SCO may serve as a chance for the two Islamic Republics to put to rest tensions over turmoil raised by militant groups operating across their shared border, and boost ties.
"We should not allow outsiders' sabotage to affect these good relations," Raisi said following a bilateral meeting with Khan on Thursday in Dushanbe.
The recently sworn-in Iranian president his country "is determined to promote regional relations and cooperation, especially with neighboring countries, and Pakistan has a special place in this regard." He specifically brought up border security, trade and joint efforts "to help Afghanistan form a government that includes all groups based on the will of the people of the country."
Khan, too, called for bolstering bilateral ties, especially in transportation and economic fields, and said the two nations "should work closely and interact with each other for Afghanistan to successfully pass the stage of state-building and formation of an inclusive government," according to Raisi's office.
The goodwill between Tehran and Islamabad would also likely support the overall interests of Beijing, which counts both countries as critical members of the Xi's intercontinental Belt and Road Initative.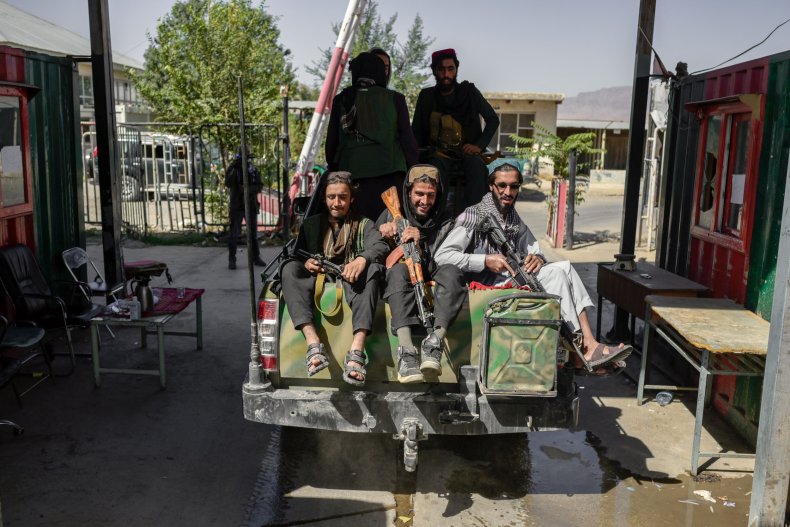 Chinese Foreign Ministry spokesperson Zhao Lijian said Friday's SCO meeting would serve as a showcase for how member states "have transcended differences in social systems, histories and cultures, and successfully found a new type of cooperation and development path for regional organizations" and "have played active roles in regional and international affairs, and made vital theoretical and practical exploration for building a new type of international relations and a community with a shared future for mankind."
Zhao said Xi on Friday "will take stock of the successful experiences of the SCO with leaders of other countries, have an in-depth exchange of views on SCO cooperation across the board and major international and regional issues under the new circumstances, approve a series of key cooperation documents and charter the course for the SCO's development going forward."
He hopes for "new progress at a new starting point and stay committed to building an even closer community with a shared future for the benefit of people of all countries in the region."
And he underlined the centrality of Afghanistan to the upcoming SCO meeting and Beijing's own national interests.
"China, a member of the SCO, is ready to have close communication and coordination with relevant countries, jointly work on Afghanistan to build an open and inclusive political structure, adopt moderate and prudent domestic and foreign policies, make a clean break with all forms of terrorist groups, and live on friendly terms with other countries," Zhao said. "We are ready to continue to develop good-neighborliness and friendly cooperation with Afghanistan and play a constructive role in Afghanistan's peace and reconstruction."
Chinese Foreign Minister Wang Yi met Thursday with Lavrov separately from their quadripartite alongside the Iranian and Pakistani representatives. The pair "positively assessed the current state of Russian-Chinese relations, which continue to develop dynamically," according to the Russian Foreign Ministry
Afghanistan here, too, was featured as a major topic of discussion.
"Special attention was paid to the situation in Afghanistan," the ministry said. "Russia and China intend to actively contribute to an Afghan settlement by creating conditions for an inter-Afghan dialogue and an inclusive peace process, including through the SCO - Afghanistan Contact Group."
Lavrov and Wang "expressed their hope for an early normalization of the situation in this country," and they specifically stressed "the importance of coordinating actions between the SCO and the CSTO in promoting a settlement in and around Afghanistan in the interests of ensuring stability in Central Asia and the surrounding region was emphasized."