Chinese export restrictions on key components for uncrewed vehicles are making it difficult for Moscow to produce military drones, according to a Russian state media report, which may hamper Vladimir Putin's war effort in Ukraine.
New Chinese regulations brought in at the start of the month "seriously complicated drone deliveries to Russia and led to a shortage of a number of components, such as thermal imagers," Kremlin-linked newspaper Kommersant reported on Monday.
In late August, China's government said it was introducing export controls on some drones and related parts. The measures would affect some communications equipment, the engines and lasers used in drones, as well as counter-drone systems, the Chinese government said.
The restrictions would also impact consumer drones intended for military use, it was reported at the time, and drones with a flight time of more than 30 minutes.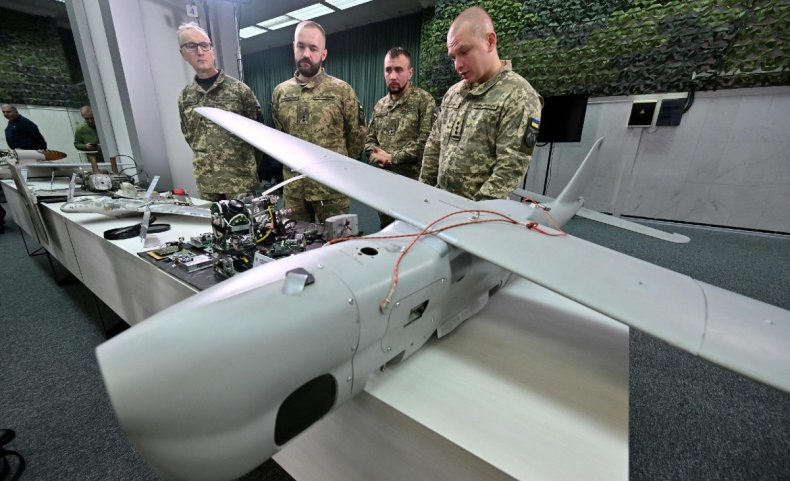 China is one of the world's top drone producers, and has toed a line of neutrality over the ongoing war in Ukraine, while maintaining friendly diplomatic relations with Moscow.
The conflict, heading for its 19th month, has spurred drone development at a "lightning pace," experts previously told Newsweek. Both sides have extensively deployed various drone types, including reconnaissance and strike vehicles, throughout the war.
Ukraine has become infamous for its first-person view combat footage, and its high-profile aerial strikes on Russian territory and naval drone attacks on Russian targets in Crimea.
"After the war ends, Ukraine will have a unique experience and every chance to become a major exporter of UAVs [unmanned aerial vehicles] in the world," Ukraine's vice prime minister, Mykhailo Fedorov, told Newsweek in early August.
Moscow has frequently used drones, most notoriously for its "kamikaze" strikes on Ukrainian cities and infrastructure with Iranian-designed Shahed-131 and Shahed-136 drones.
Beijing's ban on larger drones and some components needed to build uncrewed technology is "now a hotly debated topic" across Russian sectors and organizations involved with Moscow's drone programs, according to Samuel Bendett, of the U.S.-based Center for Naval Analyses.
"The real impact of this ban on the Russian market mostly boils down to the jump in prices for existing and available Chinese drones in and components already in Russia," Bendett told Newsweek on Monday. In the long term, Russia's domestic drone industry could step in and replace Chinese imports, he suggested.
"This is a very interesting example of how China has a tight grip on the technology that make drones possible," said U.K.-based drone expert Steve Wright. Drones need a "vast amount of electronics, and the Russians have tried, and failed, to develop an internal capability," he told Newsweek.
"In short, the Chinese have stranglehold on much of the market," for both Russia and Western countries, he added.
China's ban is not currently affecting "small DJI-type drones," Bendett added, referring to one of China's best-known commercial drone giants.
However, it could impact the import of larger, heavier agricultural drones that Russia has used in Ukraine, Bendett said. "The lack of certain components may have a great effect, but there are many alternate supply routes, legal and gray schemes used by Russians to procure what they need," he added.
Many of Russia's largest drone manufacturers have managed to stockpile "significant" reserves of drone components, Kommersant reported.
Newsweek has reached out to the Russian Defense Ministry for comment via email.
Update 09/18/2023, 10:45 a.m. ET: This article was updated with additional comment from Steve Wright.
Update 09/19/2023, 10:15 a.m. ET: The headline of this article was updated to closer reflect the content of the story.