Battling the Trump Administration Over Espionage Concerns, China's Controversial Huawei Will Build Russia's First 5G Network
A Chinese technology giant that was blacklisted in America over espionage concerns will be responsible for building the first 5G wireless network in Russia.
China's leader Xi Jinping arrived in Russia this week as the Trump administration's trade war with China drags on. Among the major announcements made during Xi's high-profile meeting with Russian President Vladimir Putin was the fact that the controversial Chinese company Huawei, which the Trump administration banned due to national security concerns, would build a 5G network for Russia.
The deal appeared to be a sign that Russia and China are solidifying their partnership in opposition to the U.S.
In May, the Trump administration blacklisted Huawei and put 68 of the company's affiliates on the Commerce Department's Entity List, prohibiting the company from buying parts from American companies without the approval of Washington. The move could jeopardize the company's future because of its heavy reliance on the U.S. market.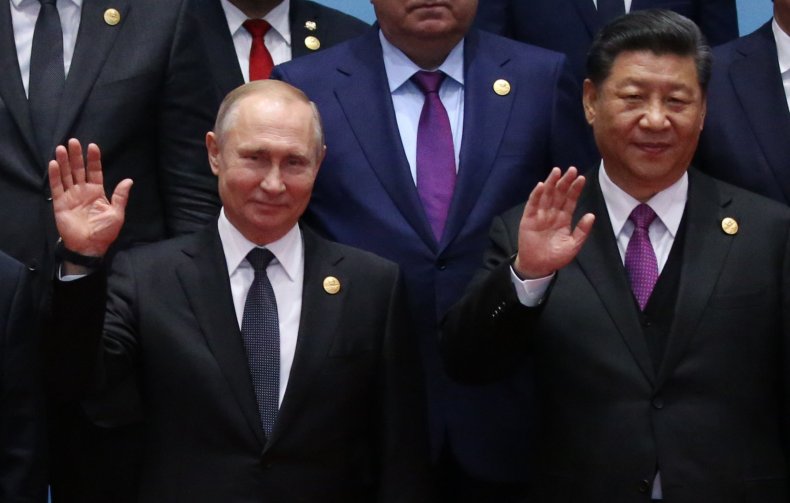 Washington and many of its allies argue that Huawei's products purposefully include security loopholes that permit espionage by China's government and other actors. Huawei's chairman said Tuesday that the company would be willing to sign a "no spy" agreement with the U.S. and other countries, but the Trump administration has not appeared willing to budge on its prohibition of the tech giant.
Even as Huawei grew to become one of China's largest businesses, companies around the world have been cutting ties with Shenzhen-based Huawei in order to come into compliance with the U.S. ban. However, Russia, which is subject to a number of U.S. sanctions and has had a tense relationship with Washington, has shown that it is willing to work with the company despite any security risks.
Huawei signed a deal with the Russian telecom company MTS on the sidelines of the high-profile meeting between Putin and Jinping on Thursday.
China's state-run media reported that Huawei has 46 commercial 5G contracts in 30 countries worldwide and has shipped around 100,000 5G base stations around the world. Both China and Russia are expanding into national markets in Africa as their relationship with the U.S. deteriorates.
Xi also appeared to take aim at President Donald Trump during the meeting with Putin on Thursday, making subtle references to Trump's trade war and "America First" approach.
"Protectionism and unilateral approaches are on the rise, and a policy of force and hegemonism is increasingly taking hold," Xi said during the meeting with Putin.
Xi also called Putin his "close friend," and highlighted the number of times the two leaders have met. The two men later issued a joint statement in which they critiqued Trump's decision to abandon the Intermediate Range Nuclear Forces (INF) arms treaty and expressed concern about a global arms race playing out in space.