Is China Slowly Turning Its Back to Russia?
Beijing has strived to remain neutral on Vladimir Putin's invasion of Ukraine, but there are signs that commercial ties between Russia and China are being impacted by sanctions triggered by the war.
On Tuesday, Russia's biggest bank, Sberbank, temporarily suspended cross-border transactions in the Chinese yuan. No official reason was given, but Sberbank is among the Russian financial institutions sanctioned by the United States and the United Kingdom.
The European Union has also cut the bank from the SWIFT global banking system.
Stanislav Mashagin, from the investment company Infrastructure of Russia, told Russian business outlet BFM that Sberbank had problems with settlements in yuan because of Western sanctions. He noted Chinese banks were afraid to circumvent the measures for fear of facing fines for violating U.S. law.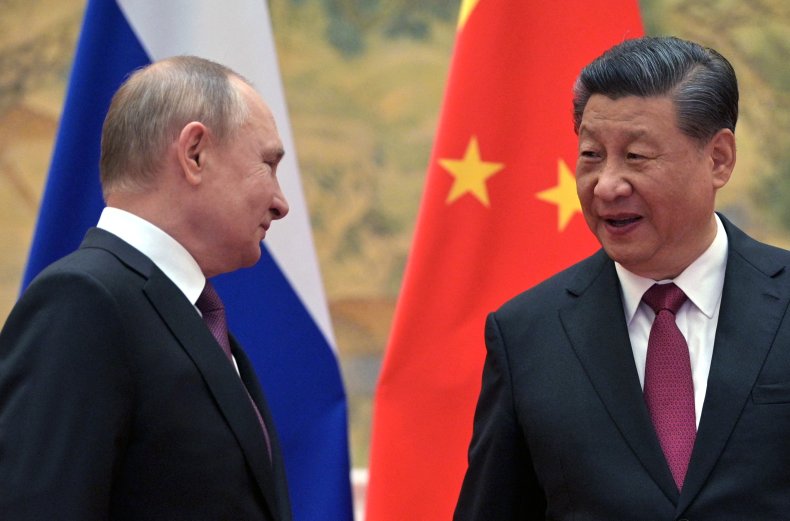 Sberbank told Newsweek the suspension was a "temporary measure" affecting corporate clients which are "foreign economic activity participants that make payments in yuan.
"The bank is currently working with Chinese partners to resolve the situation and restore settlements."
Also on Tuesday, Russia's state news agency RIA reported that Chinese multinational corporation Huawei had begun to close official retail outlets in Russia due to a shortage of products in warehouses, as well as a decrease in demand for smartphones.
Only 15 out of 19 official stores in the country continue to operate after the closure of outlets in Moscow and the cities of Novokuznetsk, Ufa and Rostov-on-Don.
The paper Izvestia reported that Huawei had stopped agreeing new contracts for the supply of network equipment and gadgets to Russia at the end of March.
Meanwhile, a Financial Times report in March said major Chinese electronics manufacturers, including Huawei, had drastically cut shipments to Russia due to the collapse of the ruble and Western sanctions. An ex-Huawei executive was quoted as saying: "It's very risky to work in Russia right now."
Newsweek has contacted Huawei for comment.
However, the war in Ukraine has had some positive knock-on effects for China, whose imports from Russia soared by 79.6 percent in May compared with the same time last year. This followed a year-on-year spike in April of 56.6 percent and a 26.4 percent increase in March, Reuters reported on Thursday.
China has also been benefiting from sanctions on Russian energy supplies. It is buying cut-price oil, partially making up for the decision by the EU to cut 90 percent of its Russian oil imports by the end of the year. To meet Asian demand, Russia has increased shipments by about 20 percent out of the major port of Kozmino.
Beijing has sought to portray itself as neutral, publicly supporting Ukraine's sovereignty but criticizing sanctions on Russia and blaming the U.S. for provoking the war by encouraging the expansion of NATO.
Only weeks after a summit between Putin and President Xi Jinping in Beijing, China abstained on a February 25 United Nations Security Council resolution denouncing the invasion that had begun the previous day.
Steve Tsang, director of the China Institute at London's School of African and Oriental Studies (SOAS) told Newsweek that Chinese government policy was was one of "declaring neutrality, supporting Putin, and paying no prices.
"The last implies that China would not risk secondary sanctions. So, what Huawei is doing is in line with the overall policy. Chinese companies tend to be more conservative over the risk of secondary sanctions, so it is just playing safe."
Meanwhile, Alicia García-Herrero, the chief economist for Asia Pacific at Natixis said the Global Security Initiative announced by Xi and endorsed by Moscow was "a way to shield Russia through China's partnership in security although Russia so far has not fully jumped on board."
"From the very beginning, Chinese banks announced the cancellation of letters of credit to Russian counterparts, and exports of fusion technology seem to be much more limited," she told Newsweek. "Beyond Huawei, also unit pay has been hesitant to expand in Russia."
"I think President Xi and his entourage do not want bad news on this front before the Party Congress, but I don't think this is a structural decision."
On February 28, the Russian Foreign Ministry described China as one of its remaining friends, and China's state media remains pro-Russia and has even republished false reports by counterparts in Russia.
However, Joseph Torigian, a specialist on Russia and China at the American University said it was not certain how much economic help China could provide Russia, and Beijing would be unlikely to put its own financial interests at stake.
"China is very vulnerable to secondary sanctions," he wrote in The Conversation in March, referring to penalties levied against institutions that conduct business with sanctioned entities. "It is notable that some Chinese financial institutions have begun to distance themselves from the Russian economy."
While Ukrainian Foreign Minister Dmytro Kuleba said in March that he had received assurances that "China is interested in stopping this war," Torigian wrote that Beijing "lacks the will and capability to force Russia to completely back down."
"Both sides have reason to try to manage whatever strains may exist for now," he added.
Update 06/10/22, 4:30 a.m. ET: This article has been updated with comment from Sberbank and analysts Alicia García-Herrero and Steve Tsang.