China, Russia, Iran and Pakistan Move to Create United Front on Afghanistan
China, Russia, Iran, Pakistan and others in the region surrounding Afghanistan have set out to establish unity in confronting the crises enveloping the nation since the U.S. military withdrawal.
In their second such meeting, the senior diplomats from Afghanistan's six neighboring countries and Russia gathered virtually and in person for a conference in the Iranian capital of Tehran on Wednesday in an effort to further align their views.
They come together at a time when Afghanistan is facing imminent humanitarian, economic and security crises. Representatives were on hand from China, Iran, Pakistan, Russia, Tajikistan, Turkmenistan and Uzbekistan.
Among the most concerning developments for these countries has been the rise of militant groups such as the Islamic State (ISIS) that have issued threats beyond Afghanistan's borders.
"We should positively view the timely development of bilateral and multilateral dialogues and cooperation with Afghanistan on fighting terrorism," Chinese Foreign Minister Wang Yi said in comments carried by official Iranian media outlets and Russia's state-run Tass Russian News Agency.
He called upon those present to act through two platforms, the United Nations and the Shanghai Cooperation Organization, a coalition of countries in which all present, save for neutral Turkmenistan, are members.
"It is necessary to create a unified front against terrorism by means of such multilateral platforms as the U.N. and the SCO," Wang said.
Russian Foreign Minister Sergey Lavrov echoed this call in his remarks, and additionally offered the assistance of the Collective Treaty Security Organization, a Moscow-led alliance that also included Armenia, Belarus, Kazakhstan, Kyrgyzstan and Tajikistan.
He said his nation was preparing to send assistance to Afghanistan, and also issued an appeal to prevent the U.S. and its allies from redeploying forces elsewhere in the region after having withdrawn from a two-decade conflict in Afghanistan.
"We once again call on the countries neighboring Afghanistan to prevent the U.S. and NATO from establishing a military presence in their territory, given their plans to move there after pulling out of Afghanistan," Lavrov said.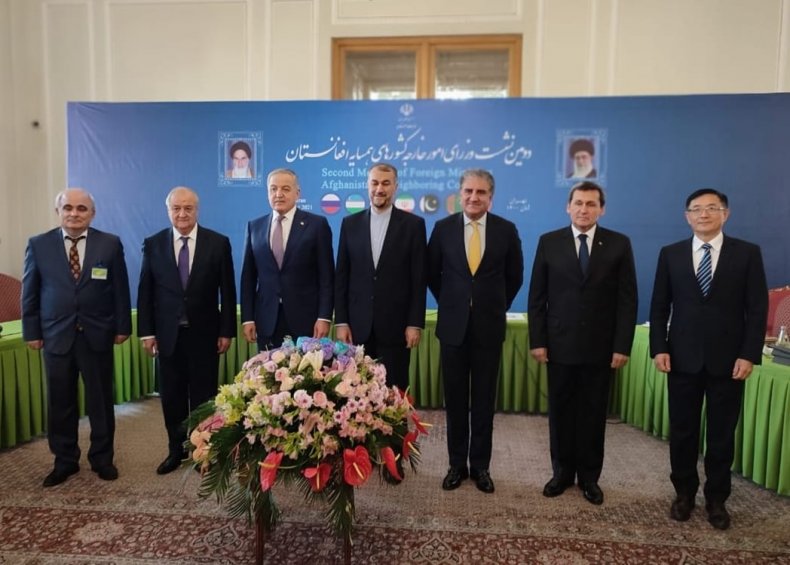 Beijing and Moscow have sought to ensure that regional countries were the ones to take the lead on the developing situation in Afghanistan, where the Taliban quickly seized power from a U.S.-backed government after the pullout. No country in the world has yet recognized the newly established Islamic Emirate. But China, Russian, Iran, Pakistan and others have already begun to engage with the nascent administration in hopes of avoiding further instability.
As turmoil arises in the shape of ISIS attacks, Iranian Foreign Minister Hossein Amir-Abdollahian highlighted his country's experience both in battling jihadis in Iraq and Syria and in suffering from U.S. military action in confronting the new challenge in Afghanistan.
"As a pivotal country in the battle against ISIS and terrorism, and as a nation that has suffered the loss of its great General, Martyr Qassem Soleimani, as well as other martyrs in this path, the Islamic Republic of Iran together with other neighbors emphasizes counterterrorism," Amir-Abdollahian said.
Tehran's embrace of a multilateral approach to Afghanistan was further elucidated in an opinion piece penned by Iranian permanent representative to the United Nations Majid Takht-Ravanchi and published Tuesday by Iran's semi-official Press TV outlet. Iranian officials have emphasized the need to safeguard the rights of ethnic minorities, some of whom have accused the Taliban of oppression while representing both a target and potential recruiting pool for ISIS.
Takht-Ravanchi said the world must come together on Afghanistan, and said those present at Wednesday's meeting could lead the way.
"The current situation in Afghanistan requires concerted international effort, and its neighboring countries can play a big role in this regard," Takht-Ravanchi wrote. "We believe a regional approach — with the support of the UN — can help the Afghan people overcome the current crisis."
He advocated for a "6+2" format that would include Iran's neighbors, Russia and the U.S., though Washington has so far avoided formal talks outside of the established "extended troika" platform that also includes China, Russia and Pakistan. Last week, these three powers met alongside India, Iran, Kazakhstan, Tajikistan, Turkmenistan and Uzbekistan as part of another process known as the "Moscow format," which Washington elected to avoid.
The meeting in Moscow also included a representative of the Taliban, which has vowed to engage with the international community and to confront transnational threats.
Among the powers present in these various talks, none has fostered a closer relationship to the group once again in charge of Afghanistan after 20 years than has Pakistan.
As the Taliban attempts to establish legitimacy and stability, Pakistani Foreign Minister Shah Mahmood Qureshi said that a "peaceful" and "prosperous" Afghanistan was the "shared objective" of the nations present at Wednesday's meeting, and that this "will only materialize when we join hands."