China, Russia 'Enabling North Korea' and Kim's Missile Tests: U.S. Envoy
The top American envoy to the United Nations accused China and Russia of "enabling North Korea," after Kim Jung Un oversaw his sixth missile test in 12 days without political reprisal on Wednesday.
"As the Security Council wrapped up a meeting on North Korea's dangerous ballistic missile launches, we learned that Pyongyang launched two more missiles," Linda Thomas-Greenfield, the U.S. ambassador to the U.N., said in a tweet.
"Make no mistake: the two Council members that are blocking us from taking action are enabling North Korea," she said, referring to the Chinese and Russian delegations, which have vetoed efforts to toughen U.N. sanctions on the regime.
Representatives from Beijing and Moscow, who suggested handling the matter privately instead of holding another Security Council session to publicly censure Pyongyang, have together argued in favor of easing restrictions so as to bring Kim back to the negotiating table for denuclearization talks.
"Stop the reckless, provocative, and escalatory behavior and return to dialogue," Thomas-Greenfield said—after North Korea launched two short-range ballistic missiles in the direction of the East Sea, or Sea of Japan, bringing the number of missile tests this year to nearly 40.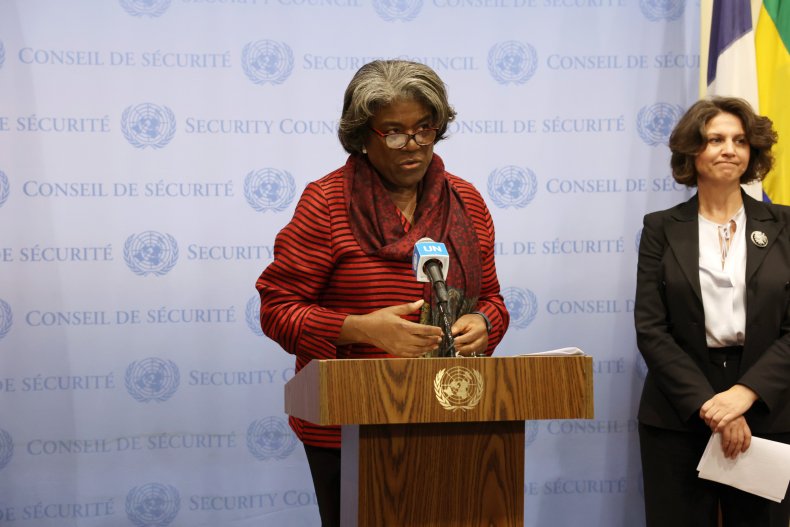 Separately, Seoul said its air force scrambled at least 30 jets on Thursday after Pyongyang flew eight fighter aircraft and four bombers north of the border for apparent live-fire drills.
The North's air exercise was "very rare" and hadn't been observed in the past year, South Korea's Yonhap News Agency quoted the military as saying.
The 15-member U.N. Security Council had originally gathered on Wednesday to discuss North Korea's launch of an intermediate-range ballistic missile, which overflew Japan on Tuesday in the first such incident since 2017, prompting shelter orders in the north of the country.
In a rare acknowledgment of the test, the foreign ministry of the Democratic People's Republic of Korea (DPRK), the official name of North Korea, called it a "just measure" to counteract recent joint military drills by South Korea and the United States.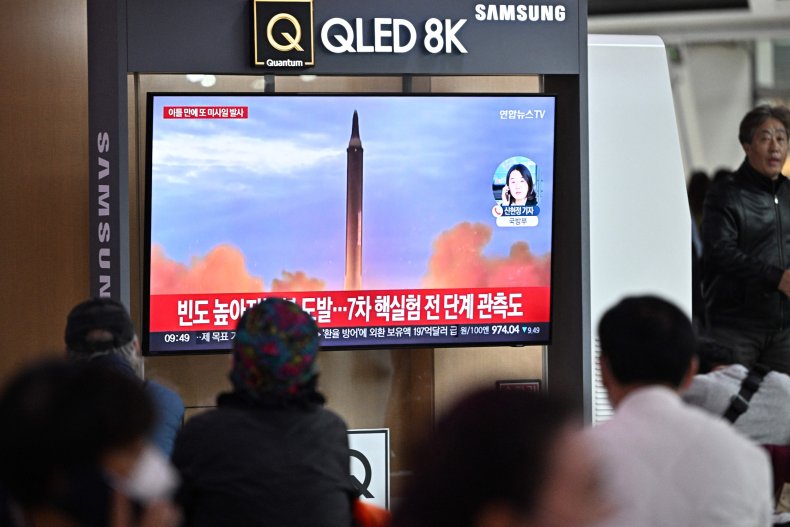 Nine Security Council members signed a joint statement condemning North Korea after the session, during which Thomas-Greenfield said the DPRK had enjoyed "blanket protection" from China and Russia.
Geng Shuang, the deputy Chinese envoy, suggested the council meeting wasn't conducive to dialogue and instead was "fueling escalation" on the Korean Peninsula.
Anna Evstigneeva, Russia's deputy representative, said the introduction of new sanctions against Pyongyang would be fruitless for non-proliferation goals.
"We have stated many times and repeat now that imposing further sanctions of the DPRK is a dead-end road. In North Korea's case, this measure yields no result whatsoever," Evstigneeva said.