China, Russia, Ramp Up Military Drills Amid 'Olympic Truce'
China and Russia are ramping up military drills amid an "Olympic truce."
In three major sea regions, the Chinese People's Liberation Army (PLA) conducted simultaneous exercises, according to the Global Times. Experts said on Thursday that it showed the Chinese military's combat preparedness.
Russia is also conducting military drills, sending thousands of troops to Belarus with convoys of Russian anti-aircraft missile systems, the Associated Press reported.
The Russian training exercises with Belarus are reportedly aimed at "repelling external aggression," the Russian Ministry of Defense said.
U.S. President Joe Biden is expected to meet with European and NATO leaders on Friday to discuss Russia's increased presence near Ukraine, a person familiar with the plans said.
China's exercises came after the U.S. and Japan had exercises between February 3 and 7 near the island of Taiwan as the Beijing 2022 Winter Olympics began, the Global Times reported.
Song Zhingping, a Chinese military expert and TV commentator, told the Global Times on Thursday that the exercises were a threat to China's national security and world peace and stability.
Chinese President Xi Jinping and Russian President Vladimir Putin met on Friday, just before the start of the Winter Olympics, with Putin hailing Russia's "unprecedented" ties with China. It was Xi's first meeting with a world leader in almost two years, Al Jazeera reported.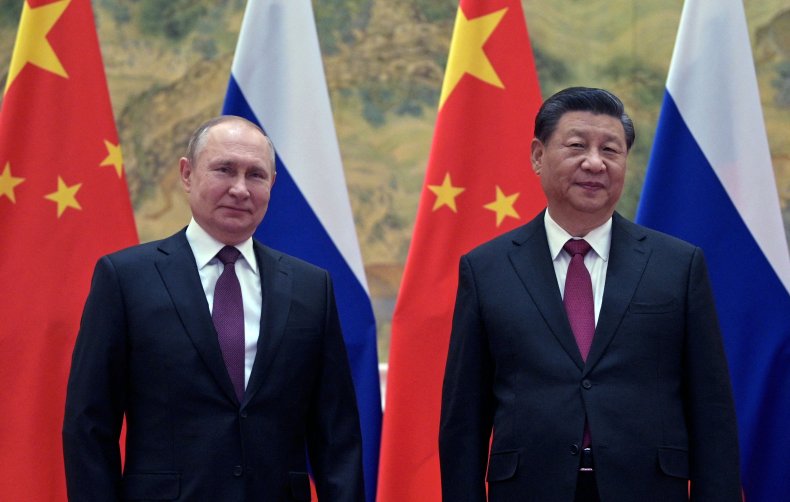 The two released a joint statement issued by the Kremlin, saying there "no limits" to the countries' bond. The statement addresses concerns about the alliance between Australia, the U.S., and the United Kingdom (AUKUS), calls on the U.S. to abandon plans to deploy missiles in the Asia-Pacific region and Europe, and says the U.S.' public condemnation of international arms control agreements "has an extremely negative impact on international and regional security and stability."
Russia's military drills will end on February 20, a statement from the Russian ministry said.
NATO Secretary General Jens Stoltenberg said last Thursday that Russia's deployment is with "an expected 30,000 combat troops, Spetsnaz special operation forces, fighter jets including SU-35, Iskander dual-capable missiles and S-400 air defense systems," according to CNN.
The Kremlin is thought to have deployed 70 percent of the military personnel and weapons on Ukraine's borders that Russia would require for a full-scale invasion, according to two U.S. officials familiar with the latest intelligence estimates, CNN reported.
China has conducted combat exercises in the East China Sea, maritime drills in the South China Sea and a maritime-aerial multidimensional rescue exercise in the Yellow Sea, according to China Central Television on Wednesday, Global Times reported.
The PLA also had three aircraft and two fighter jets sent to Taiwan's self-proclaimed southwest air defense identification zone Wednesday, the defense authority on the island said.
Update 2/10/22, 12:58 p.m. ET: This story was updated to add background information.