The U.S. State Department issued another health warning to citizens in China on Friday after a mysterious brain illness resulted in several diplomats and their families evacuating the country.
A previous health alert issued late May mentioned only the southern Chinese city of Guangzhou as the location that has been affected. However, the new statement has expanded the alert to all of China.
"The State Department received medical confirmation that a U.S. government employee in China suffered a medical incident consistent with what other U.S. government personnel experienced in Havana, Cuba," the statement said, reiterating comments made last month by Secretary of State Mike Pompeo.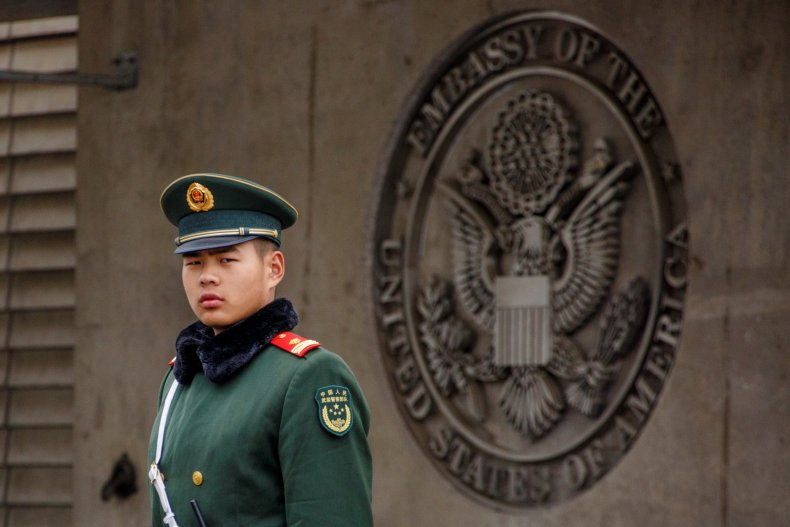 The alert then warned of "unexplained physical symptoms or events, auditory or sensory phenomena," and said symptoms included dizziness, headaches, tinnitus, fatigue, cognitive issues, visual problems, ear complaints and hearing loss, as well as difficulty sleeping.
The State Department had confirmed earlier that one U.S. employee assigned to the consulate in Guangzhou had "suffered a medical incident" and that it had deployed a team to screen employees and family members.
On Wednesday the U.S. government said that it had brought a group of people from that consulate back to the United States for further evaluation of their symptoms, and that it was offering screening to anyone at the U.S. Embassy in Beijing or other consulates in China who requested it.
The United States also operates consulates in the mainland Chinese cities of Chengdu, Shanghai, Shenyang and Wuhan.
China has said that it thoroughly investigated the initial case reported by the United States and found no reasons or clues to explain it. Chinese Foreign Ministry spokeswoman Hua Chunying said on Thursday that as far as she was aware the Chinese government had not had any formal communication with U.S. officials on any new cases.
China's state-run Global Times tabloid called the situation at the consulate "very strange." "Practically all Chinese people do not believe that this country's official organizations would carry out such sonic attacks against U.S. diplomats. This does not fit with China's basic concept and principles of diplomacy, and is inconceivable," Global Times said in an editorial.
In September, the State Department issued a health warning to U.S. citizens in Cuba after at least 21 diplomats fell ill with similar symptoms after hearing strange sounds.
The American Foreign Service Association said the sick embassy staffers were diagnosed with "mild traumatic brain injury and permanent hearing loss, with such additional symptoms as loss of balance, severe headaches, cognitive disruption, and brain swelling," reported the Washington Post.
Officials confirmed that the employees were being "targeted" by mysterious sonic attacks, which in turn resulted in more than half of the stationed diplomats being removed from Havana.
In March, authorities confirmed that 60 percent of the employees from the Havana embassy will be withdrawn.
"The embassy will continue to operate with the minimum personnel necessary to perform core diplomatic and consular functions, similar to the level of emergency staffing maintained during ordered departure," the State Department said in a statement. "The embassy will operate as an unaccompanied post, defined as a post at which no family members are permitted to reside."
The FBI and other intelligence agencies conducted various investigations into the attacks but were unable to determine their source. The Associated Press released recordings in October of the mysterious sounds.
"The Department does not have definitive answers on the cause or source of the attacks and is unable to recommend a means to mitigate exposure," then Secretary of State Rex Tillerson said in a statement.