China Says 'Biggest Threat to U.S. is U.S. Itself' As Bill to Fund Competition Passes
China has rejected the inclusion of language targeting the People's Republic in a new bill passed by Congress to bolster science and technology.
Beijing believes that the United States' greatest rival is not China, but the U.S. itself.
Chinese Foreign Ministry spokesperson Wang Wenbin criticized what he referred to as the "Cold War zero-sum mentality" that filled the U.S. Innovation and Competition Act passed Tuesday by lawmakers in Washington. A key point of the legislation is billions in funding for research and development, supply chains and other areas meant to "address the rising military, geopolitical, and economic competition from China."
It was this sort of sentiment with which Wang took serious exception.
"How the U.S. intends to develop and strengthen its 'competitiveness' is its own business, but we are firmly opposed to the U.S. making an issue out of China and perceiving it as an 'imaginary enemy,'" he said. "The biggest threat to the U.S. is the U.S. Getting its own house in order trumps all else."
While much of the bill deal with domestic investment, sections also call for greater partnership with Taiwan, a self-ruling island claimed by China, and sanctions against Chinese officials in response to alleged abuses against minority groups in Tibet and Xinjiang.
Those are all sensitive areas for China, and were not ill-received by Beijing.
Wang said that such content, along with the overall focus on overcoming China, "distorts facts, denigrates China's development path and domestic and foreign policies, hypes up 'China threat,' advocating strategic competition with China, and gravely interferes in China's domestic affairs on issues relating to Taiwan, Hong Kong, Xinjiang and Tibet," he told reporters.
As for his own country, Wang said that "China is committed to the path of peaceful development, the goal of which "is to constantly improve ourselves and to enable the Chinese people to lead happier lives."
He added a warning.
"Nobody can deprive the Chinese people of their legitimate right to development," Wang said.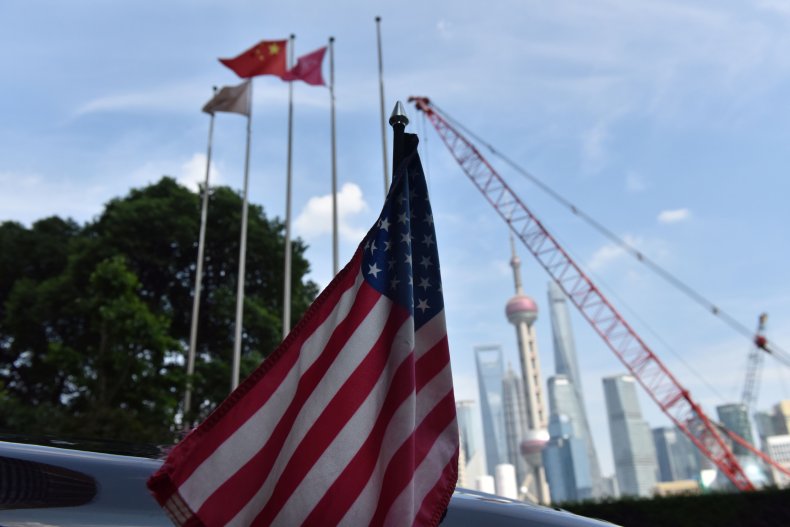 The bill passed the Senate 68-32 with an overwhelming bipartisan majority, despite deep partisan divides on other issues. The outcome was praised by Majority Leader Chuck Schumer and Senators Todd Young, Maria Cantwell and Roger Wicker, all of whom helped sponsor the legislation, and have linked its necessity not only to the internal needs of the U.S. but also to a desire to outperform its top competitor, China.
President Joe Biden welcomed the passage of the bill with a statement lauding "generational investments in research and development and advanced manufacturing," one that established "the foundation for the next generation of American jobs and American leadership in manufacturing and technology."
Though the president did not mention China by name, he referenced the sense of urgency his administration has to lead in innovation as other nations seek to improve their own.
"We are in a competition to win the 21st century, and the starting gun has gone off," Biden said. "As other countries continue to invest in their own research and development, we cannot risk falling behind. America must maintain its position as the most innovative and productive nation on Earth."
China's position as the world's top manufacturer and its immense investment in research and development has helped to drive its rapid rise in recent decades. The Chinese economy is set to eclipse that of the U.S. in the coming years, dethroning the country for the first time in a century, and returning China to past eras of supremacy.
The new Washington act has drawn comparisons to Beijing's own "Made in China 2025" campaign adopted in 2015 to shift China's production goals from exported cheap, low-cost goods to high-tech markets prioritizing domestic innovation.
In the years since, the U.S.-China bilateral relationship has deteriorated substantially, especially under Biden's predecessor, former President Donald Trump, who disputed his electoral loss, sparking political unrest still felt today.
While Biden has adopted some of the previous administration's hard line on China, Trump and a number of fellow Republicans have repeatedly accused the president of not being tough enough on the U.S. rival. Biden has set out to cooperate with China on areas such as climate change while competing in fields like trade while confronting the Peoples Republic on perceived geopolitical aggression and human rights violations.
Beijing, for its part, has sought to emphasize the need for collaboration across the board and reject any foreign role on matters it deems fall within its sovereignty.
"China is committed to developing a relationship with the US featuring no conflict, no confrontation, mutual respect and win-win cooperation," Wang said during Wednesday's press briefing.
With that, however, he also delivered an oft-repeated qualifier.
"That being said, we will continue to resolutely defend our sovereignty, security and development interests," Wang said. "We urge the U.S. to adjust its mindset, look at China's development and China-U.S. relations in a rational light, stop pushing the relevant bill and stop meddling in China's internal affairs to avoid undermining overall bilateral relations and cooperation in important areas."
The U.S.-China competition continues to play out globally as the ruling Chinese Communist Party is set to celebrate its 100th anniversary next month, a marker for which President Xi Jinping has sought to consolidate power to further boost the country's economic, diplomatic and military prowess.