China Says It Is Testing World's First Railgun at Sea, Confirming Leaked Photos of Electromagnetic Weapon
China has indirectly confirmed that it was testing what would be the world's first warship-mounted railgun, a powerful electromagnetic weapon that even the U.S. Navy has struggled to bring to sea, according to official media reports.
China's official military website published a report Thursday featuring Zhang Xiao, an associate research fellow at the People's Liberation Army Navy University of Engineering. Zhang was described as a leading figure in Chinese efforts to develop "electromagnetic launching technology."
Related: Did China build world's first railgun at sea? Photos show what looks like powerful electromagnetic weapon on warship
She was also called a central part of Chinese Navy Rear Admiral Ma Weiming's elite research team, which has contributed to some of the country's top military achievements, including aircraft carriers and nuclear submarines, according to an article published Monday by Chinese Communist Party newspaper The Global Times. In the video, Zhang was awarded a National March 8 Red Banner for her recent accomplishments.
"After hundreds of failures and more than 50,000 tests," Zhang successfully developed the largest "repeating power supply system" in the world, the report said, as translated by China's ruling party organ on Monday.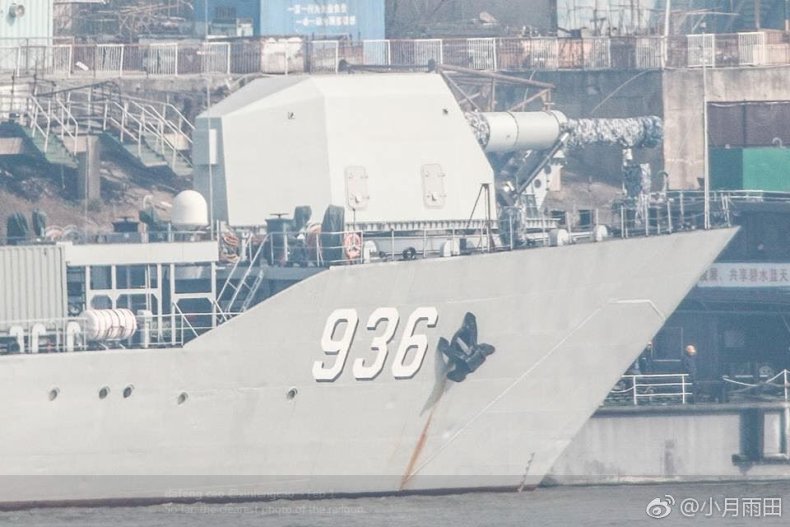 A railgun is a weapon that abandons traditional gunpowder-based artillery for an electromagnetic charge capable of launching a projectile at devastating speeds and with deadly penetration. It creates a powerful electromagnetic field by supplying two conductive rails with an electric charge. When the projectile is placed in between, a physics phenomenon known as "the Lorentz force" blasts the object out at supersonic, or even hypersonic, speeds.
The unique workings of such a weapon give it a distinctive look, one strikingly similar to that of a large new gun mounted on China's Type 072III-class landing ship Haiyang Shan in images that surfaced online in January. Chinese military watchers were quick to identify what appeared to be railgun characteristics such as a short, stubby barrel and large containers ideal for housing the massive power station required to power the futuristic weapon.
Chinese military watcher and Twitter user @dafengcao, who found the images on Chinese social media website Weibo told Newsweek at the time that China was "still on the way to catch up to the Western countries, the railgun just embodied their great endeavor." A high-profile, verified Weibo account identified as belonging to a retired Chinese navy officer confirmed these findings.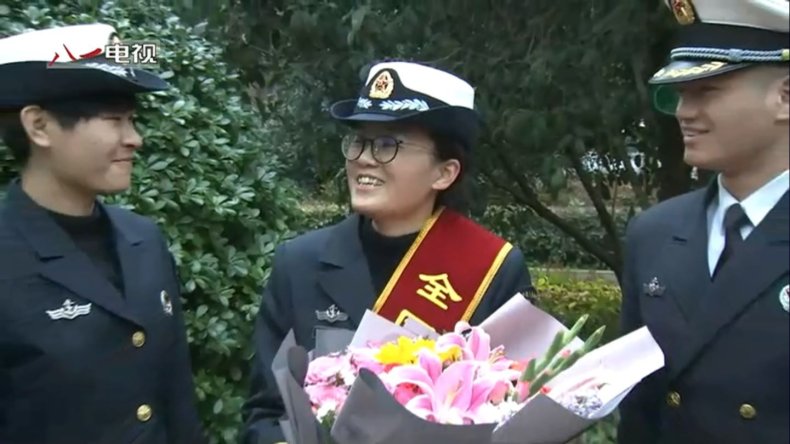 Despite the online buzz, Chinese state media remained quiet—until now. Such a weapon would embody Chinese President Xi Jinping's campaign to enhance and modernize his country's armed forces, challenging even the U.S.'s technological lead. The U.S. Navy has tested its own land-launched railgun since 2008 but has so far been unable to develop a seaborne variant of the costly project. The current weapon can launch projectiles at over 4,500 miles per hour.
As The National Interest noted last month, however, the Navy has not yet abandoned its project, and China's alleged innovation may only inspire the U.S. further.
Russia too has been working on its own railgun. In July 2016, scientists of the United Institute of High Temperatures at the Russian Academy of Sciences developed their country's first electromagnetic railgun, according to the state-run Tass Russian News Agency. Like his Chinese counterpart, Russian President Vladimir Putin has also eyed a military buildup and unveiled a number of advanced weapons in a fiery State of the Nation address earlier this month.