As Chinese officials tout the containment of COVID-19 at the Winter Olympics, stories of poor treatment of athletes in Beijing's "quarantine hotels" continue to run rampant.
With 10,000 athletes, journalists and dignitaries arriving in Beijing for the games, Chinese officials implemented a number of guidelines aimed at mitigating the spread of the virus, like the use of quarantine hotels to house asymptomatic individuals who test positive. As a result of these guidelines, Chinese Olympic officials described their COVID mitigation as "working."
"Thanks to stringent and effective COVID-19 countermeasures, the Games has proceeded smoothly so far with the risk of infections under control," the state-run Xinhua News Agency wrote on Monday, noting that there was only a single positive COVID case within the "closed-loop" of the quarantine zone.
"A range of strict protocols are in place to ensure the safety of competitors, officials, international media staff and spectators," the report said, adding that Brian McCloskey, chief of the Beijing 2022 Medical Expert Panel, said at a press conference last week that closed-loop system "met our expectations."
However, athletes that have been confined to the quarantine hotels have told a different story, one of poor living conditions and a lack of available food.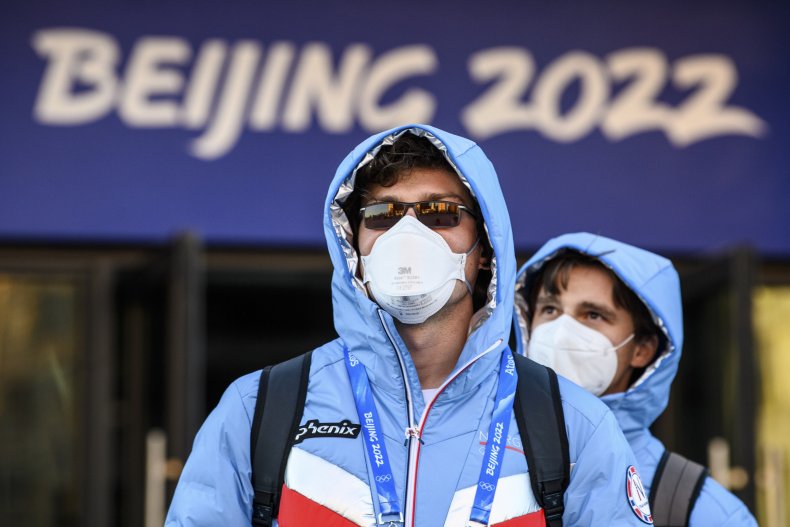 One of these Olympians, Russian biathlete Valeria Vasnetsova, wrote on social media about her experience in one of the hotels.
"My stomach hurts, I'm very pale and I have huge black circles around my eyes. I want all this to end. I cry every day. I'm very tired," Vasnetsova said on Instagram. She shared a photo of what she said was "breakfast, lunch and dinner for five days already," which included plain pasta, an undetermined sauce, a few potatoes and some charred meat.
"Today I ate all the fat they serve instead of meat because I was very hungry," Vasnetsova said, adding that her "bones are already sticking out." She also claimed that the team doctor received much better food than the athletes.
Vasnetsova and Belgian skeleton racer Kim Meylemans both said that their food and overall treatment improved after they publicly voiced their concerns.
Despite this, other athletes and officials have also called out the purported substandard living conditions. This includes Dirk Schimmelpfennig, the head of the German delegation to the Beijing Games, who called the quarantine hotels "unreasonable."
Schimmelpfennig originally spoke out after discovering the living conditions of Eric Frenzel, a German gold medalist in the Nordic combined who tested positive for COVID. The delegation head told German newspaper Frankfurter Allgemeine Zeitung that the athletes required bigger rooms and food deliveries on a more regular schedule.
However, as the outcry continues, Chinese officials appear to have been quick to improve conditions within the hotels. A spokesperson for the Russian biathlete team reportedly showed a picture of Vasnetsova's latest meal, which consisted of fresh salmon, sausages, and vegetables, and also said that a stationary bike was being installed in her room.
The bettering of living conditions was also upheld by Australian biathlete Britteny Cox, who reportedly told Xinhua: "I actually think the bubble is really excellent. I feel really safe, I feel like the village is incredibly clean and healthy."
"They have done a stellar job with the whole COVID protocols," American freestyle skier Aaron Blunck reportedly added.
"The COVID-19 countermeasures that have been put in place for the Olympic Winter Games Beijing 2022 have been very effective," the International Olympic Committee (IOC) told Newsweek in a statement. "There are currently only five athletes still in isolation, but we continue to keep a strong focus on them. If any issue occurs, this is promptly addressed together with Beijing 2022 and the respective management of the facilities concerned."
"Over the last few weeks, as soon as an issue was raised, there was a collective effort to solve it as quickly as possible. Consequently, significant achievements have been attained to improve the isolation conditions, particularly with regard to food temperature, variety and portion size and internet access," the statement added.
Updated 02/16/2022, 5:54 p.m. ET: This story has been updated with comments from the International Olympic Committee.