Metamaterials: Could China's New 'Invisibility Cloaks' Make Fighter Jets Invisible
China is mass producing metamaterials in a state-run lab that reportedly functions as 'invisibility cloaks' and could be used to make fighter jets impossible to detect, according to local media.
A broadcast by China Central Television Station (CCTV), revealed that a laboratory in Shenzhen, in southeastern China, is manufacturing various types of highly technological materials—including invisibility, anti-burning and anti-icing cloaks.
However, the functions of these materials have not yet been disclosed. Chinese news platform Sina reported that the assembly line is directly related to the military and the materials are likely to be used to camouflage J-20 fighter jets.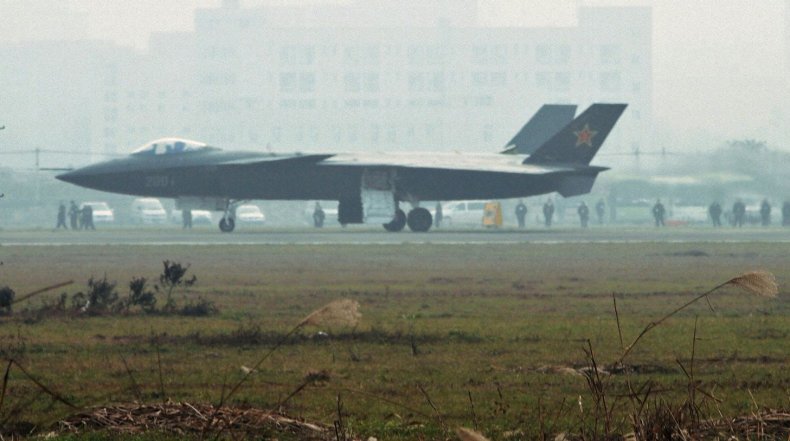 Metamaterials, known in China as "supermaterials," are materials engineered to have a property that is not found in nature. They are created from assemblies of multiple elements fashioned from various metals or plastics.
Some metamaterials can bend visible light (infrared radiation) through a novel optical material that effectively means they could act as an invisibility device. According to the CCTV broadcast, those materials are now being manufactured by an assembly line and will be used to help further China's aviation industry.
Scientists are reportedly producing the materials at the State Key Laboratory of Metamaterial Electromagnet Modulation Technology, which was established in 2011 and is based in the Guangqi Advanced Institute of Technology. According to its website, the lab has an annual production capacity of more than 107,600 square feet of metamaterial plates.
"State key" indicates the organization is state-funded or run by the Chinese government.
The Sina report also confirmed that the materials will likely be used by the military, specifically for camouflaging the J-20 fighter jets as its chief engineer Yang Wei is also on the laboratory's academic board.
Last December, a video of a man demonstrating the abilities of a quantum invisibility cloak went viral worldwide after it was shared to Weibo, a Chinese social media platform.
Some believed the clip was authentic as Chen Shiqu, the deputy director of Criminal Investigations Bureau of the Ministry of Public Security, was the user who posted the footage. However, many doubted the validity of the clip because it did not appear on the official Chinese government website or the Criminal Investigation Bureau page.
Zhu Zhensong, a producer at Quantum Video production company, told the Liberation Daily that the video was a sham and probably edited together with a plastic cloth.
"Softwares such as Adobe's After Effects, Nuke or Blackmagic Fusion can edit the background and blend the object into it. The effect has previously seen in a lot of action movies," he said.