China's ambassador to India has warned that the strained ties between the two nations would not be able to sustain a sequel to last summer's border conflict, which threatened to bring the two Asia powers to blows.
Luo Zhaohui, the Chinese envoy, made the remarks Monday as part of an appeal to better relations between the countries, which have cautiously improved since a two-month standoff erupted between Chinese and Indian forces posted at a region known to the former as Donglang and to the latter as Doklam and claimed by both China and Bhutan, an ally of India. Chinese construction near the border rattled India, whose soldiers were mobilized and at one point brawled with their Chinese counterparts.
No shots were fired, however, and Chinese President Xi Jinping and Indian Prime Minister Narendra Modi have attempted to keep the peace after ultimately withdrawing their forces in August. Luo said "a mutually acceptable solution" would have to be found to ensure such a boundary dispute did not repeat itself, according to The Economic Times.
"We need to control, manage, narrow differences through expanding cooperation. The boundary question was left over by history. We need to find a mutual acceptable solution through Special Representatives' Meeting while adopting confidence-building measures," he added. "We cannot stand another Doklam."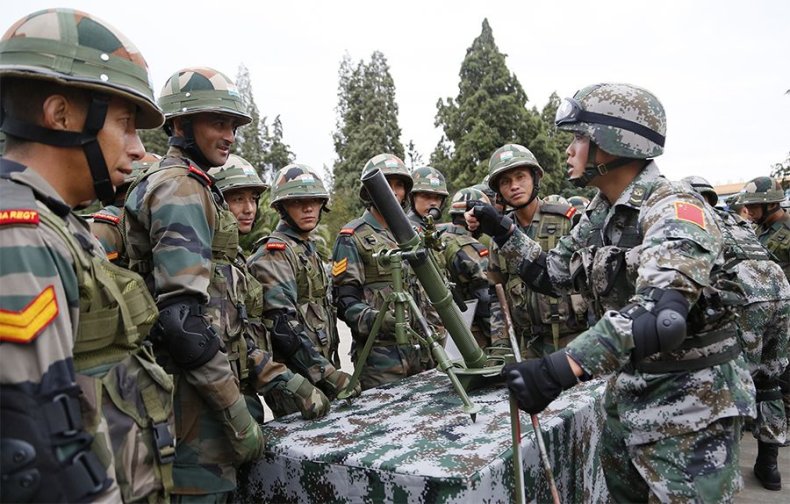 Border disputes between China and India previously exploded into a brief war in the 1960s, but both sides have expressed a willingness to de-escalate the current situation. Still, both Indian and Chinese officials have bickered over the conclusion of the 2017 standoff in Doklam or Donglang, a region bordering China's Tibet, India's Sikkim and Bhutan's Haa Valley.
Shortly after two Indian generals appeared in January to claim victory in last summer's bout, China's Communist Party newspaper The Global Times threatened "harsh punishment from the Chinese army."
Related: India gets new nuclear submarine missiles, joining only Russia, China, U.S. and France
The ongoing enmity has been exacerbated by China's close military relationship with India's top rival, Pakistan. India and Pakistan were partitioned in 1947 and their volatile relationship has produced several wars and another ongoing border conflict over the region of Kashmir. In recent years, China has accelerated bilateral military drills with Pakistan and has touted the majority-Muslim South Asian state as a part of Xi's One Belt, One Road initiative to boost trade across Asia and beyond.
During his address Monday, Luo called for a trilateral meeting between China, India and Pakistan in order to resolve ongoing hostilities. The diplomat claimed "some Indian friends" of his were behind the idea and that he supported it as "very constructive."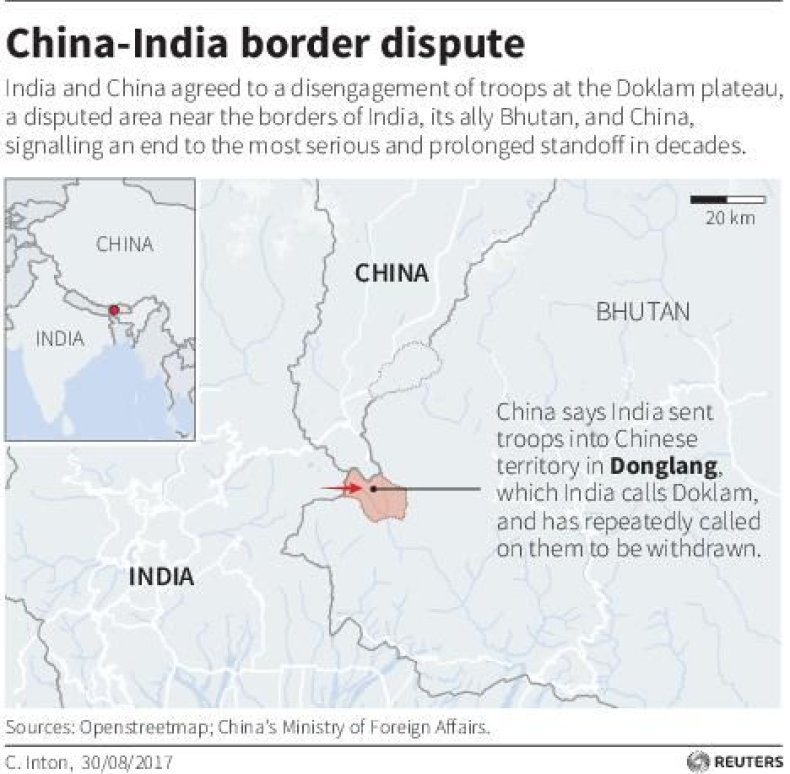 India's Ministry of External Affairs, however, shot down the idea, with spokesperson Raveesh Kumar denying that any official proposal for such a three-way dialogue had been received by the Indian government.
"We have seen reports on comments made by the Chinese ambassador in this matter," Kumar said in a statement. "We have not received any such suggestion from the Chinese government. We consider the statement as the personal opinion of the Ambassador. Matters related to India-Pakistan relations are purely bilateral in nature and have no scope for involvement of any third country."