China has reiterated its willingness to provide India with support and the United States has said it was also in talks with the South Asian country as it undergoes a steep rise in COVID-19 cases exacerbated by a critical shortage in medical oxygen.
The number of daily COVID-19 cases in India hit internationally unprecedented levels for the second day in a row, with some 332,730 recorded on Friday, along with 2,263 deaths. Authorities across the country have meanwhile rushed to address a lack of oxygen used to treat patients suffering from severe reactions to a disease that sparked a global pandemic.
With worldwide concern mounting, neighboring China has once again offered to help, and it announced for the first time that it was in talks with Indian counterparts on how to do so.
"China expresses sincere sympathies to India over the deteriorating situation in the country recently," Chinese Foreign Ministry spokesperson Zhao Lijian told a daily press briefing. "The Chinese government and people firmly support the Indian government and people in fighting the coronavirus. China is ready to provide support and help according to India's need, and is in communication with the Indian side on this."
The offer echoed one made Thursday by his colleague Wang Wenbin, and Zhao concluded with a message of hope, saying, "We believe that the Indian people will defeat the virus at an early date."
White House Press Secretary Jen Psaki also discussed the matter when asked by reporters during a regular press conference later that same day.
"The United States offers our deepest sympathy to the people of India who are clearly suffering during this global pandemic," she said, "and we are working closely with Indian officials at both political and experts level to identify ways to help address the crisis."
Asked specifically about assistance in addressing India's oxygen scarcity, she declined to go into details, but emphasized the amount of overall assistance sent to New Delhi by Washington.
"We have provided obviously a range of funding over the course of time, it's a huge, significant amount of funding, we're likely one of the world's largest contributors to India in terms of their health needs," she added. "It's gone to a range of supplies and training, but I will check if oxygen is specifically a part of how we can help at this point in time."
She added that "there are ongoing discussions so it may be that that's part of the discussion now."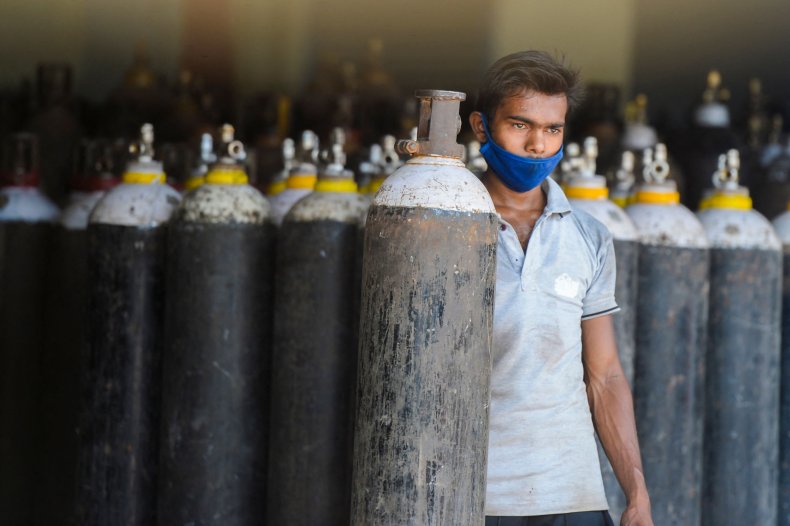 Psaki said the U.S. had already provided $4 billion to the United Nations' COVAX global vaccine initiative as well as "$1.4 billion in health assistance to India to help them prepare for pandemics in the future and deal with the current one we're facing." This included providing India "with emergency relief supplies, medical consumables pandemic training for Indian state and local health officials and ventilators, which has been part of our effort over the course of time."
She also highlighted the U.S. and India's membership in the Quadrilateral Security Dialogue, a grouping of countries also including Australia and Japan, and said the foursome had made vaccine cooperation "a big priority."
The supply of vaccines and the materials required to make them, however, have emerged as a potential wrinkle in the strategic partnership. The U.S.-enacted Defense Production Act, a measure stemming from the Korean War of the 1950s, limits the exports of key resources required to manufacture some COVID-19 inoculations.
The issue prompted Adar Poonawalla, the head of the Serum Institute of India, the world's largest vaccine maker, to issue a social media plea to President Joe Biden last week.
"Respected @POTUS, if we are to truly unite in beating this virus, on behalf of the vaccine industry outside the U.S., I humbly request you to lift the embargo of raw material exports out of the U.S. so that vaccine production can ramp up," Poonawalla tweeted last Friday. "Your administration has the details."
Secretary of State Antony Blinken and Indian External Minister Subrahmanyam Jaishankar have since discussed health cooperation among other topics via telephone, but the U.S. side has so far emphasized a need to first ensure vaccinations are available at home to a country that has so far been hit worse than any other country in the world.
"It's, of course, not only in our interest to see Americans vaccinated; it's in the interests of the rest of the world to see Americans vaccinated," State Department spokesperson Ned Price said Thursday.
At the same time, he referenced Blinken in saying that Washington has "also played a leadership role when it comes to containing, seeking to contain the virus beyond our borders."
On Friday, fellow spokesperson Jalina Porter also answered journalists' questions about the restrictions.
"We don't have any specific update to raw materials, but we'll just reiterate that we understand that the COVID situation in India remains a global concern," Porter said. "And as we look to our Indian friends battling this pandemic, we'll also acknowledge the toll that it's taking not only on the people of India but as well as all throughout South Asia and, quite frankly, all over the world."
She said Washington was cooperating with New Delhi in assisting India to meet its population's growing needs.
"We have continued to work closely with India to facilitate the movement of essential supplies and also address the bottlenecks of their supply chains," Porter said, "but we'll also continue to collaborate with our partners in India to battle this at the highest level."
As of Friday, India's overall COVID-19 cases had reached more than 16.2 million cases among its nearly 1.4 billion people. The figure is second only to the U.S., which has recorded more than 31.5 million cases, almost one out of 10 of the population.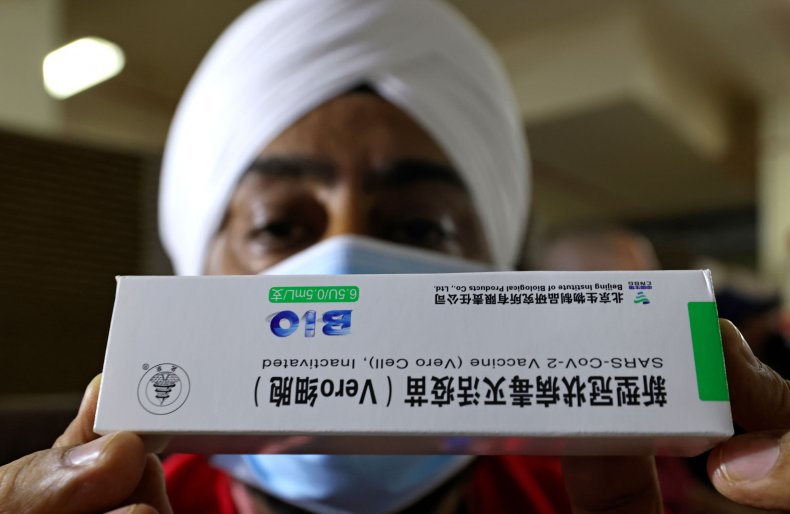 COVID-19 has been detected in nearly every country on Earth since first being observed in China's Hubei province in late 2019. A World Health Organization investigation into its origins remains ongoing, as well as subject to geopolitical wrangling.
The People's Republic, home to the world's largest population at about 1.4 billion, has largely managed to bring the disease under control at just over 100,000 confirmed cases total. Beijing has since prioritized sending vaccines and medical assistance across the globe, a campaign called "A Vaccine for All."
"China is cooperating with more than ten countries in vaccine R&D, and the safety and efficacy of China's vaccines are widely recognized, which have been authorized for use in more than 80 countries," Chinese Vice Foreign Minister Ma Zhaoxu told a U.N. Economic and Social Council meeting last week. "At present, China has provided vaccines to 80 developing countries in urgent need, and is exporting vaccines to over 40 countries."
But geopolitics also complicate the relationship between China and India. The two countries have long feuded over disputed border points and the standoff turned deadly last year as skirmishes resulted in the deaths of at least four Chinese soldiers and 20 Indian troops at the Line of Actual Control.
China also has deep ties to India's top rival, Pakistan, with which another terrorial exists at the Line of Control in Kashmir. Faisal Edhi, the head of Pakistan's prominent Edhi Foundation charity, recently offered to send assistance across the contested border in a letter to Indian Prime Minister Narendra Modi.
India has also contributed to global efforts to fight the pandemic. The country exported the second-most number of vaccines globally, according to the most recent figures. The campaign was halted last month, however, in order to shore up the availability of jabs on the domestic front, where authorities were now doubling down on efforts to provide badly needed resources.
Modi held a virtual meeting Friday with oxygen manufacturers across the country, telling them that "this time is not only to deal with the challenges, but also to provide solutions in a very short time," according to his office.
He urged the companies to further divert efforts toward ensuring the scarcity within the medical community was being addressed. He also called for various public and private sectors including the federal and state governments and transport and hospital sectors to work together.
"The better the synergy and coordination, the easier it will be able to deal with this challenge," he said, extending his support and expressing that he "hoped the country would be successful in combating the crisis soon."
India's embassy in Washington did not immediately respond to Newsweek's request for comment regarding international offers of assistance.