China Says Shutting Down Houston Consulate 'Severely Harmed' Relations With U.S.
The Chinese foreign ministry, on Thursday, said that the U.S.'s decision to shut down China's consulate in Houston, Texas, "severely harmed," relations between the two countries.
While speaking at a daily media briefing on Thursday, Chinese Foreign Ministry spokesman Wang Wenbin said, "In response to the U.S.'s unreasonable actions, China must make a necessary response and safeguard its legitimate rights," but declined to detail any specific measures, according to Reuters.
"This is tearing down the friendly bridge between the people of China and the U.S.," he added.
The comments from the Chinese foreign ministry come shortly after the U.S. announced that they have ordered China to close its consulate in Houston "to protect American intellectual property."
According to the Washington Post, firefighters in Houston responded to reports of papers being lit on fire on the consulate grounds but they were not permitted to enter the building.
The U.S. announced that the consulate will be closed in a brief statement.
"The United States will not tolerate the PRC's (People's Republic of China) violations of our sovereignty and intimidation of our people, just as we have not tolerated the PRC's unfair trade practices, theft of American jobs and other egregious behavior. President Trump insists on fairness and reciprocity in U.S.-China relations," said Morgan Ortagus, a State Department spokesperson. "We have directed the closure of PRC Consulate General Houston, in order to protect American intellectual property and American's private information."
During the daily media briefing on Thursday, Wang described the U.S. allegations as "malicious slander."
"For some time, the U.S. has held ideological bias to continuously surveil, harass and even arbitrarily detain Chinese students and scholars in the U.S.," Wang said. "We urge the U.S. to stop using any excuse to restrict, harass or oppress Chinese students and researchers in the U.S."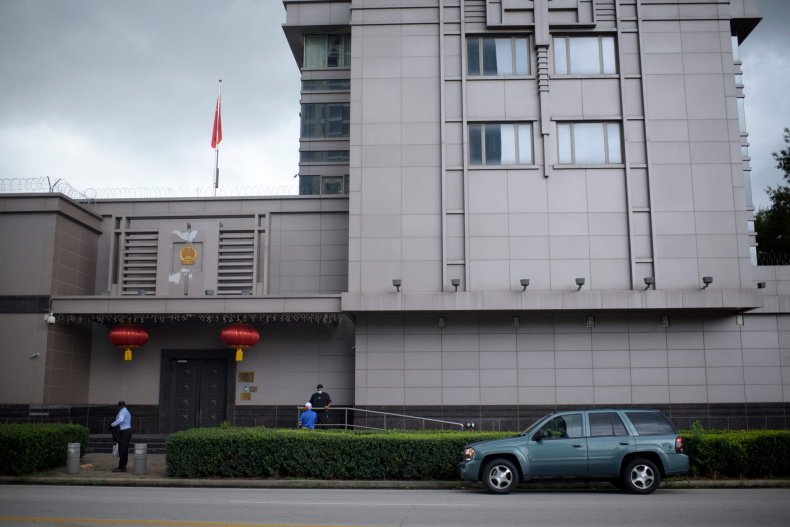 Shortly after the U.S. announced their decision to close China's Houston consulate, Republican Senator Marco Rubio, who is the acting chairman of the Senate Intelligence Committee described China's Houston consulate as "a massive spy center" in a Twitter post.
"#China's consulate is #Houston is not a diplomatic facility. It is the central node of the Communist Party's vast network of spies & influence operations in the United States. Now that building must close & the spies have 72 hours to leave or face arrest. This needs to happen," Rubio wrote in a subsequent tweet.
During a recent press conference, Secretary of State Mike Pompeo told reporters that the U.S. is "setting out clear expectations for how the Chinese Communist Party is going to behave."
"When they don't, we're going to take actions that protect the American people, protect our security, our national security and also protect our economy and jobs," Pompeo added when asked about the consulate closing.
Newsweek reached out to the Chinese Embassy in the U.S. and the U.S. Department of State for comment but did not receive a response in time for publication.