China Says U.S. Bringing World Closer to Nuclear War After U.S. Military Report
A Chinese official has responded to the Pentagon's latest report on China's military power in comments shared with Newsweek, saying it is the United States, not China, that is bringing the world closer to nuclear war.
The Department of Defense released on Wednesday its annual "Report on Military and Security Developments Involving the People's Republic of China," covering a wide range of assessments regarding China and its People's Liberation Army, the world's largest armed forces and the top military competitor of the U.S.
Among the more notable findings was the observation that China was "accelerating the large-scale expansion of its nuclear forces," which it was seeking to "modernize" and "diversify." The report noted that the current number of Chinese warheads is believed to be "in the low-200s," but stated that this number was expected to grow.
The report also dealt with strategic land, air and sea platforms that China is developing.
"The accelerating pace of the PRC's nuclear expansion may enable the PRC to have up to 700 deliverable nuclear warheads by 2027," the report found. "The PRC likely intends to have at least 1,000 warheads by 2030, exceeding the pace and size the DoD projected in 2020."
These capabilities were noted specifically as they could potentially impact the U.S. The report added that the "number of warheads on the PRC's land-based ICBMs capable of threatening the United States is expected to grow to roughly 200 in the next five years."
In response to this report, the spokesperson for China's embassy in Washington offered a different characterization of his nation's strategic prowess.
"China has always adhered to its self-defensive nuclear strategy," the spokesperson told Newsweek. "China abides by the policy of no-first-use of nuclear weapons at any time and under any circumstances, and undertakes unequivocally not to use or threaten to use nuclear weapons against non-nuclear-weapon states or nuclear-weapon-free zones. China has never participated in any form of nuclear arms race, nor has it deployed nuclear weapons abroad."
The spokesperson argued that the same could be said for the U.S., pointing to the Pentagon's far larger arsenal, believed to consist of about 5,550 warheads.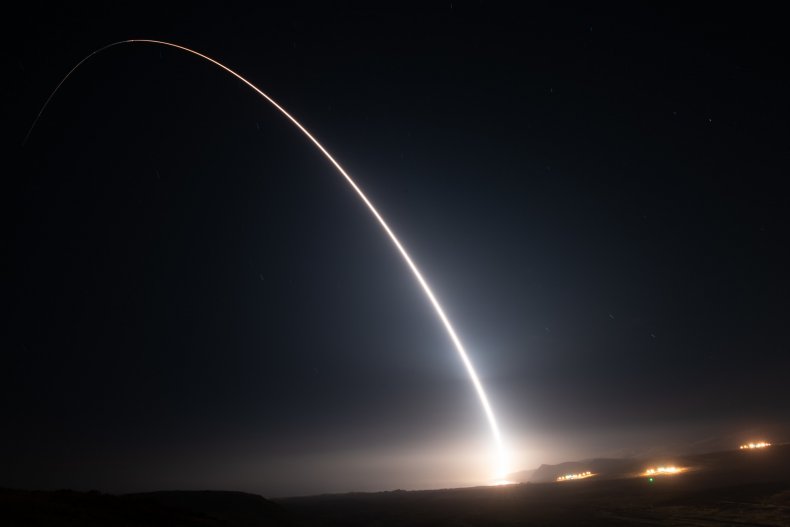 "As we all know, the United States has the largest and most advanced nuclear arsenal in the world," the spokesperson said. "The US has not only violated international consensus and refused to fulfill its special priority responsibility for nuclear disarmament, but also willfully 'reneged' and 'withdrew' from nuclear disarmament."
He also highlighted the U.S. military budget that still soars above that of China, arguing that Washington "has spent trillions of dollars to upgrade its nuclear arsenal, lowered the threshold for the use of nuclear weapons and expanded the scope of nuclear strikes, thus seriously undermining global strategic security and stability."
"The world will decide who is doing nuclear madness," the spokesperson said. "By smearing China and playing the trick of thief crying 'stop thief,' the US can only amuse itself and deceive the world."
While both China and the U.S. have denied seeking to pursue a Cold War-style arms race, both they and fellow near-peer competitor Russia have set out to ramp up their capabilities in the nuclear realm.
At the center of this nuclear weapons development are next-generation hypersonic capabilities, including the fielding of boost-glide vehicles capable of better evading existing defense systems. Both the U.S. and Russia have openly begun testing such platforms, and recent reports in the Financial Times have suggested China has also conducted at least two tests this year.
Among the top three powers, however, China has a unique nuclear policy. Beijing is the only one to have committed to a "no-first-use" policy, a pledge to not be the first to use nuclear weapons in the event of a conflict, and China has also traditionally not maintained a nuclear triad, or a combination of aerial, ground and naval warhead-equipped assets.
But the latest Pentagon report saw potential changes in these realms, as Beijing and the ruling Chinese Communist Party continue their global rise.
As for the no-first-use policy, the U.S. military observed "some ambiguity," stating that "there has also been no indication that national leaders are willing to publicly attach such additions, nuances, or caveats."
"The PRC's lack of transparency regarding the scope and scale of its nuclear modernization program, however, raises questions regarding its future intent as it fields larger, more capable nuclear forces," the report found. "Some PLA officers have discussed the PRC using nuclear weapons first in cases like when a conventional attack threatens the survival of the PLA's nuclear force or the CCP itself."
The report also found that China "has possibly already established a nascent 'nuclear triad' with the development of a nuclear capable air-launched ballistic missile (ALBM) and improvement of its ground and sea-based nuclear capabilities."
State Department spokesperson Ned Price also referenced the report in response to a question at Thursday's press conference, saying the assessment "suggests that China is leaving behind its previous nuclear doctrine of limited deterrence."
"It is the responsibility of nuclear-armed nations to act prudently and to, in the case of the development of a nuclear weapons program, we have sought to engage the PRC when it comes to arms control," Price said. "We have called for dialogue. We think all responsible countries that have these weapons should engage in an arms control dialogue. We remain ready and willing to do that, and we've made that known to PRC authorities."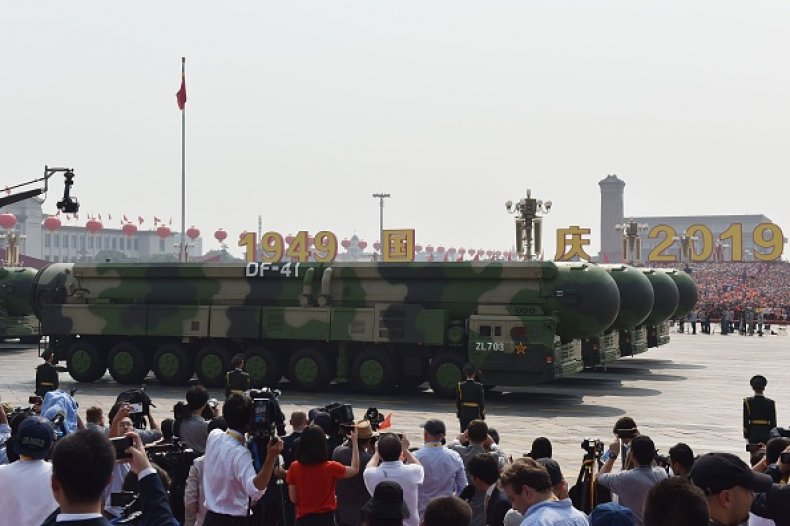 At a time when U.S.-China relations continue to teeter on the brink of crisis over flashpoints such as Taiwan and the South China Sea, however, Beijing saw the latest report as an unhelpful addition to their dynamic.
"The Defense Department report, just like similar reports in the past, disregards facts and is filled with bias," Chinese Foreign Ministry spokesperson Wang Wenbin told a press conference on Thursday. "The U.S. is using this report to hype up the 'China nuclear threat' theory. The international community has long seen through this trick of manipulating rhetoric in an attempt to confuse public opinion."
He also discussed moves seen as decreasing international strategic stability, noting Washington's withdrawal from bilateral deals with Moscow such as the Anti-Ballistic Missile (ABM) Treaty, the Intermediate-range Nuclear Forces (INF) Treaty and the development of new platforms once banned by these deals.
However, China has long differed in this area from the U.S. and Russia, as it has never been bound by such pacts, and has repeatedly refused to join them, allowing the People's Liberation Army to amass a formidable array of mid-range missile systems.
Wang also condemned the formation in September of a new Pacific-focused alliance between Australia, the United Kingdom and the U.S.
"These U.S. moves gravely undermine global strategic stability and international peace and security," Wang said. "China urges the U.S. to earnestly assume its special and primary responsibilities towards nuclear disarmament, and drastically and substantively reduce its nuclear stockpile in a verifiable, irreversible and legally-binding manner to uphold global strategic equilibrium and stability."
And he reiterated the self-defensive nature of China's own far smaller, albeit growing nuclear arsenal.
"No country will be threatened by China's nuclear weapons so long as it does not use nuclear weapons against China," Wang said.
This article has been updated to include remarks from State Department spokesperson Ned Price.