China Says U.S. Should 'Immediately' Lift Cuba Embargo and Stop Interfering
China has called on the United States to promptly lift its decades-long trade restrictions on Cuba, and criticized outside attempts to interfere in the politics of the communist-led island that has been shaken by recent protests.
"It is China's consistent belief that every country's right to independently choose their social system and development path should be respected," Chinese Foreign Ministry spokesperson Zhao Lijian told reporters Monday.
"China firmly supports Cuba's exploration for a development path consistent with its national realities, opposes external interference in Cuba's internal affairs, supports Cuba in fighting COVID-19, improving people's livelihood and maintaining stability, and remains committed to deepening China-Cuba friendship," he said.
The comments came as U.S. President Joe Biden expressed his support for the rare demonstrations on the island. He accused the Cuban government of responding inadequately to COVID-19 and of failing to provide basic necessities as the pandemic's effects took a toll on the country.
Cuban President Miguel Díaz-Canel has acknowledged some shortcomings, and has implemented some reforms in response to the unrest. But he continues to blame the U.S. embargo and sanctions for most of Cuba's economic struggles.
Beijing has joined that criticism, as Zhao said Monday that "China stands for upholding the international order based on international law, defending international fairness and justice, and opposing unilateral coercive measures in military, political, economic or other means."
Citing economic figures from Cuba that roughly matched those provided to Newsweek last month by permanent representative of Cuba to the United Nations Pedro Luis Pedroso Cuesta, Zhao said the "U.S. embargo over the past 60 years or so has caused over $144.1 billion in accumulative losses to Cuba."
Zhao also referenced last month's overwhelming 184-2 vote in the U.N. General Assembly condemning the U.S. measures, the 29th consecutive such vote, as one that "reflects the common voice of the international community."
"We urge the U.S. to immediately and fully lift its embargo against Cuba and hope it will improve relations with Cuba in accordance with the purposes and principles of the U.N. Charter and basic norms governing international relations," Zhao said. "This is in line with the common interests of the people in both countries as well as peace and stability in the entire Americas."
Russia, Iran, North Korea, Syria and Venezuela, all frequent critics of the U.S., have spoken out in support of Cuba amid the most recent protests, as have Mexico and other powers with friendlier ties to Washington.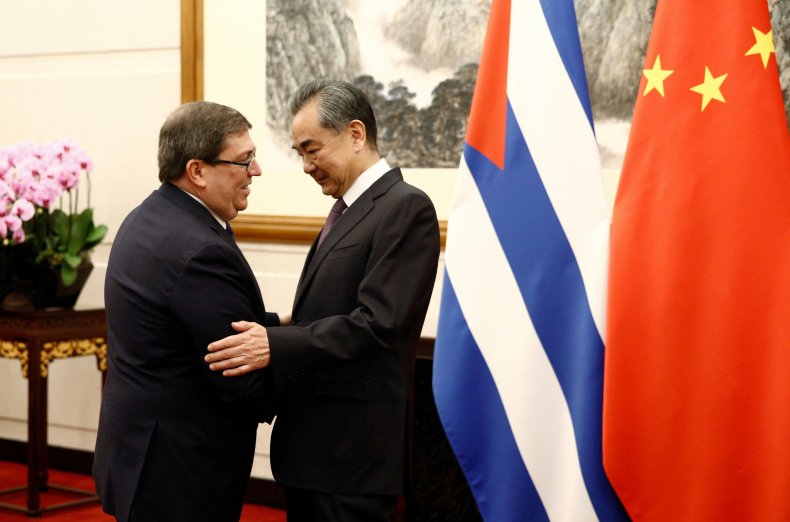 Zhao's remarks were carried shortly afterward by the Cuban Foreign Ministry, which also referred to his comments last week, in which he argued that "the U.S. embargo is the root cause of Cuba's shortage of medicines and energy."
"China firmly opposes foreign interference in Cuba's internal affairs, firmly supports what Cuba has done in fighting COVID-19, improving people's livelihood and upholding social stability, and firmly supports Cuba in exploring a development path suited to its national conditions," Zhao said at the time. "I'd like to stress that China stands ready to work with Cuba to implement the important consensus of the two heads of state and is firmly committed to deepening friendly relations between the two countries."
The Cuban Foreign Ministry noted on Monday that other countries and experts have also called on Biden to lift the embargo.
"China thus joined several nations and organizations in the world that repudiate subversive acts, demonstrations and calls for intervention on the largest island of the Antilles," the ministry said. "Analysts denounce that it is a Washington strategy already applied in other Latin American and Caribbean nations to incite social upheaval, prepare the ground for the use of the military and direct interference."
On Thursday, Biden declared Cuba "a failed state" that was "repressing their citizens." He said considerations of supporting the country would be strictly limited to its people with assurances that the government would not receive assistance.
"There are a number of things that we would consider doing to help the people of Cuba, but it would require a different circumstance or a guarantee that they would not be taken advantage of by the government, for example, the ability to send remittances back to Cuba," Biden said at the time. "I would not do that now because the fact is it's highly likely that the regime would confiscate those remittances or big chunks of it."
Díaz-Canel rejected Biden's characterization of his country, arguing on Friday that "a failed state is one that, in order to please a reactionary and blackmailing minority, is capable of multiplying the damage to 11 million human beings, ignoring the will of the majority of Cubans, Americans and the international community."
State Department spokesperson Ned Price took issue with this narrative during a press briefing Monday.
"What we are doing for the same principles and values that we support around the world," Price said. "It's human rights, it's democracy, its basic civil liberties and civil rights that the people of Cuba have been denied for far too long."
He said that the U.S. officials "have made very clear" that "human rights will be an anchor of our policy."
"That's precisely what you're seeing in what we have said and the mechanisms of support over the years that the United States has provided to the Cuban people," he added, "and it is precisely what we mean when we say we will consider additional forms of support including humanitarian support for the Cuban people."
Biden previously backed the lifting of restrictions on Cuba while serving as vice president to former President Barack Obama, who oversaw a historic warming of ties between Washington and Havana. His successor, former President Donald Trump, reversed these measures.
While Biden has called the Trump administration's approach to Cuba harmful, he has continued its policies, which remain in place pending the results of an ongoing policy review.
Prior to the eruption of protests, Cuba was not seen as a high priority for the Biden administration as it grapples with other domestic and foreign policy issues, including efforts to compete with top U.S. rival China.
Beijing has vastly expanded its global influence in recent years, including through Chinese President Xi Jinping's Belt and Road Initiative that extends across most of the globe. In the Western Hemisphere, Cuba represents a major node for investment projects associated with the intercontinental campaign.
Díaz-Canel was among the world leaders to attend a summit earlier this month dedicated to the centenary of the establishment of the Chinese Communist Party, which he called "a transcendent chapter in contemporary history."
This is a developing news story. More information will be added as it becomes available.