China Says U.S. 'Ulterior Motive' in Xinjiang Genocide Claim is Inciting Unrest
China has accused the United States of using claims of genocide against minorities in Xinjiang as a pretext to destabilize the northwestern region that has become a central issue in frayed bilateral relations between the two nations.
Asked by Newsweek if Chinese authorities had identified a U.S. effort to incite unrest in Xinjiang during a virtual event hosted by the Chinese Foreign Ministry on Thursday, the Chinese Communist Party chief for the region's capital said that "the ulterior motive is known to all."
Xu Hairong, who serves as secretary for the Chinese Communist Party Urumqi Municipal Committee, then proceeded to play two video clips.
The first clip was taken from a 2018 address to the Ron Paul Institute by retired U.S. Army Colonel Lawrence Wilkerson, former chief of staff to Secretary of State Colin Powell, in which he said that among the primary objectives for the U.S. military presence in Afghanistan were maintaining the capability to disrupt China's Belt and Road Initiative, and conducting a CIA-backed campaign using the Uighur minority group against Beijing.
He also noted the importance of Xinjiang to China's energy needs.
The second clip showed FBI translator-turned-whistleblower Sibel Edmonds during a 2015 interview discussing a U.S. effort to take on China through Xinjiang due to its strategic location and centrality to China's oil and gas infrastructure.
"After watching those two video clips, I believe you will come to your own conclusion," Xu said.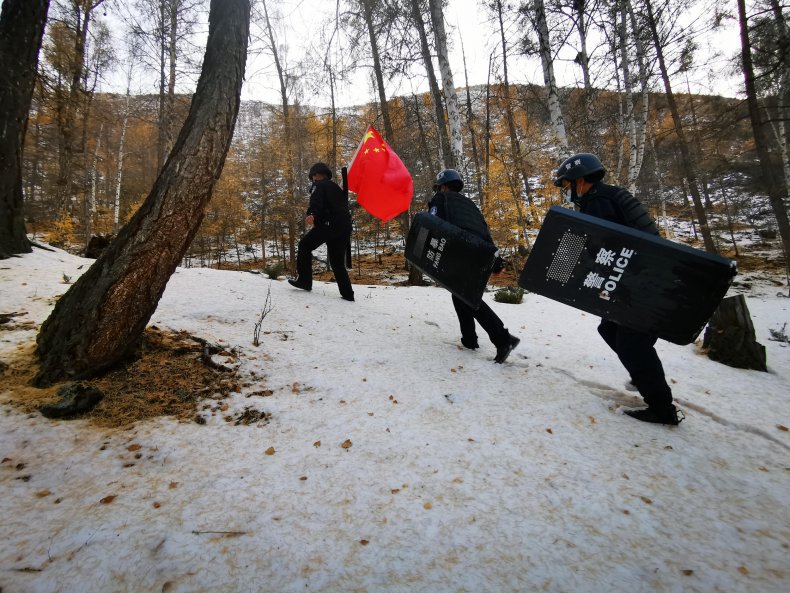 Last year, the U.S. began accusing the Chinese government of conducting genocide against Uighurs, a majority-Muslim minority that resides in Xinjiang, under former President Donald Trump. His successor's top diplomat, Secretary of State Antony Blinken, has continued to use the term.
The allegations revolve around China's policy of maintaining vocational education and training centers with the stated aim of stamping out extremism in Xinjiang. The State Department's latest human rights report published in March referred to these facilities as "extrajudicial internment camps," and estimated that up to a million individuals were interred there, while a further two million were "subjected to daytime-only 're-education' training."
The report also accused China of "forced sterilization, coerced abortions, and more restrictive application of China's birth control policies; rape; torture of a large number of those arbitrarily detained; forced labor; and the imposition of draconian restrictions on freedom of religion or belief, freedom of expression, and freedom of movement."
Chinese officials have vehemently rejected this narrative, calling it "the lie of the century." During Thursday's event, Chinese ambassador to the U.S. Cui Tiankai defended his country.
"In the United States and other Western countries, lies about Xinjiang still hold sway. Systemic slandering and unilateral sanctions against China are rife," Cui said. "But lies cannot stand the scrutiny of facts. The so-called 'genocide' is just a downright lie."
He accused the U.S. along with other countries and organizations that have raised the issue of trying "to bring about a collapse and split-up of China from the inside." He said that, "feigning concerns about Xinjiang's human rights, they are thinking about using Xinjiang to contain China."
Cui also warned of the potential for conflict to emerge as a result of the dispute.
"In history, wars started with lies were not rare, and the lies of the Western world, including the United States, have caused such tragedies in places like Iraq, Libya, and Syria that there should be enough cause for alarm," he said.
A number of Uighur militants are known to operate in Syria and Afghanistan, among other countries, as part of the Turkistan Islamic Party, which has also staged attacks in China in past years. The group is considered a terrorist organization by a broad group of countries including a number of U.S. allies, but the State Department revoked this label last October as U.S.-China ties further deteriorated.
U.S. policy toward minorities in China has previously been tied to the state of relations between the two countries. The CIA engaged in a nearly two-decade campaign in support of Tibetan independence before the program was ended ahead of former President Richard Nixon's milestone trip to meet Chinese Communist Party Chair Mao Zedong in 1972.
While U.S.-China relations have improved over the decades, they deteriorated sharply under Trump's presidency. Biden has said he envisioned both cooperation and competition with Beijing.
Washington today sought to drum up global support in raising awareness of what it perceives to be a systematic ethnic cleansing campaign in Xinjiang. The issue has led to a divide in the international community, evidenced by a 39-nation joint statement condemning Chinese actions in Xinjiang last October and a 64-nation joint statement defending China's human rights record in March.
The U.S. has stepped up the feud by slapping sanctions against China and senior officials accused of being complicit in what's happening in Xinjiang.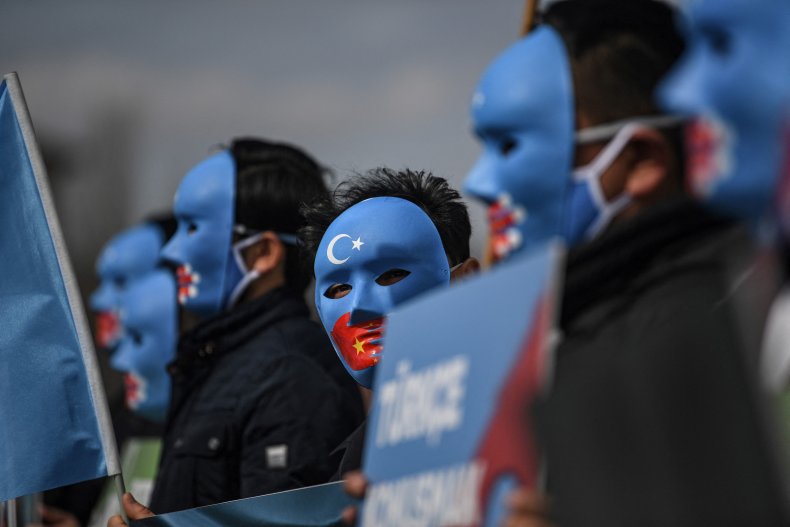 Blinken told MSNBC news on Thursday that the U.S. was taking the initiative "when it comes to the atrocities being committed against Uyghurs, trying to make sure that countries are not supplying any equipment or technology that could be used to repress people in China, or that we're not buying products that are made with forced labor."
"There are a number of very concrete steps," he added, "but the first and most important step is to speak up, speak out."
The issue joins concerns about China's approach to Hong Kong and Tibet in a joint statement published Wednesday by the G7, which includes Canada, the European Union, France, Germany, Japan, the United Kingdom and the U.S.
The mention was met with dismissal in Beijing.
"Issues concerning Xinjiang, Tibet and Hong Kong are all China's domestic affairs," Chinese Foreign Ministry spokesperson Wang Wenbin said Thursday.
"We urge relevant countries to take a hard look at their own problems, redress their self-serving approach in fighting COVID-19 and stop the wrong practice of stretching national security concept," he said. "Attempts to concoct all sorts of excuses to meddle in China's internal affairs, harm Chinese sovereignty and tarnish China's image in disregard of basic norms of international relations are doomed to fail."