China Seeks to Capitalize on U.K. Economic Weakness As No-Deal Brexit Looms
China is in position to capitalize on the U.K.'s weakened economy with a no-deal Brexit looming large ahead of the transition deadline on December 31.
With Prime Minister Boris Johnson preparing to fly to Brussels on Wednesday for last-minute talks with European Commission president Ursula von der Leyen, the fate of Britain's economy post-Brexit is still very much up in the air.
At Prime Minister's Questions in Parliament, just hours before his crunch dinner with von der Leyen, Johnson insisted no prime minister could accept the trade terms being offered by the European Union.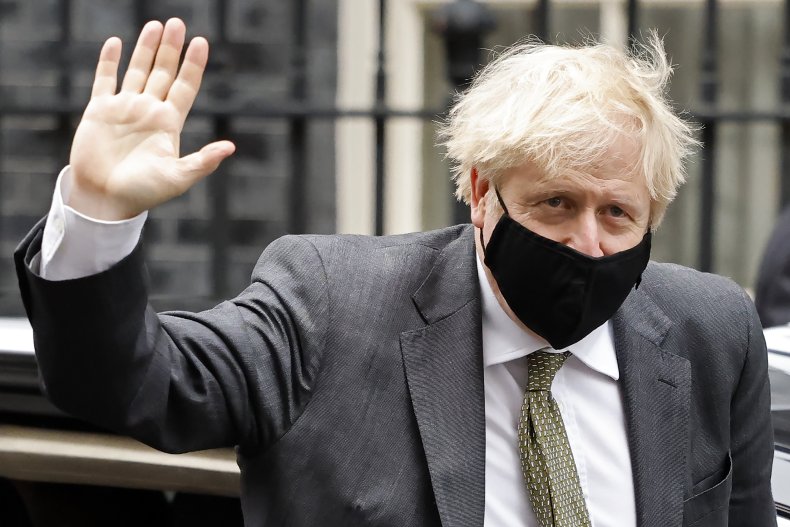 Global Times, a newspaper under the auspices of Chinese Communist Party publication People's Daily, sought to remind Johnson that the U.K. could still look to Beijing to rescue its economy, despite steps Whitehall has taken to shut out Chinese influence.
The economic fallout from a no-deal Brexit would cost Britain more in the long-term than the COVID-19 pandemic, Bank of England Governor Andrew Bailey warned last month. But China has the potential to play a big role in securing a "fast and sustainable" economic recovery for the U.K., Global Times claimed on Tuesday.
China has traditionally been one of Britain's largest trading partners, although representing about one-tenth of its total trade with the EU. According to the Office for National Statistics, the second quarter of 2020 saw the U.K. import more goods from China than anywhere else for the first time on record, largely owing to demand for electronics and face masks during the pandemic.
The figures represent "strengthening economic and trade ties between the two countries," the Beijing party newspaper said, before adding: "Brexit can be a negative factor or an opportunity for China-U.K. cooperation."
It said the decision was firmly in the hands of Johnson and the leadership in Whitehall.
The Communist Party mouthpiece, which represents China's most nationalistic viewpoints, also tried to tempt the U.K. away from its reliance on the United States, despite recognizing that Britain's shift toward its oldest partner across the Atlantic was most likely in the aftermath of a costly Brexit.
It suggested the British government had to avoid further "governmental discrimination" and participation in what it called a "U.S.-led technology war against China."
The U.K. dealt a blow to Chinese telecommunications giant Huawei this summer when Johnson announced his government had mandated the removal of all Huawei equipment from Britain's internet infrastructure by 2027. Last month, the government gave British carriers a deadline of next September to stop installing Huawei equipment on their 5G networks.
The prime minister walked back his original hesitance to slap an outright ban on Huawei following pressure from Washington and concerns from his own party over the Chinese government's potential to use the technology for espionage.
The Chinese leadership will find its hopes of rekindling "Golden Era" U.K.-China relations more difficult than ever under the current climate.
The British Parliament is set to scrutinize a new National Security and Investment Bill, which will give the government sweeping powers to block investments by foreign companies into key industries including, among others, nuclear energy, communications, defense and dual-use military technologies.
British Foreign Secretary Dominic Raab has spoken out against Beijing's policies in the northwestern region of Xinjiang, where human rights groups say more than a million Uighur Muslims have been detained in internment camps as part of a radical counterterrorism campaign.
The U.K. has mooted sanctions against China over its national security law in Hong Kong and the recent disqualification of pro-democracy legislators. The government has also promised to give holders of British National (Overseas) passports a route to citizenship starting in January 2021.
Further pressure to be tough on Beijing will come from within Johnson's Conservative Party as well. In its latest report, the China Research Group—founded this April with the aim of shaping the government's China policy—echoed President-elect Joe Biden by recommending the formation of a coalition it calls "D10" or "Democracy 10" as a counterbalance to growing Chinese influence.
Its members, including chair Tom Tugendhat MP, are also expected to push for similar sanctions already imposed by the U.S. against Chinese Communist Party members.
"Like-minded democracies need to rethink their approach to China," Tugendhat said in a statement referred to Newsweek. "We should seek to hold China to its international obligations—and that includes preparing a package of measures which could be enacted in response to continued CCP violations of human rights and international law."