China Sends Military Toward U.S. Navy Challenge At Sea As Ties Put to Test
The Chinese armed forces dispatched warships and warplanes to intercept two U.S. Navy vessels that entered the disputed waters of the South China Sea in the latest confrontation between the two powers over trade ties and Beijing's jurisdiction over other contested territories, Hong Kong and Taiwan.
In a statement Friday issued by the Chinese People's Liberation Army, Southern Theater Command spokesperson Sen. Col. Li Huamin reacted to the recent presence of Independence-class littoral combat ship USS Gabrielle Giffords and Arleigh Burke-class guided-missile destroyer USS Wayne E. Meyer near the Spratly Islands and Paracel Islands. The two South China Sea land formations were the subject of international disputes, but Beijing claimed exclusive rights to them.
"The Chinese PLA sent ships and aircraft to conduct the whole-process monitoring and verification on the two US warships and warned them to leave," the statement said, saying Li has accused the U.S. of trying "to stir up trouble in the South China Sea under the pretext of freedom of navigation."
"He urged the U.S. side to stop such provocative acts immediately so as to avoid unexpected incidents," the official release added. "Li reiterated that China has indisputable sovereignty over the South China Sea islands and adjacent waters. No matter what tricks the U.S. vessels and aircraft may play, the Chinese military is determined and has the ability to safeguard the national sovereignty and security and maintain peace and stability in the South China Sea."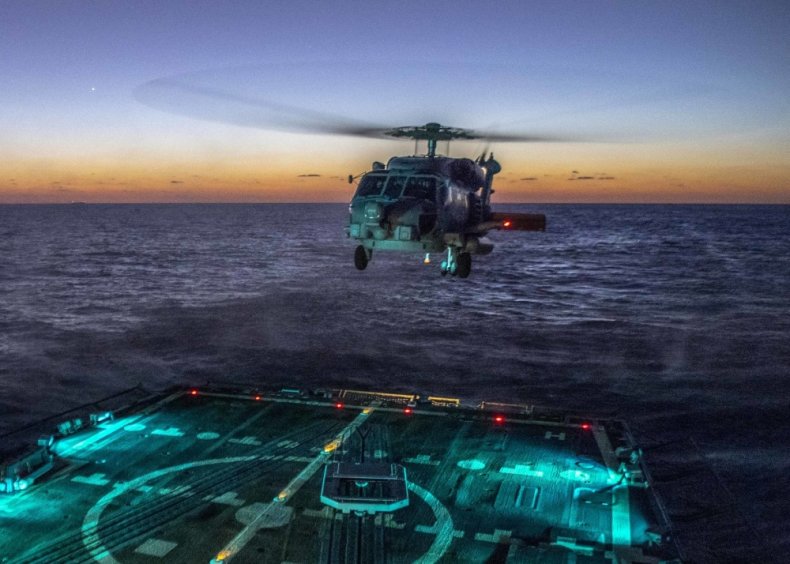 The U.S. has challenged China's vast claims to the South China Sea, which hosts crucial commercial shipping lanes and vast oil and gas reserves. In recent years, the Pentagon has stepped up so-called "freedom of navigation" operations to enforce its position. These operations were based on the 1982 UN Convention on the Law of the Sea, ratified by China, but only signed by the U.S.
Washington has accused Beijing of militarizing islands, islets and reefs claimed also by Brunei, Indonesia, Malaysia, the Philippines, Taiwan and Vietnam. Chinese officials have defended their actions by arguing any actions here were sovereign decisions taken in the name of national security.
Chinese Foreign Ministry spokesperson Geng Shuang also commented on the recent international incident, telling reporters at a news conference Friday that "China's Southern Theater Command lawfully tracked, verified, identified those vessels and warned them off."
"The U.S. move severely undermined China's sovereignty and security interests as well as peace and stability in the South China Sea. We firmly oppose that. China has made stern representations and strong protests to the U.S. side," Geng said. "China respects and safeguards all countries' freedom of navigation and overflight in the South China Sea according to international. That said, we firmly oppose the behavior of any country to undermine China's sovereignty and security under the pretext of such freedom."
"Currently the situation in the South China Sea is stable, and all parties concerned are focusing on dialogue and cooperation," he added. "We urge the U.S. to immediately stop such provocations that hurt regional peace and tranquility. China will take all necessary measures to safeguard national sovereignty and security as well as peace and stability in the South China Sea."
Maritime disputes were not the only thing keeping the world's two largest economic powers at odds, however. For more than a year and a half, Washington and Beijing have been locked in a worsening trade war of tit-for-tat tariffs costing both billions of dollars and, despite successive rounds of talks, U.S. and Chinese officials have yet to find an offramp.
President Donald Trump's ongoing support for causes that defy his Chinese counterpart Xi Jinping has further soured Sino-U.S. ties. The Trump administration has maintained military sales to Taiwan, the self-ruling island state that China's communist government claims governance over since defeating Taipei's nationalists in a civil war that mostly ended in 1949, and has politically endorsed the widespread demonstrations that for months have ravaged Hong Kong, a former U.K. colony handed over in 1997 on the condition that it remain a special autonomous region.
The U.S. Senate passed the Hong Kong Human Rights and Democracy Act on Tuesday, threatening sanctions again Chinese officials accused of unduly cracking down on protesters, who Beijing has likened to "terrorists" due to their increasingly violent tactics. Hong Kong activists first took to the streets to demand the Chinese city's semi-autonomous leadership scrap a bill that would allow suspects to be extradited to other parts of the country, but, with this demand met, now want independent elections.
China has deeply condemned U.S. support for the unrest, with Geng recently warning Trump not to sign the bill and "stop its wrongdoing before it's too late." Speaking to Fox and Friends Friday, the president refused to say whether or not he would endorse the bill, saying only that "we have to stand with Hong Kong, but I'm also standing with President Xi."