China Sends Nearly 3,800 Tons of Medical Supplies to India, Despite Rising Tensions Between Nations
China sent thousands of oxygen concentrators, generators, ventilators and other supplies to India on Friday to help alleviate the dire shortage, an apparent act of goodwill from one rival to another.
Chinese state media reported that an initial shipment of 25,000 concentrators arrived in India, with 5,000 ventilators and 21,000 oxygen generators soon to follow. Chinese leader Xi Jinping on Friday said he was "very concerned about the recent situation" with India's record-setting COVID-19 outbreak.
"Mankind is a community of common destiny sharing weal and woe and only through unity and cooperation can the nations of the world ultimately overcome the pandemic," Xi said in a statement. "Under the leadership of the Indian government, the people of India will certainly overcome the pandemic."
India and China are far from allies—last year, the two countries clashed along the disputed Ladakh region, a conflict that has yet to see resolution. Beijing is wary of the increasingly close relationship between India and the U.S., and tensions are further exacerbated by economic rivalries.
Despite the less-than-friendly relationship, China also sent more than 15,000 sets of monitors and 3,800 tons of medical supplies and medications, according to Foreign Ministry spokesperson Wang Wenbin.
For more reporting from the Associated Press, see below.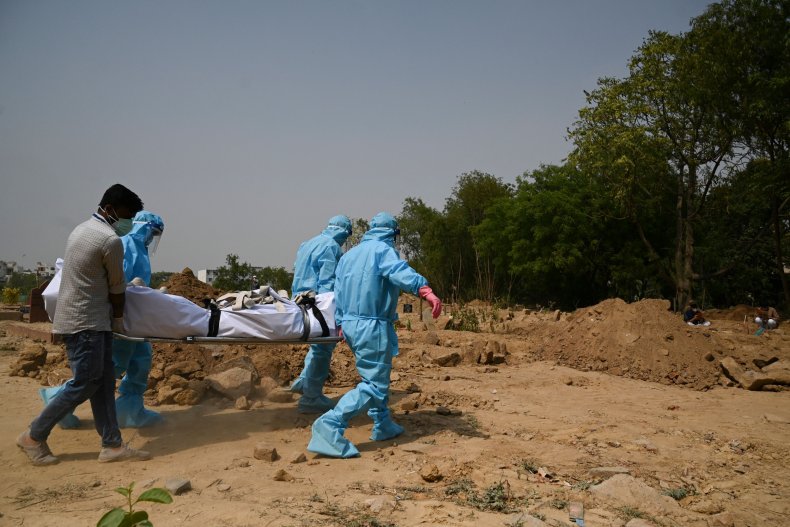 Earlier, Wang said the Chinese public, the Chinese Red Cross, local governments, NGOs and enterprises have all "taken actions and managed to raise much-needed anti-epidemic supplies for the Indian side and send them to the Indian people as soon as possible."
Chinese manufactures of anti-epidemic materials and medical equipment are "working at full capacity to speed up production," Wang said.
Wang also said Chinese airlines are operating cargo flights to India and authorities are accelerating customs clearance and transport for supplies such as liquid oxygen storage tanks and oxygen generators from several Chinese cities.
"China will continue to maintain smooth export channels for materials to India," Wang said.
Newsweek, in partnership with NewsGuard, is dedicated to providing accurate and verifiable vaccine and health information. With NewsGuard's HealthGuard browser extension, users can verify if a website is a trustworthy source of health information. Visit the Newsweek VaxFacts website to learn more and to download the HealthGuard browser extension.