China Shipped Assault Rifles and Body Armor to Russia in 2022: Report
A new report claims Chinese companies have sent assault rifles, body armor, and drone parts to Russian entities since the war in Ukraine began in 2022.
It is unclear if the Russian military is using any of the assault rifles from the reported shipments in Ukraine.
Drones from one of the Chinese companies connected to the transactions have reportedly been seen on the battlefield in Ukraine.
Russian entities received around 1,000 assault rifles, 12 tons of body armor, and drone parts from Chinese companies after the war in Ukraine began in early 2022, according to a new report.
Politico Europe used trade and customs information provided by the customer data aggregator ImportGenius in compiling the Thursday report.
The outlet wrote that while the information doesn't expressly show the "dual-use" supplies were for military use, the items could be used on battlefields. Politico also said one of the Chinese companies involved in the transactions was connected to the Beijing government.
China has publicly maintained a neutral stance on Russian President Vladimir Putin's war in Ukraine, though Chinese President Xi Jinping remains a Putin ally and is scheduled to visit Russia next week.
Meanwhile, U.S. and European officials have warned about the possibility of China providing weapons either to Russia's formal military or to the Wagner Group of mercenaries. This includes U.S. Secretary of State Antony Blinken, who said during a February interview that the Biden administration had "very real concerns" about China providing Russia with military materials.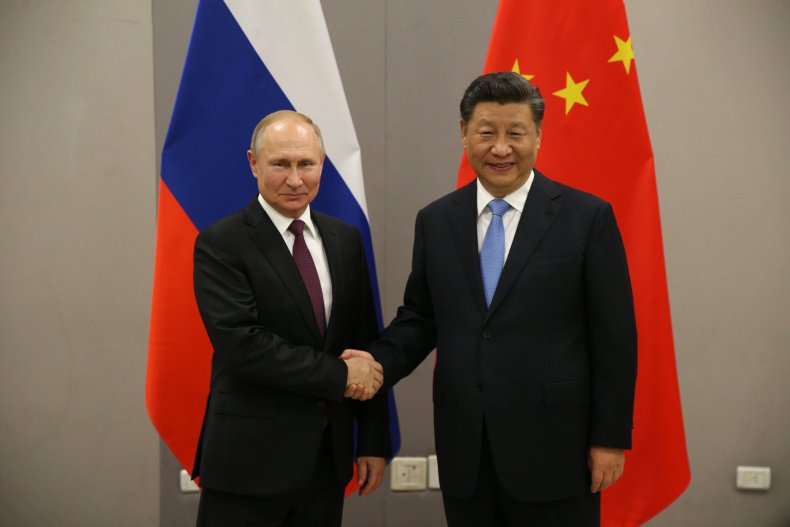 China has previously denied providing Russia with military equipment, and Chinese foreign ministry spokesman Wang Wenbin on Friday was asked during a press conference about the report of China providing dual-use equipment to Putin's forces.
"I would like to reiterate that China always handles export of military items in a prudent and responsible manner and regulates export of dual-use articles in accordance with relevant laws and regulations," he said.
Wang added: "At the same time, we are consistently opposed to unilateral sanctions and long-arm jurisdiction with neither basis in international law nor U.N. Security Council mandate. China's consistent position and practice stands in sharp contrast with the acts of certain countries that apply double standards on arms sales and keep adding fuel to the fire on the Ukraine crisis."
Politico said so-called dual-use equipments—items that can be used both for civilian and military applications—could "be a way for China to quietly increase its assistance to Moscow while avoiding reprisals" from Western officials.
Elsewhere in the outlet's report, customs data was said to have shown that equipment from China was shipped between June and December of 2022, well after Putin launched his invasion of Ukraine on February 24, 2022.
One company cited in the ImportGenius data is the state-owned China North Industries Group Corporation Limited, which reportedly sent assault rifles to the Russian company Tekhkrim in June. According to Politico, Tekhkrim does business with the Russian government and its military.
Additionally, the report said 12 shipments of drone parts and 12 tons of body armor was sent through Turkey to Russia by Chinese companies in the later months of 2022. Drone parts from the company Da-Jiang Innovations Science & Technology Co. (DJI) were also allegedly sent via United Arab Emirates to a Russian distributor in late 2022.
"It is the first confirmation that China is sending rifles and body armor to Russian companies, and shows that drones and drone parts are still being sent despite promises from at least one company that said it would suspend business in Russia and Ukraine to ensure its products did not aid the war effort," Politico wrote.
Though there has been no evidence to show that rifles sent to Tekhrim have been used in Ukraine, The Wall Street Journal reported in February that DJI drones operated by Russian forces had been spotted on the front lines. DJI told the Journal it opposed the use of its drones for military purposes.
When reached for comment, the Chinese embassy in the U.S. provided Newsweek with Chinese foreign ministry spokesman Wang's remarks from his Friday press conference.
Newsweek also reached out to the Russian Ministry of Foreign Affairs via email for comment.