Watch: China Shows Off Artificial Intelligence Journalist Who Promises 'Brand-New News Experience'
China's official news network has debuted what it claims to be the world's first artificial intelligence news anchor.
The English-speaking avatar premiered Thursday at the state-run Xinhua News Agency, taking on the likeness of real-life reporter Zhang Zhao. In a roughly 30-second clip posted to the outlet's official social media channels, the AI anchor introduces itself as an innovation within an industry demanding more technological synergy.
"Hello everyone. I'm an English artificial intelligence news anchor. This is my first day at Xinhua News Agency. My voice and appearance are modeled on Zhang Zhao, a real anchor with Xinhua," the simulated journalist told viewers.
"The development of the media industry calls for continuous innovation and deep integration with the international advanced technologies," it added. "I will work tirelessly to keep you informed as texts are typed into my system uninterrupted. I look forward to bringing you the brand-new news experience."
The clip of Zhao's likeness was shown at the Fifth World Internet Conference, which was held this week in China's eastern Zhejiang province. Xinhua News Agency reported that the AI anchor was developed between its own network and the search engine company Sogou.
In a subsequent video, the AI anchor announced that China was in the process of planning its first Mars probe and seeking to explore the planet in 2020. Another follow-up discussed the World Internet Conference.
Xinhua News Agency claimed that the AI anchor was the first of its kind. The official outlet noted that, unlike its human counterparts, the AI anchor could work 24 hours a day and would reduce costs and increase newsroom efficiency. As the bot himself admitted, however, its work required human editors to feed information so their latest employee would not be completely autonomous.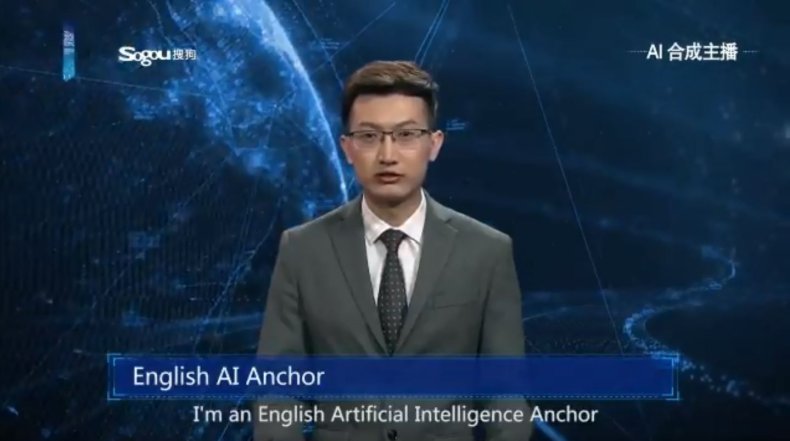 Though China's presentation has come a long way from the days of "the world's first computer-generated TV host" Max Headroom—who was, in reality, portrayed in the 1980s by an actor in prosthetics—such text-to-voice technology accompanied by computer graphics have been around for some time. Still, the lifelike reporter could easily fool the average viewer at first sight and raises serious questions about the future of such an occupation when a cheaper alternative was available.
China had previously looked to for new ways to bring technology to news outlets. A 4-foot, 64-pound robot named Chao Neng Xiao Bai appeared in late May alongside human anchor Xiao Qu on the Nanning TV station in the Guangxi Zhuang autonomous region. The station's Deputy Director Yang Jie said his "final goal is to bring the advanced technology to entertain people and finally serve people," because "this is where the media's value lies," as reported by China Daily.
In addition to media, China has invested heavily in artificial intelligence applications for military purposes. Aware of the gap between its defense capabilities and those of top competitors the United States and Russia, Beijing has sought to develop technology for missiles, warplanes and other weapons that could potentially outsmart traditionally superior forces.