China Reveals Unmanned Tanks Driven by Remote Control, With Eye Toward Artificial Intelligence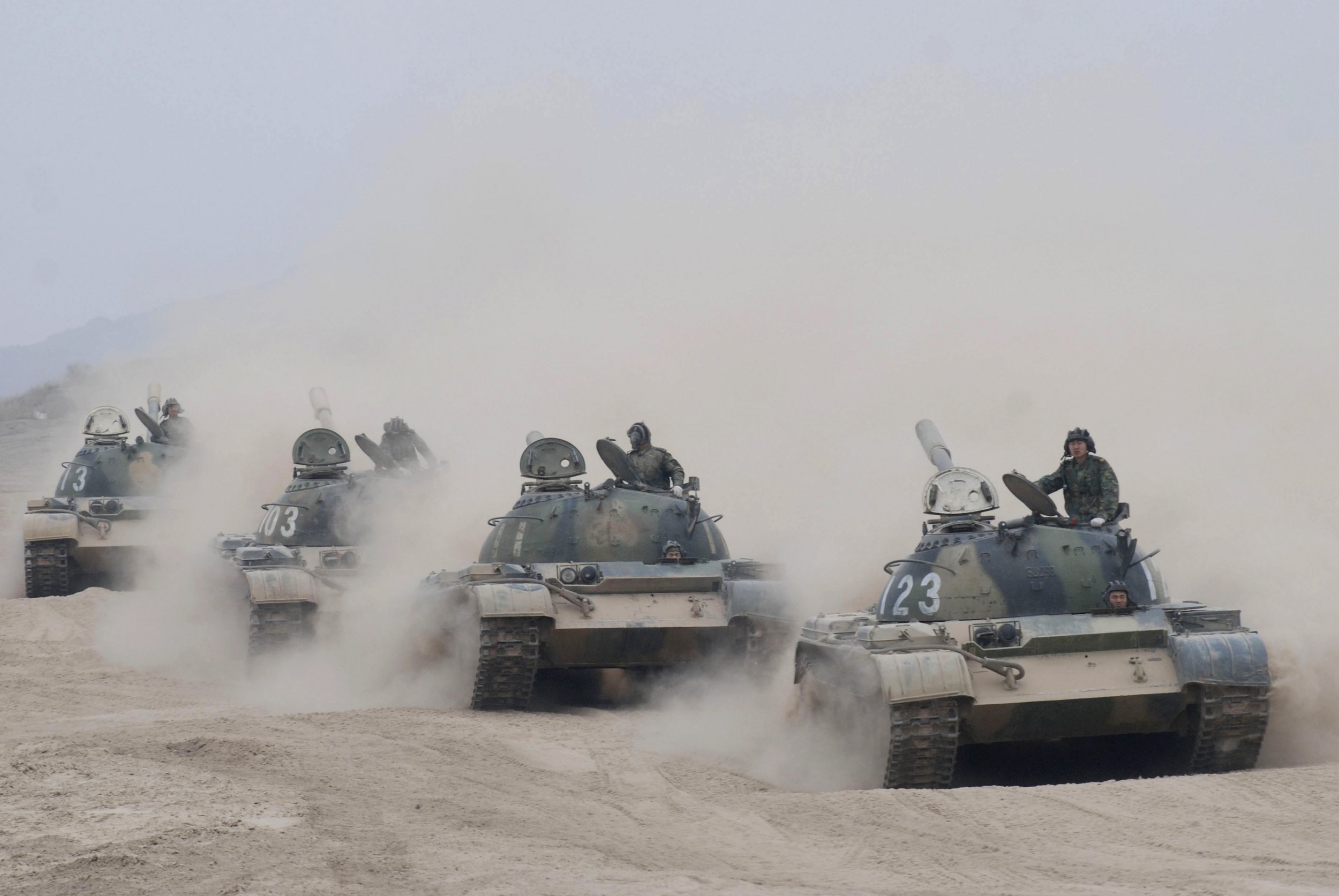 China tested unmanned tanks this week in hopes of eventually arming the vehicles with artificial intelligence, according to Chinese state-run newspaper Global Times on Wednesday.
Footage of the tests was shown on state television. It depicted converted unmanned versions of a Soviet-era Chinese tank driven by remote control. This was the first time the Chinese public has been shown testing of the unmanned version of the vehicle, according to Reuters. The original Type 59 first entered into service in China's People's Liberation Army (PLA) at the end of the 1950s.
"A large number of due-to-retire Type 59 tanks can be converted into unmanned vehicles if equipped with artificial intelligence," said Liu Qingshan, editor of Tank and Armored Vehicle, to the state paper.
China's recently re-elected president and party leader Xi Jinping announced an aggressive military modernization last year aiming to be a world-class military by 2049. In particular, China is spending big on artificial intelligence.
Last year, China's State Council announced plans to become "the world's primary [artifical intelligence] innovation center," and its market is forecasted to be worth $150 billion by 2030. Military applications for artificial intelligence span far and wide. Last month, the PLA's newspaper announced the successful test of unmanned 22-foot-long patrol boats.
James Lewis, a fellow at the Center for Strategic and International Studies think tank, told the Financial Times that China's spending in the sector far outweighs that of the U.S.
"The Chinese invest billions, [the U.S.] spends millions. It's hard to see how you wing it when you are being outspent a thousand to one. We are not going to win when we are outgunned to that extent; even if they are half as efficient it's still 500:1," said Lewis.
Some U.S. lawmakers are worried about the potential impacts of artificial intelligence on security. Representative Elise Stefanik, the chair of the House Armed Services Subcommittee on Emerging Threats and Capabilities, brought forth legislation Wednesday that would assemble a commission to study and analyze artificial intelligence as a threat and an asset to the U.S.
"Artificial intelligence has already produced many things in use today, including web search, object recognition in photos or videos, prediction models, self-driving cars, and automated robotics," said Stefanik in a statement. "It is critical to our national security but also to the development of our broader economy that the United States becomes the global leader in further developing this cutting-edge technology."
The congresswoman's communications director, Tom Flanagin, told Newsweek via email that the aim of the legislation was "to ignite the conversation in U.S. defense policy to ensure the United States is not surpassed by China."