China Skyscraper Fire Videos Show Changsha Building Engulfed in Flames
A skyscraper in southern China caught fire on Friday, with social-media videos showing dozens of floors of the multistory tower block engulfed in flames, with authorities saying that no casualties had yet been found.
In downtown Changsha, capital of the Hunan province and a city of more than 10 million people, a huge plume of black smoke smothered the blue skyline, and large items and bits of debris were seen falling off the 42-floor building.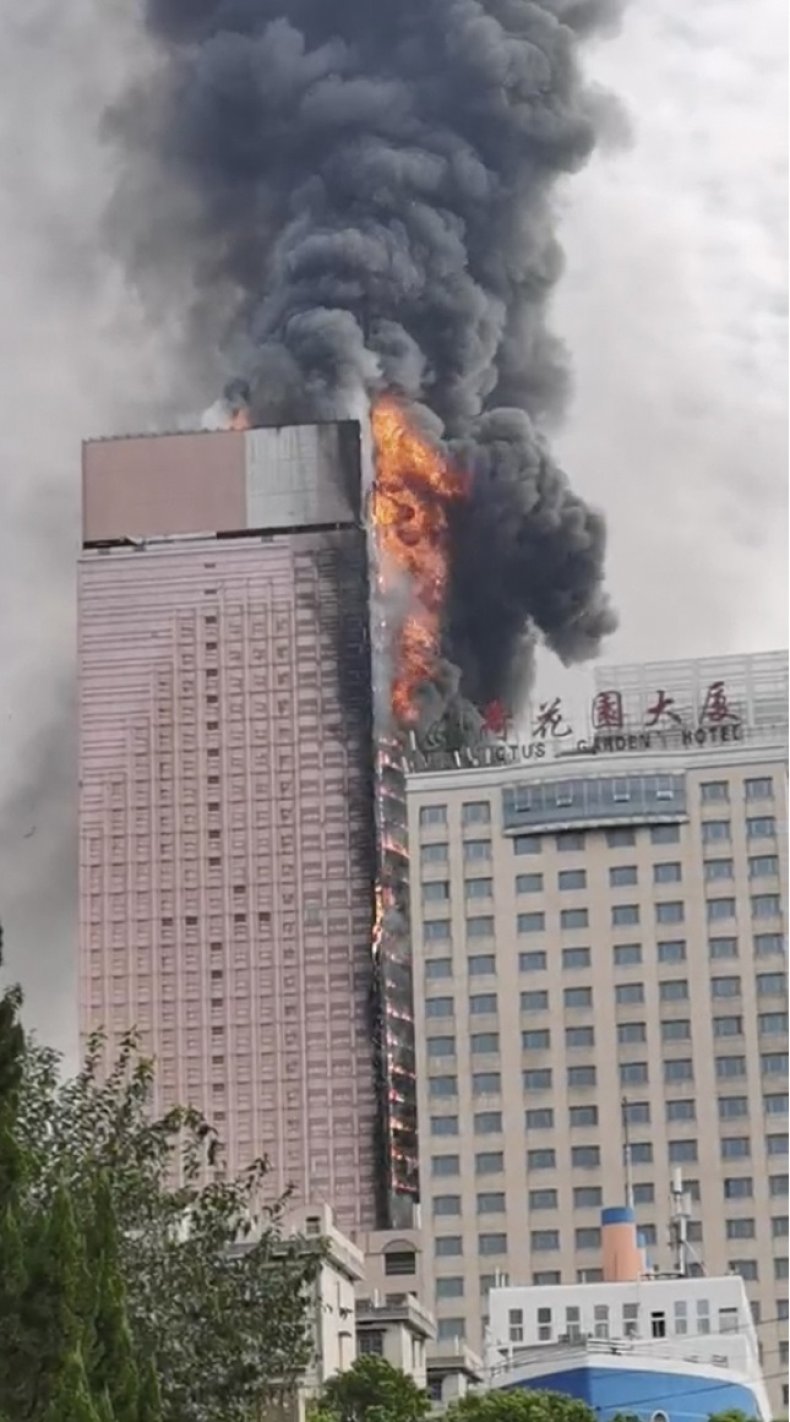 State broadcaster CCTV said that dozens of storeys of the 715-foot-tall China Telecom building "burned with great intensity."
A video on social media appeared to show scores of people fleeing the state-owned company building as the fire engulfed the skyscraper.
The city's fire department said it had sent an army of 280 firefighters, who were able to extinguish the blaze quickly.
China Telecom said in a statement: "By about 4:30pm today, the fire at our No 2 Communications Tower in Changsha has been extinguished.
"No casualties have yet been discovered and communications have not been cut off."
Hunan's fire department said that preliminary investigations showed that the outside of the building caught fire.
The China Telecom building was completed in 2000 and is close to a major ring road, CCTV reported.
Newsweek has contacted China Telecom for an update.
Deadly fires are a regular occurrence in the Far East, and in June, smoke clouded Shanghai after a chemical plant fire left one person dead.
In December 2021, a fire at the World Trade Centre in Hong Kong trapped more than 300 people on the roof and 13 people were injured before firefighters extinguished the blaze.
That same month, a huge fire broke out at a psychiatric clinic in Osaka, Japan, killing 26 staff and patients and injuring one more. The fire was believed to be started on purpose and on December 30, the arson suspect died of injuries from the blaze.
In Taiwan in October 2021, 46 people were killed after a blaze tore through a 13-story building in the southwestern port city of Kaohsiung. It was known by locals as a "ghost building" as it was a once-prosperous building that now was squatted in.
It was Taiwan's deadliest building fire since 1995, when 64 people were burned to death at a karaoke club in the central city of Taichung.
Lax enforcement of building codes and frequent unauthorised construction can make it difficult for people to escape burning buildings in China.