Official China Communist Party Social Media Posts Mocks India's COVID Crisis
A pair of recent social media posts by Chinese Community Party (CCP) agencies that mocked India's COVID-19 crisis caused a massive backlash at home and abroad, resulting in the messages being deleted.
On Saturday, the Central Political and Legal Affairs Commission, which is the organization under the CCP's Central Committee responsible for political and legal affairs, posted a picture on social media of China's recent space launch with the caption, "China lighting a fire." Next to that image was a photo of Indian funeral pyres with the caption, "India lighting a fire."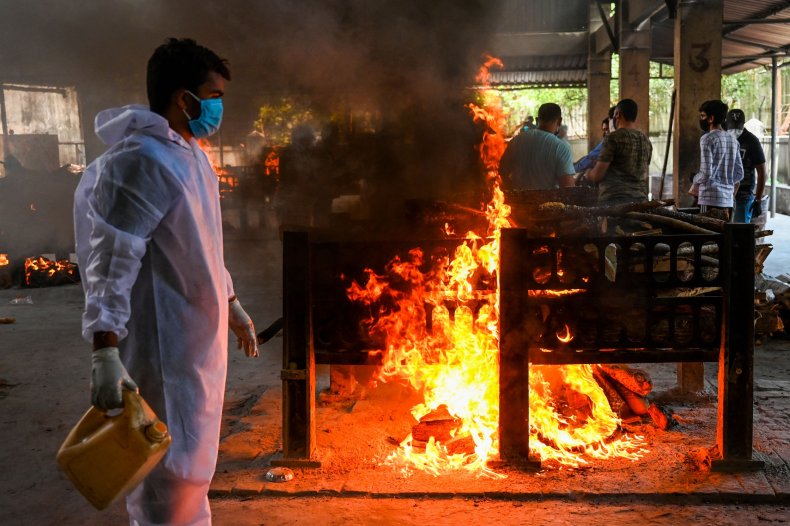 The images and mocking words from the Central Political and Legal Affairs Commission came a day after the country's Ministry of Public Security shared a similar post. On Friday, that department juxtaposed an emergency hospital in Wuhan named Huoshenshan (which means fire god mountain) with a photo of a mass cremation ground in India.
India is currently going through an unprecedented crisis involving COVID-19, with new cases recently passing 400,000 in one day. Throughout the country, crematoriums have reached maximum capacity and mass funeral pyres have been erected to burn those who have died from complications from the virus.
The posts from the two agencies appeared on Weibo, which is often referred to as the Chinese version of Twitter. The Central Political and Legal Affairs Commission has 15 million followers on Weibo, while the Ministry of Public Security has 31 million followers. Both posts have since been been deleted following widespread criticisms of insensitivity.
The South China Morning Post wrote that the Weibo posts were made as attempts "to pander to nationalist sentiment." Relations between the two countries have been tense since June of last year when a clash broke out on the Himalayan border between members of China's People's Liberation Army and Indian troops in the Galwan Valley. In January, China revealed four of its soldiers were killed during the violent confrontation.
The Weibo messages from the two bodies of the CCP conflict with other public statements from Chinese officials. First, Chinese Foreign Ministry spokesperson Wang Wenbin pledged last week that China would provide medical supplies, including oxygen concentrators, to India. Chinese President Xi Jinping then wrote a message to Indian Prime Minister Narendra Modi on Friday that expressed sympathy and promised to help India battle the outbreak.
"China is willing to enhance cooperation with India on fighting COVID-19 and provide support and assistance to India," Xi was quoted as saying in that by state television.