China-Solomon Islands Pact Leaves U.S. Worried About the Pacific
U.S. officials are in a state of fret over an opaque security agreement between China and the Solomon Islands, a deal Washington fears could lead to a future Chinese military presence deep in the Pacific.
The Pacific Island nation only established formal diplomatic relations with China in 2019. The decision has been the subject of scrutiny at home and abroad. Last November, anti-government riots across Honiara, the capital of the Solomon Islands, caused extensive damage to businesses including in the local Chinatown. The event is now among Beijing's justifications for seeking the pact, which covers policing.
The manner in which the agreement came about was a cause for alarm. Draft text was leaked by a member of the Solomon Islands government in March, apparently catching officials in Washington, Canberra and elsewhere off guard. It was initialed a few days later and confirmed to have been signed last week—just days before the Biden administration dispatched senior officials to Honiara in hopes of forcing a U-turn.
Under the agreement, the Solomons can request police and military assistance from China. In return, approved Chinese vessels can conduct transits and port visits for replenishment. There's also an option for China to deploy its forces to protect Chinese nationals and infrastructure projects throughout the island nation.
The pact has become Beijing's first security deal with a government in the Pacific, a strategic coup for China in the eyes of many. American and Australian officials are concerned that the pact could eventually see China establish a permanent naval base in the Solomons—1,200 miles off the coast of Australia—granting the Chinese military unfettered access to the Pacific.
In reality, however, the security implications remain speculative; the draft included no mention of basing, although the final text has yet to be published by either side. There's also no indication that anything resembling a basing agreement with Beijing would be welcomed by the Solomon Islands public, even if it were under consideration.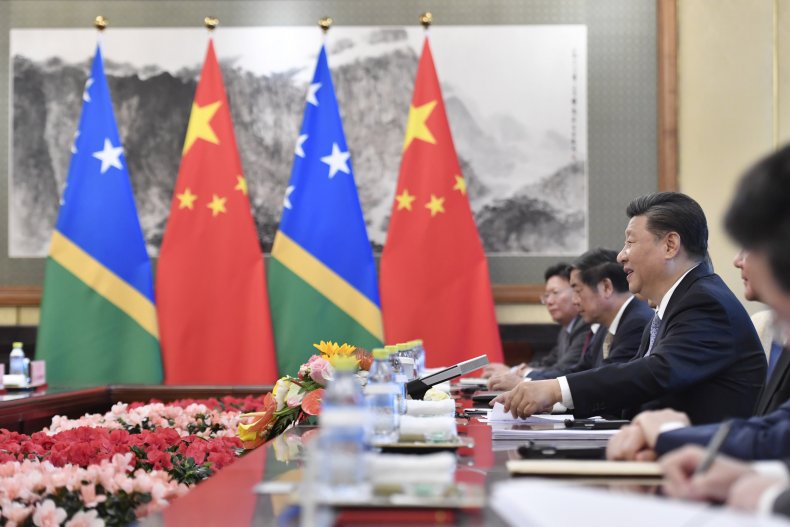 Meanwhile, the U.S. has sent a series of unambiguous messages to Solomon Islands Prime Minister Manasseh Sogavare about its concern over the way the deal was inked. Washington has sought private and public reassurances from Sogavare that his government's deal with China is benign.
It began with a phone call from Deputy Secretary of State Wendy Sherman earlier this month, followed by a high-profile visit to the region by Kurt Campbell, the White House's Indo-Pacific coordinator, and Daniel Kritenbrink, assistant secretary of state for East Asian and Pacific Affairs.
At a press briefing on Tuesday, Kritenbrink said the U.S. delegation had a "constructive and candid" 90-minute meeting with Sogavare and his cabinet, the result of which appeared to benefit all parties.
"We told the Solomon Islands leadership that the United States would respond if steps were taken to establish a de facto permanent military presence, power-projection capabilities or a military installation in the Solomon Islands. Prime Minister Sogavare reiterated in his public remarks, noting specific assurances that there would be no military base, no long-term presence, and no power-projection capability," Kritenbrink said.
"Of course, we have respect for the Solomon Islands' sovereignty, but we also wanted to let them know that if steps were taken to establish a de facto permanent military presence, power projection capabilities, or a military installation, then we would have significant concerns, and we would very naturally respond to those concerns," said the Biden official, who didn't elaborate on a potential American reaction to unwelcome developments.
For his part, Sogavare said last week that the Solomons' agreement with China would not undermine regional peace, and that his government signed the deal "with our eyes wide open." The policing agreement has mostly domestic implications for the country's security, he argued.
If the pact is a strategic coup for Beijing, then it's a win for Honiara, too. By exposing potential U.S. vulnerabilities in the Pacific, Sogavare's political maneuver has already refocused Washington's support on the region—and it's certain to garner more attention in the coming months.
The U.S., which had already announced plans in February to open an embassy in Honiara, has proposed deepening bilateral ties. Australia, which also sent officials to the Solomons this month, will do the same. Japan has sent diplomats to the island nation, too, in another sign of general unease and the sudden realization of the need for sustained engagement.
The increased attention on the region is a potential boon for other Pacific Island nations as well. Campbell and Kritenbrink's recent trip also took them to Fiji and Papua New Guinea, both of which were promised more cooperation.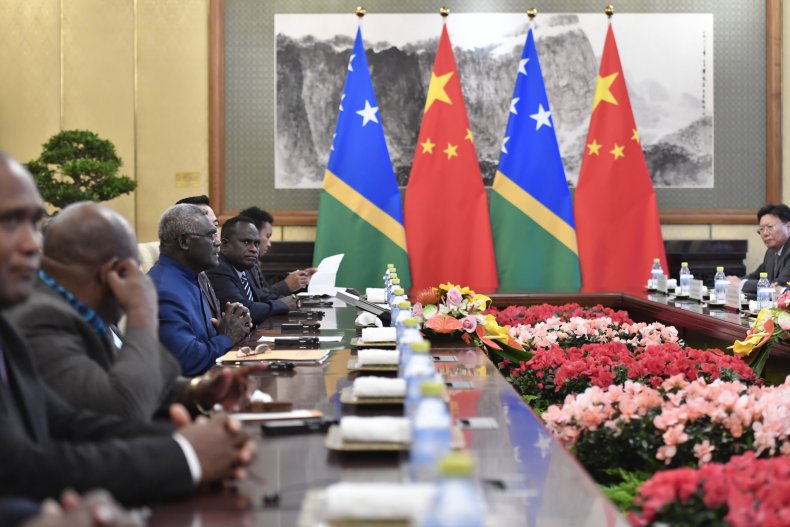 In Canberra, where developments in the nearby Pacific Islands are considered part of its purview, officials have reacted with similar apprehension. Australia has traditionally provided the Solomons with aid and security support, including dispatching troops to restore order during last year's demonstrations in Honiara.
Penny Wong, shadow foreign minister of the opposition Labor party, called Canberra's failure to foresee the deal the "worst failure of Australian foreign policy in the Pacific since the end of World War II." Wong, notably, doesn't subscribe to the ruling coalition's harder line on China.
Prime Minister Scott Morrison defended his government's approach, including his decision not to send a cabinet minister to Honiara in the wake of the deal.
"In the Pacific, one of the things you've got to be very, very cognizant of is there is a long history of, frankly, countries like Australia, and even New Zealand and others, coming around and treating Pacific Islands like they should be doing what the big countries should tell them to do," he told reporters last week.
"What [the Pacific Islands] need to understand is that I am going to work with them. I'm not going to act like former administrations that treated the Pacific like some extension of Australia. The Pacific Islands are very sensitive to that, and I have always had an approach with the Pacific Islands which understands those sensitivities because there is a lot at stake."
In Wellington, New Zealand Prime Minister Jacinda Ardern also raised concerns about the lack of transparency surrounding the China-Solomon Islands pact. Honiara undermined a regional agreement with the Pacific Island Forum stating that matters of defense would first be discussed with the group, she said.
In the background, Beijing has sought to allay concerns in its own way. Li Ming, China's envoy to the Solomons, called speculation surrounding a military base "misinformation deliberately spread with political motive."
The agreement was in everyone's interests, he said on the Chinese Embassy's website. "There is no hidden motive, no geopolitical agenda as some people wrongly claimed."
On Monday, China Foreign Ministry spokesperson Wang Wenbin accused the U.S. of hypocrisy, first for maintaining an American military presence on almost every continent, and then for inking far-reaching security deals—like AUKUS with Australia—without regional endorsement.
"The [China-Solomon Islands] cooperation is open, transparent, legitimate, lawful and irreproachable. The speculation that China will build a military base in the Solomon Islands is pure disinformation fabricated by a handful of people who harbor ulterior motives," said Wang.
He continued: "I have noted that the U.S. and Australia accuse the framework agreement on security cooperation between China and the Solomon Islands of not being transparent. However, it is the AUKUS security partnership that is neither open nor transparent."
"When will the U.S. and Australia invite South Pacific island countries and other regional countries to review AUKUS cooperation?" Wang asked.
Reached by Newsweek, a State Department spokesperson said the China-Solomon Islands agreement "was concluded in a non-transparent process, follows a pattern of the [People's Republic of China] offering shadowy, vague deals with little regional consultation in fishing, resource management, development assistance, and now security practices."
Sogavare has said he would like to release more details about the pact if Beijing agrees, "so it is up to the PRC to show if it can be transparent on security matters that have raised concerns throughout the region from many Pacific Island countries," the spokesperson said.
"We have made clear we will follow developments closely in consultation with our regional partners. We will have an opportunity to continue discuss these issues further in our strategic dialogue session in Solomon Islands in September along with many other issues," the statement said.
Update 04/27/22, 2:05 a.m. ET: This article was updated to include comments from the Department of State.