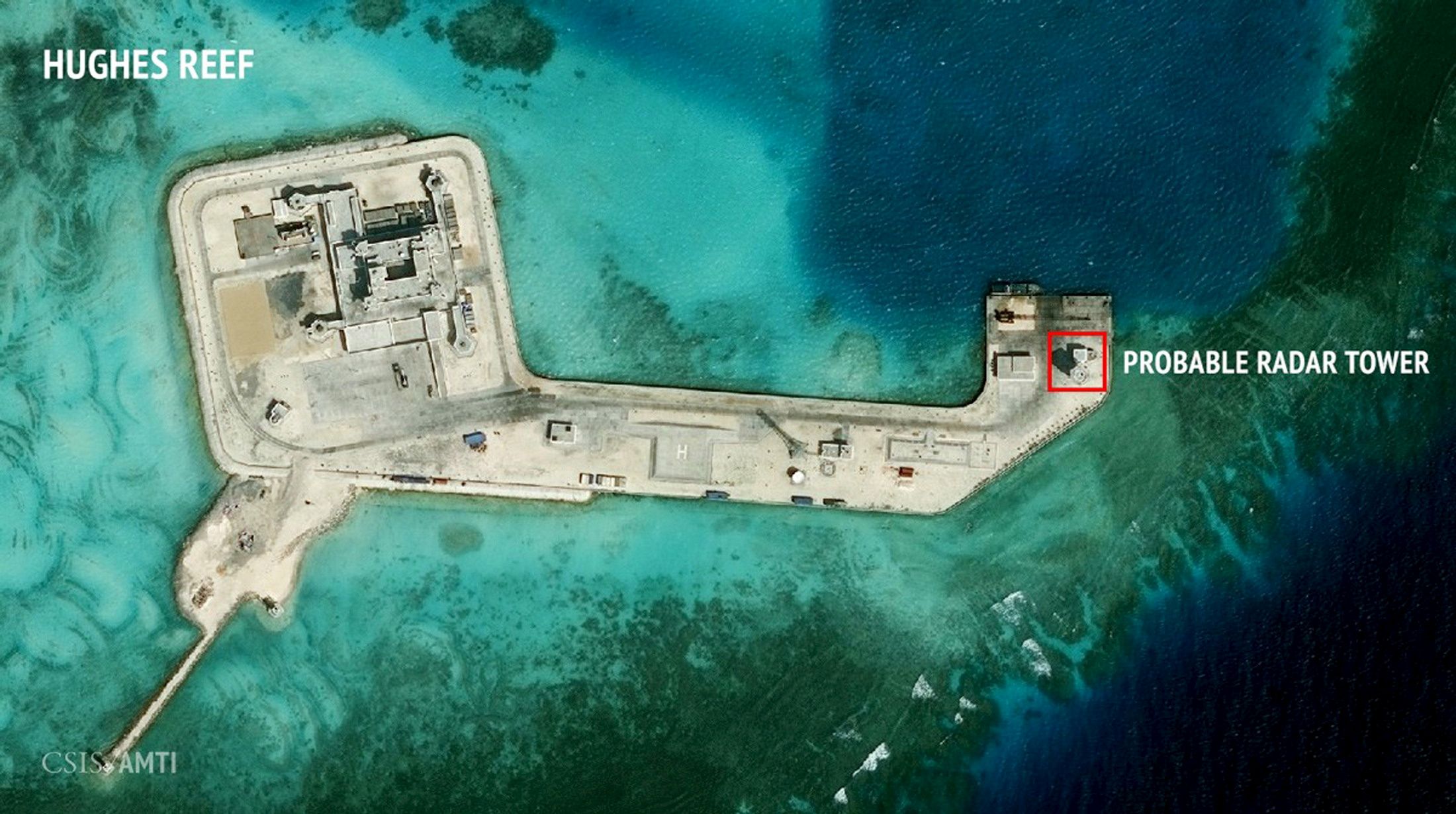 Updated | So you want your own private island? China certainly does. It has been building manmade bases over some of the Spratly Islands in the South China Sea since 2014, much to the annoyance of other powers in the region—the Philippines, Malaysia, Vietnam, and Japan all lay claim to parts of the sea, which is a valuable trade passage and fishing ground. On Monday the Center for Strategic and International Studies (CSIS) confirmed the completion of another Chinese man-made island, China's Fiery Cross Island, and the new land is now ready for use as a military base.
The U.S. estimates China has added 3,200 acres of land on seven features (which includes rocky outcrops and reefs) over the past three years, although China denies it is militarizing the islands it has built. Last week, Chinese Premier Li Keqiang said that the defense equipment on the islands was there to maintain "freedom of navigation". Fiery Cross reef, once merely a mass of rocks and a coral reef, now has a runway and several other buildings, including basketball courts and a running track. The island joins several other military bases in the South China Sea, adding extra aerial capacity to existing naval resources and mobile missile launchers.
"Beijing can now deploy military assets, including combat aircraft and mobile missile launchers to the Spratly Islands at any time," said the Asia Maritime Transparency Initiative (AMTI) on Monday in a report that included images of the three man-made islands—Fiery Cross reef, Subi, and Mischief. Its director Greg Poling told Voice of America that new antennas had been spotted on Subi and Fiery Cross, so he expected deployments there soon.
The Spratly Islands are around 500 miles from the coast of China, and Fiery Cross Reef about 740 miles from mainland China. It is approximately 170 miles off the coast of Vietnam. Why did China build these islands and how did they manage to make land out of sea?
In 2014 China claimed they were developing the islands for navigational purposes. Some of the islands do have lighthouses to ease ships through the lethal necklaces of rocky outcrops, but several are now evidently military bases. Though the position of the islands may have navigational benefits, Alessio Patalano, senior lecturer in Asian security and war studies at King's College London, says that China's choice of location reveals more about their aims on other fronts.
"The Chinese decide where to make islands by looking at the furthest possible range of planes, and radio stations, and then work where they need to build to make sure they have every area covered. Currently they have a neat triangle with range that extends across most of the South China Sea," says Patalano. The only area they don't have covered is the north east—and this is why the Scarborough Shoal, or reef, just 150 miles off the Philippines coast (and 400 miles away from China) is so important and so contentious. Building a military base on the reef would guarantee China coverage of the whole of the South China Sea, in terms of radio and military range. China claimed the reef in 2012, but the U.S. warned them not to carry out any reclamation works as they have done elsewhere because the islands are part of international territory. In a recent press conference, Sean Spicer, the White House's spokesperson, said: "It's a question of if those islands are in fact in international waters and not part of China proper, then yeah, we're going to make sure that we defend international territories from being taken over by one country."
China has specifically targeted shallower areas, sandbanks, and reefs—islands need a good base, the shallower the better; a place that won't sink under a load of concrete. The islands China has built so far are located on a shallow continental shelf, with an average depth of around 650ft.
China has also used reefs and rocky outcrops to its advantage.
To construct the base of the island, sand is piled on the seabed or reef, and then a thick layer of rocks are placed on that. Finally, a thick layer of cement is added to the first two layers. Chinese engineers building islands follow a similar principle that engineers constructing the Palm Islands in Dubai followed, says Mark Jackson, senior lecturer in post-colonial geographies at the University of Bristol. This requires an enormous amount of sand, and China has mainly gathered it using dredgers that grind up the material on the seabed, turn it into fine sand, and then suck it it up through tubes.
The environmental impact of dredging activity is huge—a tribunal at the Hague, by the Permanent Court of Arbitration, slammed China in July 2016 for causing what it described as " irreparable harm to the marine environment." The tribunal also criticized China for destroying coral reefs, which it had a duty to protect—international law says that anyone building an island must undertake a thorough environmental assessment beforehand.
The Hague also rejected China's historic claims to the South China Sea, which Beijing had described as being part of "historic fishing territory." The tribunal said that the Spratly Islands were not legally islands, but rather rocks, over which no country had jurisdiction. These rocks include the Fiery Cross Reef, where China appears to have built a 10,000ft long airstrip. Satellite images also show that as well as enormous runways and military equipment, China has even constructed basketball and tennis courts on their manmade islands.
China reacted angrily to last year's Hague ruling, with state news agency Xinhua describing it as "ill-founded." Now, China appears to have several military bases on their islands and shows no sign of pulling back from its expansion in the area.
This article has been updated to include further information about how the island bases are constructed.