U.S. Blasts Beijing for "Provocative Militarization" of Disputed South China Sea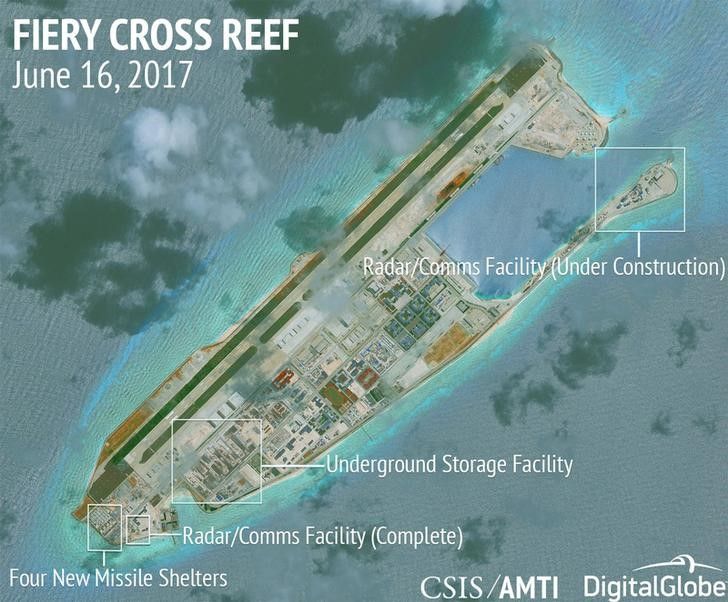 The U.S. has vowed to continue so-called freedom-of-navigation patrols in the South China Sea as it accuses Beijing of "provocative militarization" of disputed islands.
Brian Hook, a senior Asia policy adviser to U.S. Secretary of State Rex Tillerson, told reporters in a phone conference on Tuesday that Washington will oppose all unilateral actions taken by China in the South China Sea while issues of sovereignty remain unresolved, the South China Morning Post reported.
"China's provocative militarization of the South China Sea is one area where China is contesting international law. They are pushing around smaller states in ways that put a strain on the global system," Hook said. "We are going to back up freedom-of-navigation operations and let them know we will fly, sail and operate wherever international law allows."
China has continued to build on the disputed waters despite backlash and protests from surrounding countries and the U.S.
Last December, satellite images obtained by the Washington-based Asia Maritime Transparency Initiative showed that China had already built a high-frequency radar at Fiery Cross Reef and ammunition storage tunnels on the Subi Reefs.
"We strongly believe China's rise cannot come at the expense of the values and rule-based order. That order is the foundation of peace and stability in the Indo-Pacific and also around the world," Hook said. "When China's behavior is out of step with these values and these rules, we will stand up and defend the rule of law."
Last year, China claimed that it had "irrefutable" sovereignty over the disputed islands, despite Taiwan, Malaysia, Vietnam, the Philippines and Brunei, also having claims to the area.
"We oppose these kinds of unilateral actions," Hook said. "We encourage the authorities in Beijing and Taipei to engage in constructive dialogue on issues related to civil aviation."
The U.S. has long criticized China's build-up of military facilities in the disputed seas and believes that the construction is limiting navigation on international waters.
Beijing has repeatedly warned the U.S. to refrain from getting involved in the disputes and said the freedom of navigation patrols are an infringement on China's sovereignty.
"We urge the United States to respect the facts, speak and act cautiously to avoid harming the peace and stability of the South China Sea," Chinese Foreign Ministry spokeswoman Hua Chunying told reporters at a news briefing last January.
"Our actions in the South China Sea are reasonable and fair. No matter what changes happen in other countries, what they say or what they want to do, China's resolve to protect its sovereignty and maritime rights in the South China Sea will not change," she added.