Inside China's Plans To Conquer Space
The U.S. has long benefited from the urgency provided by a clearly identifiable peer adversary, a singular rival that could shape America's fortunes. In the Cold War, competition with the Soviet Union extended into outer space; now, the geopolitical contest with China is headed the same way.
With the completion of its Tiangong space station last fall, China became only the third nation to maintain a continuous human presence in low-Earth orbit. The T-shaped outpost was assembled in just 18 months by crews of rotating Chinese astronauts—also known as taikonauts, deriving their name from the Chinese word taikong, meaning space or cosmos—after the launches of core module Tianhe and laboratories Wentian and Mengtian between April 2021 and October 2022.
The space station, built to last up to 15 years, begins to pursue mission objectives in earnest this year, when China's manned space program and the policy-making China National Space Administration both turn 30. American astronauts are unlikely to visit Tiangong, which can support a maximum of six crew, but U.S. allies have already shown a keen interest in a range of experiments being conducted on board.
Beijing's space ambitions and the striking progress it has already made in a few short decades are exemplified by China's president, Xi Jinping, who has confidently turned his attention to the moon. The first taikonauts could set foot on the lunar surface while he's still in power.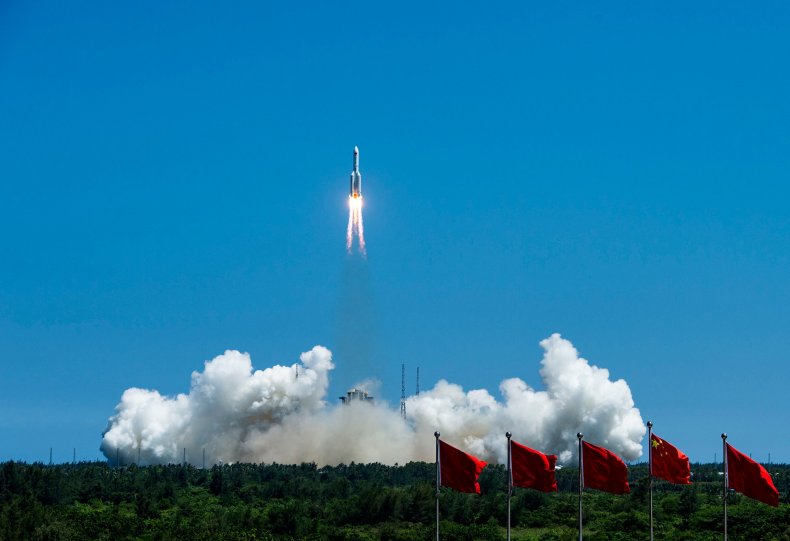 The developments have animated policymakers in Washington. Bill Nelson, NASA administrator and one-time payload specialist on the space shuttle Columbia, is convinced that the two countries are engaged in a new "space race." Earlier in January, the former senator from Florida told Politico that China could claim large swaths of the moon as its own.
"If you doubt that, look at what they did with the Spratly Islands," he said, referring to long-running maritime and territorial disputes in the South China Sea.
Nelson's views on China, which he called "a very aggressive competitor," appeared to have hardened alongside Washington's wider consensus on Beijing as a strategic opponent. China's Communist Party tabloid Global Times in December said the NASA official's comments reflected a "lack of confidence."
As the political, military and economic rivalry with China tops the foreign policy agenda on Capitol Hill, there are potential benefits to introducing space competition into public discourse, according to John Logsdon, professor emeritus at George Washington University's Space Policy Institute, which he founded in 1987 and ran until 2008.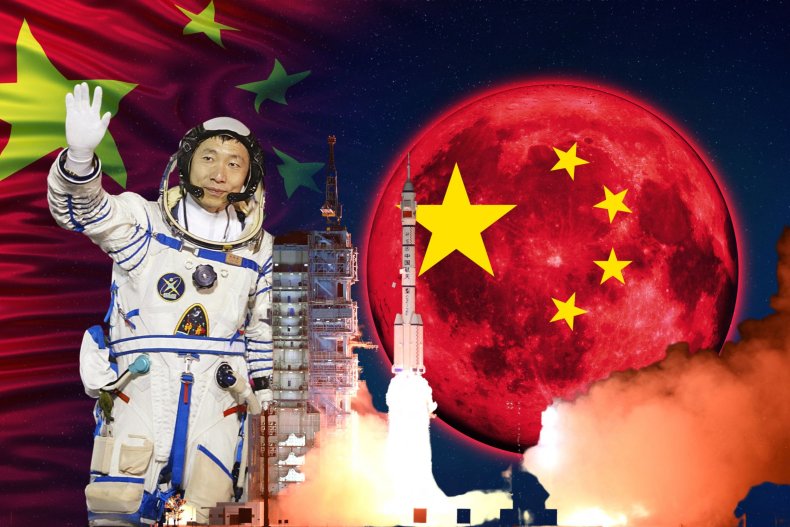 "This is a competitive country. We need peer competitors to excel ourselves. For many years, the Soviet Union played that role," Logsdon told Newsweek. "As it grows in economic power and global impact, China is now playing that role. More than that, if you look at what China says and does, it is clearly aiming to be, as the U.S. is aiming to be, the global leader."
"It's a competition, not a race. A race has a finish line; there's a winner and a loser, whereas both our stated plans and China's stated plans are continuing programs of exploration lasting decades into the future. There's not one achievement that marks success and the end of the competition."
Xi Jinping's Space Dream
China runs a tight ship; its space program has consistently hit major targets in recent years. A white paper published a year ago previewed its new five-year plan, which included more space infrastructure, refinements to Earth observation technologies, and more progress on lunar and interplanetary projects to support the country's growing space science field.
This December, China intends to launch Xuntian, a modern rival to the Hubble telescope. It's scheduled to come online for at least 10 years starting in 2024, the same year it plans to send probes to study near-Earth asteroids and icy comets.
Beijing expects Tiangong to attract further attention, too. Wentian, the first research module, has been designated for life sciences, while space lab Mengtian will host physics experiments.
"China plans to build the space station into a state-level space lab supporting long astronaut stays and large-scale scientific, technological and application experiments, Zhou Jianping, chief designer of the country's manned space program, told the official Xinhua news agency in December.
Tiangong, which is roughly one-third the size of the International Space Station (ISS), would begin accepting international payloads in 2023 and eventually welcome astronauts from other countries, Ji Qiming, a senior adviser at the China Manned Space Agency, told a press briefing in November.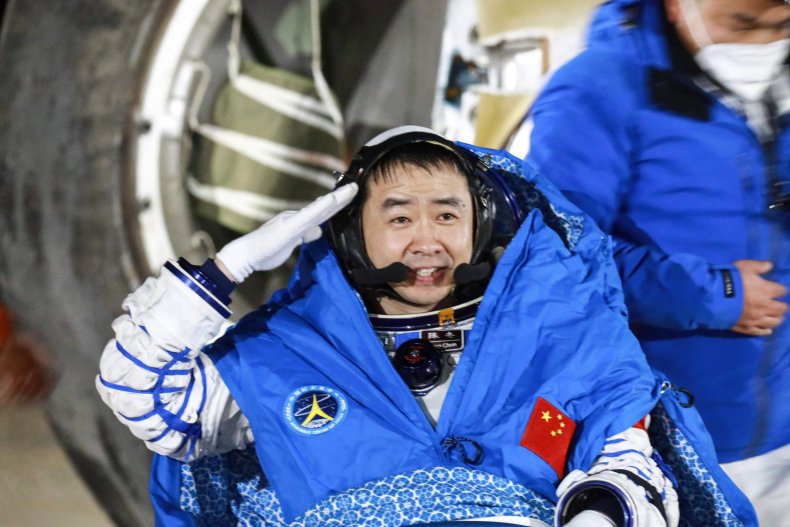 Among China's near-term plans are ambitions to better understand the moon, an obsession it shares with America. The Chang'e 5 probe, launched in late 2020, discovered a new mineral among the rock samples it collected, scientists said in 2022.
In 2025, Chang'e 6, also named for the Chinese lunar deity, could return samples from the moon's south pole, where Beijing also wants to land its Chang'e 7 probe the following year. The International Lunar Research Station, a collaboration between China's CNSA and Russia's Roscosmos, promises to yield a crewed facility in the moon's orbit or on its surface in the 2030s.
This runs parallel to NASA's Artemis program, which aims to return humans to the moon for the first time since the final Apollo mission in 1972. While China is learning to walk before it can run, the U.S. arguably has a running start thanks to decades of past experience.
After Artemis 1 certified the Orion spacecraft and the Space Launch System rocket in a two-week test run in December, Artemis 2 is set to slingshot a crew of astronauts around the celestial body in 2024. Artemis 3, scheduled for 2025, will place the first woman and first person of color on the moon in a week-long mission intended for the lunar south pole.
A New Space Race?
The Wolf Amendment of 2011 prohibits NASA from cooperating with China's space program without congressional approval. The law, named for former Republican Rep. Frank Wolf of Virginia, was passed on national security grounds and explains the continued absence of taikonauts on the ISS.
In 2022, a Pentagon-commissioned study group concluded that China intends to "displace the U.S. as the dominant space power both militarily and economically by 2045." Descriptions of China's growing hard power capabilities in space also featured extensively in the department's annual China military power report.
New and old geopolitical headwinds mean China and Russia have so far rebuffed the U.S.-led Artemis Accords, a cooperation framework for the civil exploration of the moon, Mars and other astronomical bodies. There were 23 signatories as of December 2022.
While the accords are explicitly grounded in the U.N.'s Outer Space Treaty of 1967, which prohibits claims to the moon and other celestial bodies, disagreement remains over their endorsement of resource extraction by national space agencies.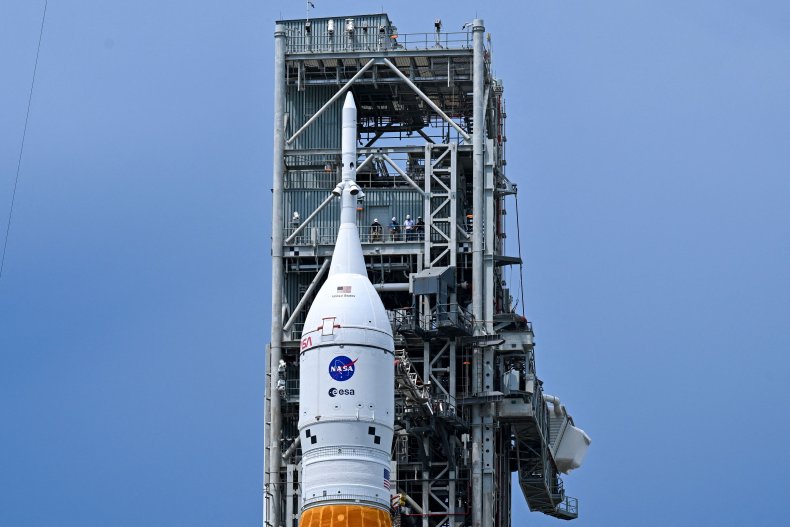 "There's this lingering sense that there are resources on the moon, in particular water ice in the polar regions, that will be very useful in a long-term program with space exploration," said Logsdon, a former NASA adviser.
"With the moon in particular, we cannot ignore that there are some who believe it is a strategic location in terms of the control of what goes on in space, and there is a security dimension to the interest in the moon that doesn't apply to any other cosmic object," Logsdon said.
According to Logsdon there's no broad consensus.
"To some, the space between the Earth and the moon—the so-called cislunar space—is an important element of security strategy in the decades and centuries to come," he said.
China's space white paper said it "opposes any attempt to turn outer space into a weapon or battlefield, or launch an arms race in outer space." Chinese officials have echoed the sentiment in response to American anxieties.
In an interview with Chinese state broadcaster CCTV in December, Wu Yansheng, who heads China's main space contractor, the China Aerospace Science and Technology Corporation, said the U.S.'s decision to "restart great power competition" posed a challenge to cooperation in space.
China's space program, like its American counterpart, has roots in its military, so it's little wonder U.S.-China "strategic competition" has reached outer space.
"What happens in space in terms of international relations is a reflection of what happens on Earth," Logsdon said. "There is a competition in economics and military power and in activities like space exploration, and both countries would like to be No. 1."
Although NASA's interplanetary robots are looking further afield, and it expects private sector endeavors to replace the ISS when it's eventually decommissioned by the end of the decade, the moon—only three days away—remains "the destination of choice" for human exploration, said Logsdon.
There are also metaphysical reasons why the space marathon continues.
"Human presence and exploration have dimensions well beyond the scientific. There is a human desire for expanding experience, sharing experience, that no machine can satisfy," he said. "So as long as it's technically possible, however expensive, to send us to these distant destinations, I think for the majority of people, that's what we want to do."
Do you have a tip on a world news story that Newsweek should be covering? Do you have a question about China? Let us know via worldnews@newsweek.com.