China State Media Claims COVID Origin Investigation May Be Way to Put Trump in Office
In an attempt to discredit the U.S. Intelligence Community's investigation into the origin of COVID-19, The Global Times, a Chinese state-run media outlet, promoted a baseless theory that its goal is to "overthrow" President Joe Biden's administration.
Biden received the Intelligence Community's report on the origin of COVID-19 on Tuesday, as its 90-day deadline was set to expire. Contents of the report have not been made public, but the Intelligence Community has reportedly been unable to reach a consensus on how the pandemic began, keeping both the lab leak theory and natural origin theory on the table.
Amidst an already strained relationship, China has been heavily critical of the Intelligence Community's involvement in the origin-finding process, as they aren't scientists.
On Tuesday, Gao Lei, a Global Times reporter, called it "absurd" to involve intelligence organizations, who he accused of only serving "politics and repeatedly fabricated false information for Washington's political needs." Gao added that the investigation may be a "plot to overthrow his administration," in reference to Biden.
"Is there an ulterior political motive behind these actions of the US intelligence community? Were they to set Biden up so that Trump can return to power, for example?" Gao wrote in the op-ed.
Newsweek reached out to the Office of the Director of National Intelligence for comment but did not receive a response in time for publication.
Gao offered no hard evidence as to why he believed the COVID-19 origin investigation was intended to help Trump and hurt Biden. He based his theory predominantly on the fact that Trump and former Secretary of State Mike Pompeo have been supporters of the lab leak theory.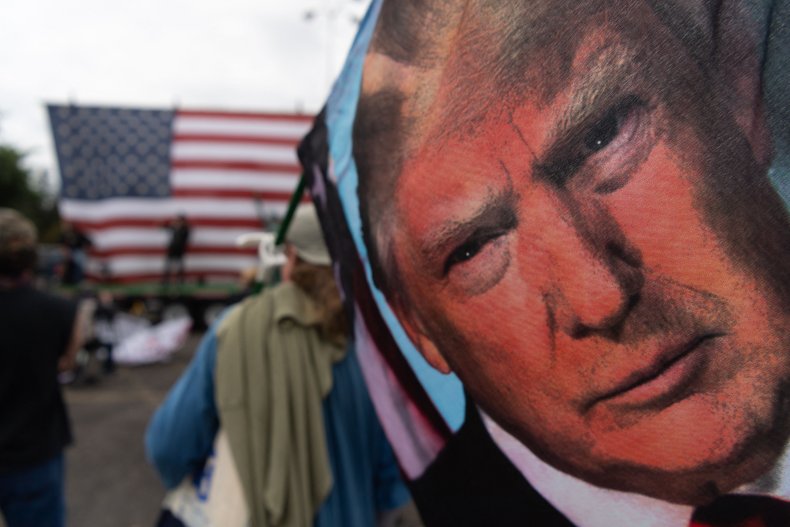 Gao also pointed to an op-ed Senator Lindsey Graham wrote in June. In it, the senator said the early dismissal of the lab leak theory contributed to Trump's loss in November. Had the lab leak theory been proven before the election, Graham believes more voters would have supported Trump because they would have been looking for someone to tow a "tougher line against the Chinese communist regime."
If the lab leak was to be proven, the Global Times op-ed said it would be beneficial to Trump in upcoming elections because it would "mean that Trump and his Republican supporters were right all this time."
China has staunchly denied the lab was the origin point of the COVID-19 pandemic and has even pushed back on the possibility that the pandemic began in China. Officials have called for investigations into other areas of the world, pointing the finger at countries in Europe and attempting to deflect attention away from China and toward the United States with the theory that Fort Detrick in Maryland may have been the origin point.
Many scientists and the WHO-China joint mission, a group of 25 international and Chinese experts tasked with investigating the origin, consider the lab leak theory to be less likely than the virus developing naturally. However, the lab leak theory gained new recognition after an intelligence report in May found three researchers at a lab in Wuhan, a Chinese city where the virus is believed to have originated, were hospitalized for flu-like symptoms in the fall of 2019.
Officials have denied that anyone from the Wuhan Institute of Virology has had COVID-19, making it impossible for the virus to have escaped from that lab. In Tuesday night's Global Times op-ed, Gao wrote the May intelligence report is "misinformation." Gao added that it's potentially a "conspiracy theory and rumor concocted by those intelligence services at the request of the Trump administration," since it came after Pompeo published a fact sheet with similar information.
Part of China's strategy has been to sow doubt about investigations that consider a lab leak to be a possibility. Officials have used a March report from the WHO-China joint mission as an exoneration of the lab, despite it not drawing a definitive conclusion, and dismissed those who support further investigations in China as having political motives.
Calling into question the motives of the Intelligence Community, even without hard evidence, could make some doubt the report's findings. However, the report is unlikely to exonerate or blame a Chinese laboratory for the COVID-19 pandemic.
Without cooperation from China with regard to accessing raw data, it'll likely be difficult for investigators to get a true picture of how the pandemic began. While they hoped to find a "smoking gun," Avril Haines, director of the National Intelligence, told Yahoo! In June it would be "challenging" and "it might happen, but it might not."