China State Media: 'Military Showdown Will Come' if Taiwan, U.S. Don't Change Course
As tensions persist between the U.S. and China over the future of Taiwan, Chinese state media has warned a "military showdown will come" and described the possible scenario as "a life-and-death struggle" between the nations.
The Global Times, which is published by the ruling Chinese Communist Party, shared the opinion article on Friday after U.S. military officials have increasingly warned about China's threat to Taiwan's autonomy. The editorial highlighted remarks from U.S. Secretary of the Navy Carlos Del Toro, who expressed concern this past week about the "rapid expansion" of China's navy.
Taiwan, an island nation, is claimed by China under its "one country, two systems" constitutional principle. However, the democratically-run East Asian country has operated with autonomy and the support of the U.S. for decades. In recent years, analysts have increasingly warned that Beijing could move militarily to take control of the island by force.
"We need to make the US aware that no matter what threats it poses or forces it uses, China's reunification will eventually happen. Setting stumbling blocks to reunification across the Straits would mean a fundamental confrontation," The Global Times editorial cautioned.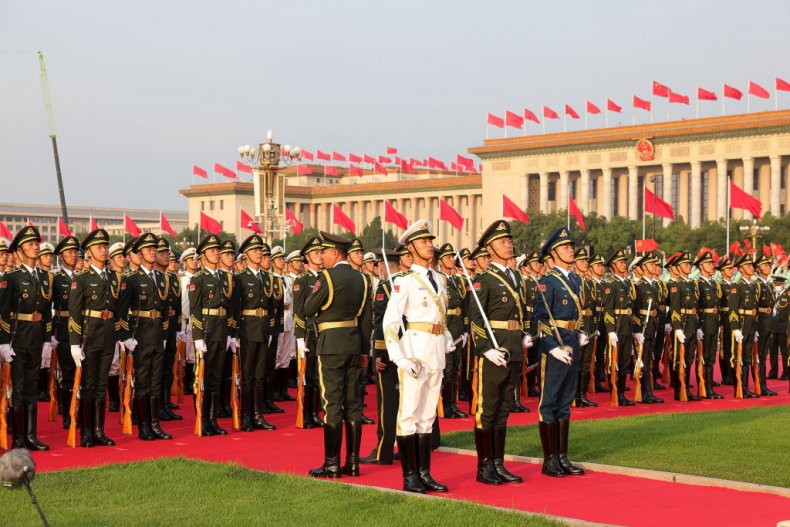 Although the publication said that China is not interested in an "arms race" with the U.S., it asserted that Beijing is more than capable of fighting back against its rival nation.
"China's ability to overwhelm U.S. military intervention in this region is sufficiently guaranteed by its will and strategic resources," the editorial said.
"Any move to block China's reunification is doomed to result in a life-and-death struggle, which the US will have to fight while sacrificing the lives of Americans," the Chinese tabloid warned. "The struggle is definitely not something that can be resolved by pouring more money or imposing sanctions."
In conclusion, the opinion article asserted that "if the U.S. keeps encouraging Taiwan authorities to go their own way, a military showdown will come eventually. When that day comes, let a knock-down, drag-out fight decide everything."
The article comes as China announced on Friday that it will hold those promoting "Taiwan independence" criminally liable for life. That punishment would extend to many officials and leaders who currently govern Taiwan.
China's Taiwan Affairs Office specifically named Taiwan Premier Su Tseng-chang, Parliament Speaker You Si-kun, and Foreign Minister Joseph Wu as being "stubbornly pro-Taiwan independence." The Taiwanese leaders will be blacklisted from entering mainland China, and the administrative regions of Hong Kong and Macao.
The Global Times editor-in-chief published a separate opinion article on Friday mocking Wu specifically, after he told Polish media that he would "pick up a weapon" and fight China himself if it ever attacked Taiwan.
"It is believed if a war breaks out, he must be one of the first 'elites' on the island to flee Taiwan and head toward the US or another Western country. People like him would have already made plans for their escape long, long ago," the publication's top editor, Hu Xijin, wrote.
Newsweek reached out to the State Department for comment but did not immediately receive a response.