China State Media Uses Michael Flynn's US Coup Comment to Push Anti-American Message
Chinese state media honed in on former National Security Advisor Michael Flynn's comment that a coup could happen in the United States to push the message that Americans are dissatisfied.
Flynn was widely criticized for saying a Myanmar-style coup "should happen" in the United States, although he claims his words were taken out of context. Global Times, a state-run newspaper, called the pushback an American "double standard" and pointed to the amount of applause Flynn's comment received as evidence of the idea's support.
"This shows that the dark side of American society is spreading, and more Americans are becoming dissatisfied with their current situation," Mu Lu, a reporter and commentator with Global Times, wrote.
Video of a weekend event shows an audience member asking Flynn why "what happened in Myanmar can't happen here?" Flynn responded that there was "no reason" and "it should happen here." In February, Myanmar's military seized power and took over the country's government.
After Flynn's comments went viral, he turned to Telegram to offer a denial of how his view was being portrayed. He said there was "no reason whatsoever for any coup in America" and that he never called for "any action of that sort."
"Any reporting of any other belief by me is a boldface fabrication based on twisted reporting at a lively panel at a conference of patriotic Americans who love this country just as I do," Flynn wrote.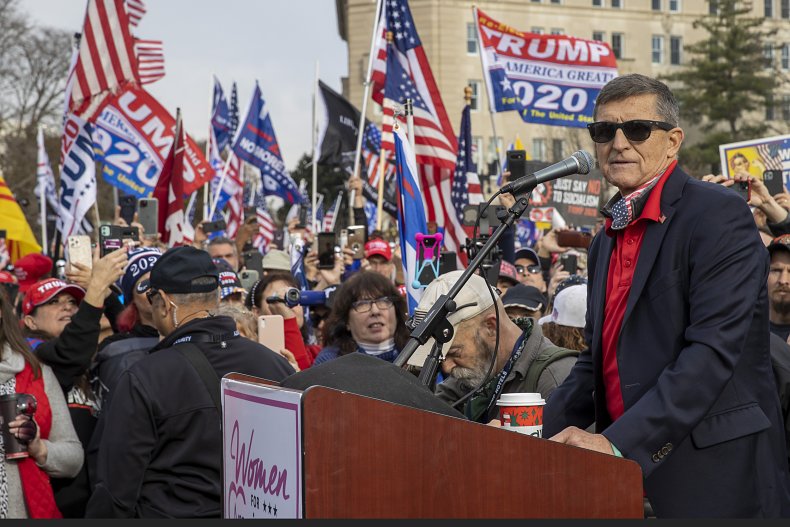 Calling it not a "politically correct" suggestion in the United States, Mu criticized politicians, including Representative Liz Cheney, for rejecting the idea of a coup in the United States while supporting them in other countries. This, Mu said, was a "new form of expression to the U.S.-style double standards."
"The country has severe problems, and if Washington fails to focus on addressing domestic problems but continues to wreak havoc around the world using its double standards, the U.S. will probably eventually have to pay a huge price by swallowing the bitter fruits it has planted," Mu wrote.
Mu highlighted a recent poll from the Public Religion Research Institute and the Interfaith Youth Core to push that Americans' support for coups in other countries was coming back to bite the leader of the free world.
Released on Thursday, the poll found about 15 percent of Americans believe "true American patriots may have to resort to violence in order to save our country." Support for the tenant of the QAnon movement was higher among Republicans with about 28 percent of those polled agreeing with the statement.
"Isn't this supposedly the goal of many countries' coups the US has supported? Is this a coincidence? Have U.S. tricks against foreign countries been deeply rooted in the hearts of Americans?" Mu wrote.
Discord in the United States is a public relations victory for China and in January, people were inundated with messages that the Capitol riot was evidence of democracy's failures. State media targeted Speaker of the House Nancy Pelosi for condemning the events on January 6 after applauding people in Hong Kong who were protesting a Chinese crackdown on their autonomy.
"The riots presented a golden opportunity to gleefully declare—with ample visual evidence—that 'American-style democracy' is on its deathbed," a report from Graphika, a social media analyst firm, said.
China has long been pushing the message that the United States should worry more about its own house than what's going on in the rest of the world. Along with crying hypocrisy over America's reaction to the Capitol riot and Hong Kong protests, Chinese officials attempted to deflect criticism of the treatment of Uyghur Muslims to police brutality in the United States and America's treatment of minorities.