China State Media Warns of Counterattack With Russia to U.S. 'Serious Provocations'
The Global Times, a Chinese state run outlet, railed against the United States on Tuesday, warning America that it's overestimating its strength and should tread lightly if it doesn't want to face attacks from both China and Russia.
China and Russia have grown closer as their relationships with the United States deteriorated, raising concerns about a potential alliance. As President Joe Biden attempts to repair America's ties with Russia, China's vehemently reinforced the narrative that Beijing and Moscow are united against the United States.
"China and Russia will not take the initiative in provoking the U.S. and its allies, but if they encounter new serious provocations, the two countries' counterattack will be determined and immediate," the Global Times wrote in an editorial.
Biden and Russian President Vladimir Putin both hailed the summit last week as being productive and a first step in an attempt to move toward a stable relationship. While the two saw eye-to-eye on the disaster that would be a nuclear war, they weren't on the same footing when it came to cyber attacks or Alexey Navalny, Putin's top opponent who remains imprisoned.
The American president has pushed for Navalny's release, warning Putin that his death would not bode well for Russia.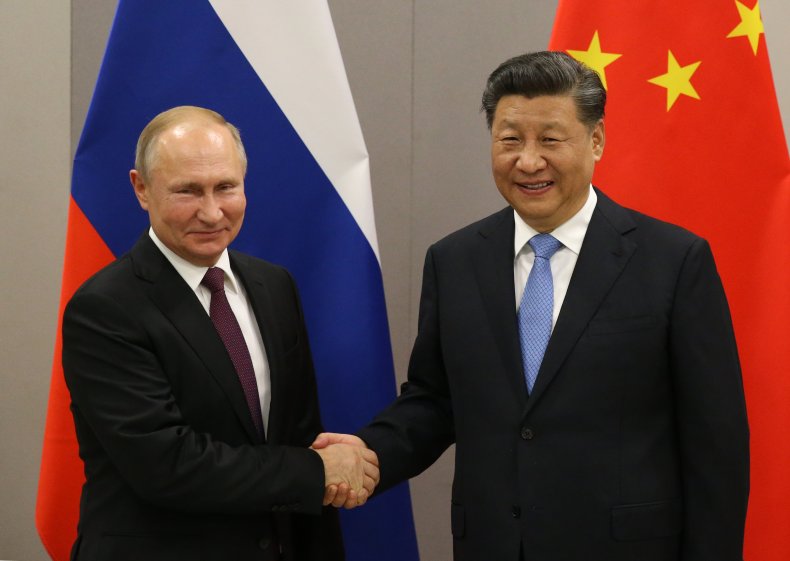 On Sunday, national security adviser Jake Sullivan announced the U.S. was preparing another "package of sanctions" to put on Russia over Navalny's poisoning. Sullivan added the U.S. "rallied" its European allies to impose costs on Russia for its use of a chemical agent on a citizen, a claim Moscow denies.
Russia pushed back on the forthcoming sanctions and Foreign Ministry spokesperson Maria Zakharova said on Telegram that Russia's "always" followed America's "illegal actions" with a "legitimate response."
China capitalized on Sullivan's remarks on Sunday, including pressure he put on China to cooperate with additional investigations into the COVID-19 origin. The Global Times acknowledged China is the "strongest country in the world" but warned it may be overestimating its hand.
"The U.S. cannot do anything to China and Russia, and this is the reality that the world can see and understand," the editorial said. "It wants to unite its allies to contain China and Russia, but it is ridiculous that it thinks this will have any strategic effect."
Along with launching a counterattack with Russia if the U.S. provokes the countries, China warned America that it will "strike heavily" if U.S. intelligence agencies investigate the COVID-19 origin.
Biden instructed the Intelligence Community to "redouble" its efforts to reach a more definitive conclusion about how the pandemic began. Initial investigations yield itself to the theory that COVID-19 originated naturally, but the Intelligence Community hasn't ruled out the possibility that the pandemic started in a laboratory.
The lab leak hypothesis was once largely dismissed as a fringe belief steeped in conspiracy, but it's gained some traction in recent months. Helping fuel the theory is a report that staff members at the Wuhan Institute of Virology were hospitalized with flu-like symptoms before China reported its first case of COVID-19 to the World Health Organization.
China stands firm in its denial that the Wuhan Institute of Virology could be the origin point of the COVID-19 pandemic and rejected calls for additional investigations. The G-7 nations joined America's calls for a thorough probe into the origin of COVID-19 and have been critical of Navalny's imprisonment, but China said Beijing and Moscow aren't afraid of Washington's attempt to rope in its allies.
"On the contrary, every move between China and Russia to further strengthen strategic cooperation can frighten many US and Western elites," the editorial said.