China Steps Up Efforts to Cool Down Myanmar Tensions Amid Fear of Civil War
China has stepped up efforts to defuse tensions in Myanmar as deepening unrest in the neighboring nation threatens to erupt into a civil war among the military, opposition figures and various non-state militias.
As clashes between the now-ruling Tatmadaw junta and opponents worsen in the wake of Aung San Suu Kyi's ouster in early February, Chinese officials have sought to temper international intervention in the Southeast Asian state, pursuing instead their own path to reducing heated frictions there.
Citing multiple sources, local news outlet The Irrawaddy reported Thursday that a counselor at the Chinese embassy in Yangon spoke via telephone last week with members of the Committee Representing Pyidaungsu Hluttaw (CRPH), a government-in-exile represented by Suu Kyi's National League for Democracy (NLD).
Asked to confirm this contact, Chinese Foreign Ministry spokesperson Zhao Lijian told reporters Friday that Beijing was actively seeking to foster peace.
"China is concerned about the current situation in Myanmar, and hopes that all parties in Myanmar will start dialogue as soon as possible to seek political understanding within the constitutional and legal framework," he said, "and continue to advance the hard-won democratic transition process that suits Myanmar's national conditions."
Zhao said China intends to remain involved.
"China will continue to maintain contact and communication with Myanmar parties in its own way to deescalate the situation and reduce the temperature," he said.
In a statement sent to Reuters that same day, the embassy confirmed that "China has been in touch and in communication with all parties in Myanmar."
"The purpose is to play the role of promoting peace and discussion, promoting the cooling of the situation and maintaining stability in Myanmar, resolving differences through dialogue and consultation, and continuing to drive the process of democratic transformation," the statement said.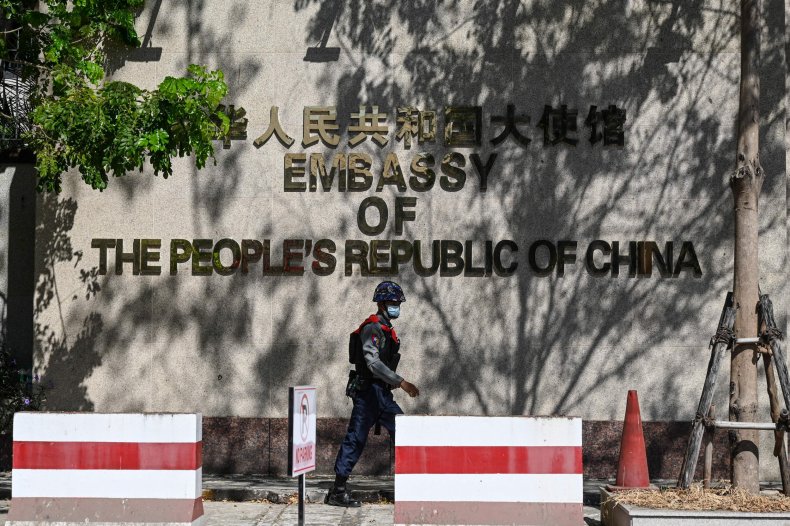 Myanmar, formerly known in English as Burma, has long suffered instability stemming from coups, crackdowns and a decades-long campaign by separatist paramilitary groups operating across rural stretches of the country. In 2011, imprisoned activist Suu Kyi—the daughter of the country's founder, General Aung San—was released from captivity, and went on to ascend to the newly created position of state counselor, making her the de facto head of government.
But the Tatmadaw remained influential in politics. After elections last November saw big wins for the NLD, the military elites decried the vote as fraudulent and ultimately retook the government in February in what critics have termed a coup d'état, ending a decade of democracy.
China has not joined that criticism, however, instead calling for calm among all parties. Beijing had fostered close ties with both the Tatmadaw and Suu Kyi's government, along with other actors in the country, including what Myanmar and India have alleged to be armed groups operating near the border, a charge denied by China.
Nonetheless, Beijing has since attempted to leverage its influence in the country to tamp down the burgeoning conflict in which hundreds have already been killed. Reports suggest the majority of these deaths have come at the hands of security forces seeking to restore order.
"We know that the people of Burma are united in their rejection of the military's actions and continue to call on the regime's actions to lead to greater stability," U.S. State Department spokesperson told reporters Friday, "as well as look out for mounting economic, health, and humanitarian crises that continue to be on the rise."
The United States, which has termed the military takeover a coup, has urged China to take action. State Department spokesperson Ned Price told reporters late last month that Washington calls "on China, on the government in Beijing to use its influence to hold to account those responsible for this military coup."
"What the junta has done in Burma is not in the interest of the United States, it's not in the interest of our partners and allies, and it's not in the interest of Beijing," Price said at the time.
The following day, he referenced "some alignment" of U.S. and Chinese interests "when it comes to Burma and other regional challenges," in spite of broader tensions plaguing ties between Washington and Beijing.
China's own stake in Myanmar is tied to its central position as a node in the broader Belt and Road Initiative established across the globe by Chinese President Xi Jinping. Key transportation routes and oil and gas pipelines comprise what's known as the China-Myanmar Economic Corridor.
Beijing has repeatedly called on Myanmar authorities to safeguard Chinese citizens and interests in the country as it grapples with violent turmoil. Without reprieve, however, domestic forces were aligning against the military in a situation that increasingly had the makings of an all-out conflict.
The rebel CRPH has moved last month to rescind the terrorist organization designations of Myanmar's array of ethnic militia organizations and sought an alliance based on a new constitution that would pave the way for a federated system giving states more autonomy from the central government.
Monitoring this development and others, U.N. special envoy for Myanmar Christine Schraner Burgener warned of the "increasing the possibility of civil war at an unprecedented scale" at a closed briefing obtained by the Associated Press.
Burgener traveled to neighboring Thailand on Friday in hopes of hosting talks with parties to the conflict, but noted with "regret" that the "Tatmadaw answered me yesterday that they are not ready to receive me."
"I am ready for dialogue," she added. "Violence never leads to peaceful sustainable solutions."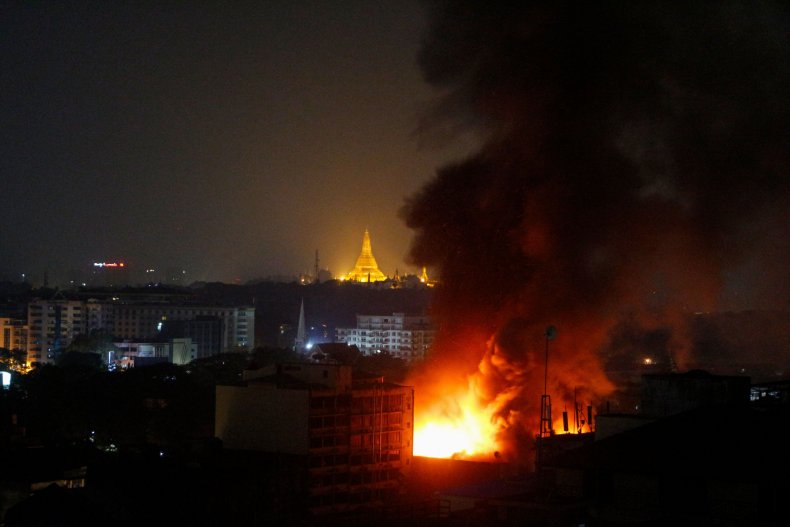 While China joined a United Nations Security Council resolution condemning the targeting of peaceful protesters by Myanmar forces, Beijing has continued to emphasize through statements and prior vetoes that outside interference in the country is unacceptable. That principle was featured in a policy summed up by Zhao earlier this week as "Three Supports" and "Three Avoids" as China weighed the role of the 10-member Association of Southeast Asian Nations (ASEAN), of which Myanmar is a part.
Supports
1) China supports all parties in Myanmar in seeking a political settlement through dialogue within the constitutional and legal framework, and the hard-won democratic transition process that suits Myanmar's national conditions should be constantly advanced.
2) China supports the ASEAN in upholding the principle of non-interference in internal affairs and the tradition of consensus based on consultation, and playing the role of a mature regional organization to encourage and constructively participate in Myanmar's internal reconciliation process in the ASEAN Way.
3) China supports an early convention of a special meeting of ASEAN leaders to jointly discuss the effective approach to de-escalate tension and resolve problems.
Avoids
1) China appeals for efforts, firstly, to avoid further bloodshed, conflicts and civilian casualties, and prevent the situation from deteriorating or even spiraling out of control.
2) Secondly, to avoid improper intervention of the UN Security Council, lest it should undermine Myanmar's sovereignty and further complicate the situation.
3) Thirdly, to avoid the move of some external forces to add fuel to the flames and mess up Myanmar in pursuit of selfish gains.