Steve Bannon Accuses China of Coronavirus Cover-up, Calls it 'A Biological Chernobyl'
Former White House chief strategist Steve Bannon has weighed into the debate about the origins of COVID-19, saying that China should be "held accountable" because he believes it concealed what it knew about the virus.
President Donald Trump has said he has seen evidence that makes him confident that the coronavirus originated from the Wuhan Institute of Virology, which intelligence officials say they are investigating, confirming an earlier report by Newsweek.
Meanwhile, Trump has continued to criticize Beijing's response to the outbreak and his administration is drawing up a plan to punish China, which may include tough trade measures, according to CNN.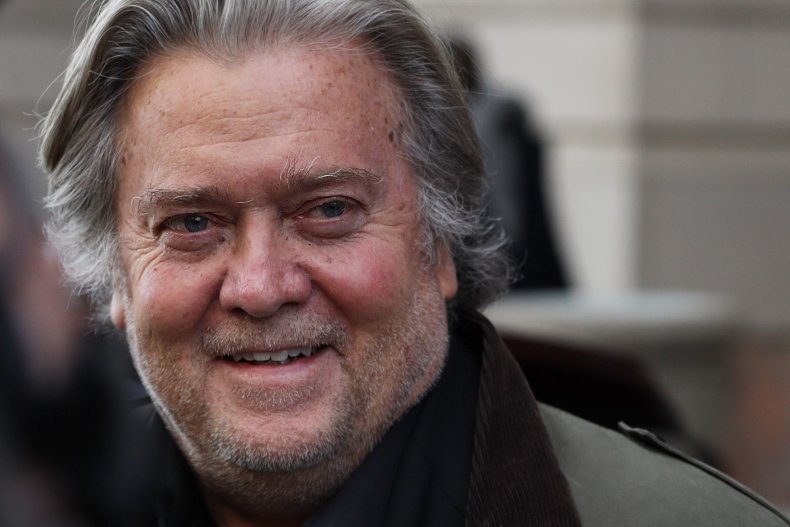 Bannon, who served during the first seven months of Trump's administration said that the U.S. investigation meant that "we're going to find out over time if this came from the... lab in Wuhan."
He believed China knew about the ability of the disease to be transmitted from human to human in December 2019 and believed that "if they had told the world at the time", then, "95 percent of the economic devastation and 95 percent of the people dead would have never happened."
"This to me is premeditated murder, they're guilty of hiding this from people throughout the world, just like a biological Chernobyl. They've got to be held accountable," he told United We Stand, a show for Sinclair Broadcast Group, which frequently airs right-wing views, according to Media Matters for America.
"If we find out later from (Vice President Mike) Pompeo and the president's investigation by the intelligence services that it actually came out of the lab on one of these experiments they've been doing, then all bets are off. Because that's raising it to an entirely different level."
Bannon told host Eric Bolling that the global community could be demanding trillions in reparation, because, "if it turns out it came out of a lab, and this was one of their experiments that got loose, and they have direct culpability in that regard, to me, that means they are not a legitimate government."
Chinese officials have denied any cover up and this week Chinese foreign ministry spokesperson Geng Shuang told reporters, "The U.S. should know this: The enemy is the virus, not China."
Meanwhile European Commission President Ursula von der Leyen has called for an international approach to investigating the origin of the COVID-19 coronavirus pandemic, urging China and other nations to join the probe.
Newsweek has contacted the Chinese foreign ministry and the White House for further comment.
The infographic below, provided by Statista, shows the spread of cases of COVID-19 throughout the world, as of April 30.