China Stops Trading For Second Time in a Week as Shares Plummet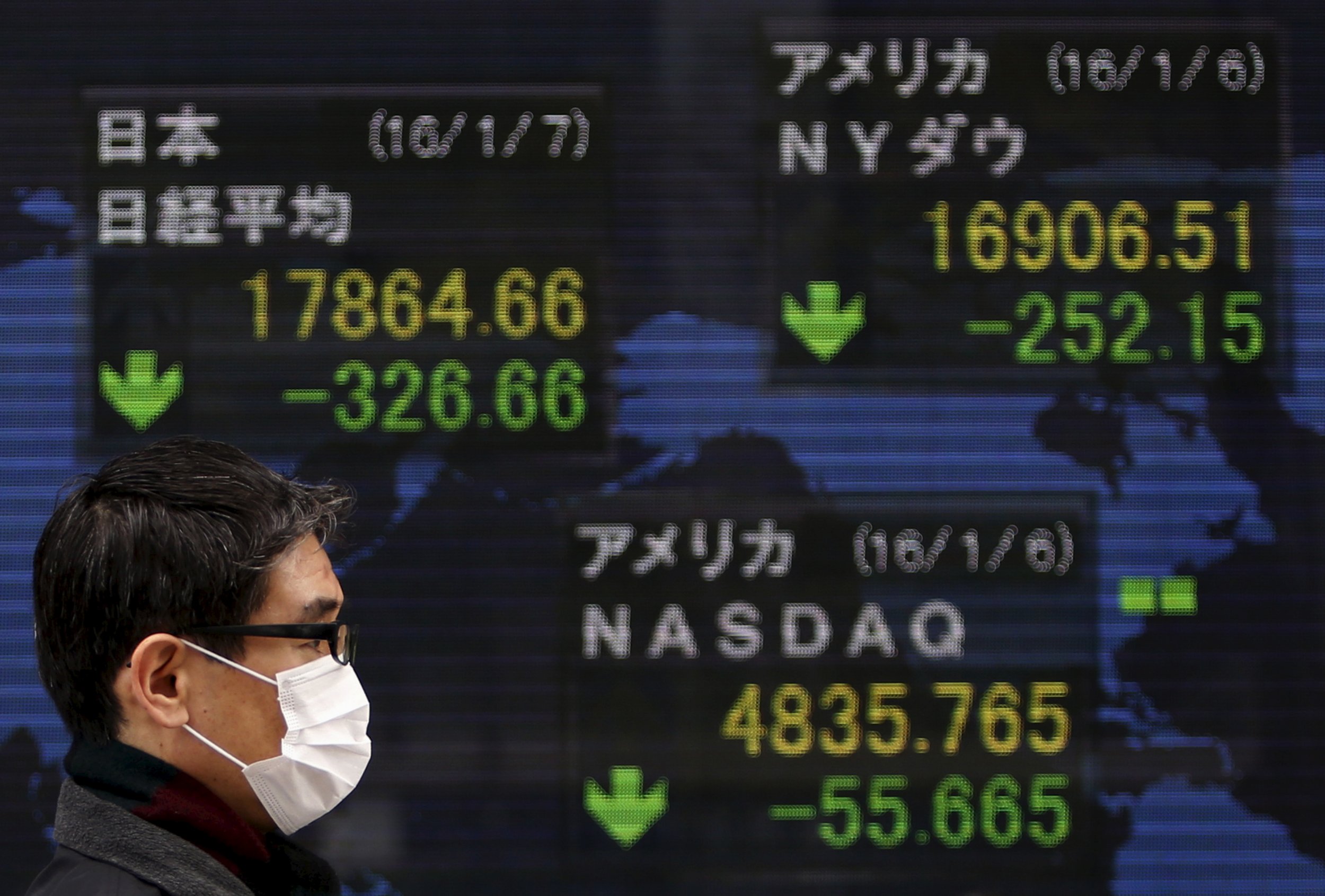 Breaking records as China's shortest ever stock-market trading day in its 25-year history, the country has been forced to halt trading on its mainland markets yet again after shares tumbled by more than seven percent for the second time this week. Within 29 minutes of trading beginning, the fall in share prices triggered an automatic "circuit-breaker," which stopped the buying and selling of shares.
Investors have been jittery around Chinese markets after the country's central bank began weakening the yuan in December. The bank has looked to devalue the yuan because China's economy is slowing, making its exports less competitive, the BBC reports . It now measures its currency against several others, not just the U.S. dollar, which allows the yuan to weaken against the dollar. Investors worry that if China devalues its currency, other economies in the region may follow suit, which will impact the global economy. The yuan is currently at its lowest level, against the dollar, since March 2011.
The market "circuit-breakers" came into effect December 2015, following a shock devaluation in the yuan in August of last year, which prompted a market sell-off around the world, the New York Times reports. The measures, which stop trading in markets that rise or fall too quickly, came into effect Monday and again Thursday. If the index moves five percent from the market's last close, a 15-minute break in trading is triggered. If the percentage jumps to seven or higher, trading stops for the day.
On Thursday, the Shanghai Shenzhen CSI 300 index fell 7.2 percent, initially sparking a 15-minute halt before the closure became permanent. The Shanghai Composite index also fell by 7.3 percent, while the Shenzhen Composite index fell 8.3 percent. The Securities Regulatory Commission, China's chief industry regulator, has since announced that major shareholders cannot sell more than one percent of a company's shared within the next three months, in a bid to end market fluctuations. On Friday, a previous ban on selling company stock was due to expire.
China's economic woes this week have had ramifications elsewhere. U.S. stocks fell Wednesday while the price of crude oil dropped by more than five percent as investors worried that Chinese demand for the fuel might be declining. On Thursday, Japan's Nikkei 225 index was down 1.5 percent while Hong Kong's Hang Seng index fell 2.4 percent.